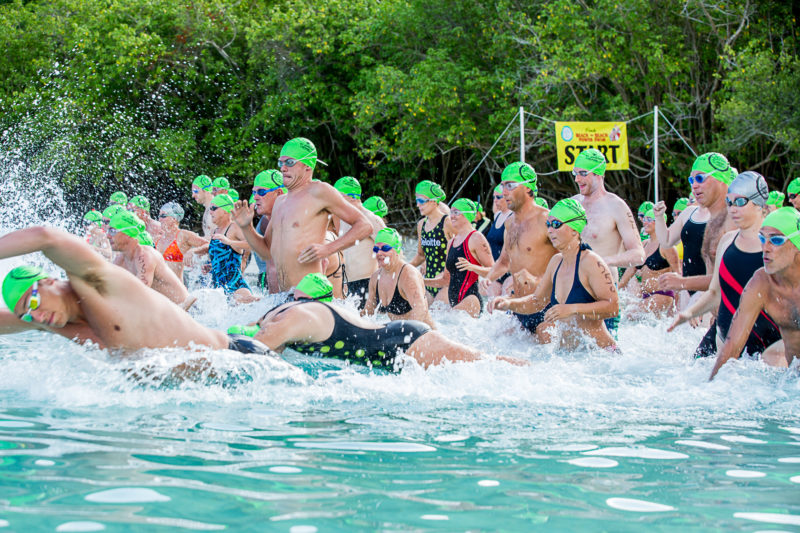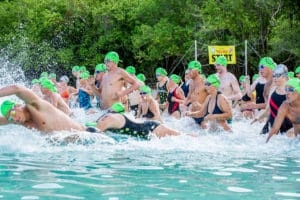 Imagine the Caribbean sun, azure water, white sand beaches and vibrant coral reefs that await competitors as they swim through the pristine Virgin Islands National Park waters. Described by Swimming World Magazine as "the most beautiful open water swim in the world," the Beach-to-Beach Power Swim has recently been ranked in the top 20 on two reputable open water swimming Web sites as "Best 100 Open Water Swims in the World."
This year's event, set for May 28, will be the largest ever, with 350 competitors. Hosted by Friends of Virgin Islands National Park, it will raise money for preservation, conservation and education programs in V.I. National Park.
The Beach-to-Beach Power Swim has four simultaneous events:
Short course(solo) from Maho Beach to Cinnamon Beach (1 mile)
Intermediate course (solo) from Maho Beach to Trunk Beach (2 ¼ miles)
Long course(solo) from Maho Beach to Hawksnest Beach (3 ½ miles)
Long course(three-person relay teams) from Maho Beach to Hawksnest Beach. The relay team transition points will be at Cinnamon Beach and Trunk Beach.
In each of the events, swimmers may compete using snorkels, fins, and/or exposure suits in a separate category of "assisted" swimmers. However, swim paddles, webbed (training) gloves and other swim aides are not permitted.
To help swimmers train for the event, Friends of V.I. National Park has scheduled three practice swims:
Sunday, April 16: Maho to Cinnamon
Sunday, April 30: Maho to Cinnamon and Trunk
Sunday, May 14: Maho to Hawksnest
The practice swims will all start at 8:30 a.m. (note that on race day the swim will start at 8 a.m.) from the north end of Maho Beach. As always, safety is of utmost importance and the Friends will have kayaks, SUPs and safety boats accompanying the swimmers. For swimmers coming from St. Thomas, they should take the ferry that leaves Red Hook at 7:30 a.m. The Friends will have a van meet the ferry and transport swimmers to Maho.
Visit www.friendsvinp.org/swim for complete information on this event. There are reduced registration fees for swimmers 17 years and younger as well as reduced registration fees for early registration that ends May 5.
Swimmers can also register:
By calling 779-4940
Or in person by visiting:
The Friends of the Park Stores: Mongoose Junction and National Park Service Visitor Center, Cruz Bay
Connections – Cruz Bay, St. John
Caribbean Surf Co. – Havensight and Red Hook, St. Thomas
SCUBA – Christiansted, St. Croix
Join Race for a Reason to support the "Learn to Swim" program and other projects and activities that preserve, protect and educate at the park. Those who raise at least $250 can swim for free. Sign-up as an individual fundraiser or together with friends and form a team of up to 10 fundraisers swimming any length of the race. Non-swimmers are welcome, too.
All Race for a Reason participants receive a limited edition, Beach-to-Beach Power Swim cap. For details, visit www.friendsvinp.org/race-for-a-reason.
Joe Kessler, president of the Friends and the race director, reminds interested swimmers that registration will be limited to 350 swimmers, and typically sells out. Registration has been very strong so far, so register soon to be sure to get a place.