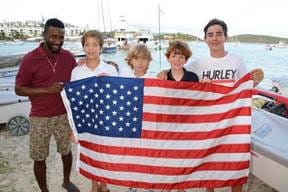 The International Optimist Regatta is the largest little boat regatta in the U.S. Virgin Islands and the Caribbean. One-hundred-ten sailors, ages 8 to 15, from five countries, will race 8-foot-long, single-sail Optimist dinghies in the TOTE Maritime Clinic, June 12 to 15, the TOTE Maritime Team Race, June 15, and International Optimist Regatta (IOR), presented by Electronic Merchant System (EMS) Virgin Islands, June 16-18. What makes this trio of events unique is the combination of instruction, team and fleet racing all in one week, which includes beginners and advanced sailors alike.
Ann Nicolosi, regatta co-director, said, "We are… excited to celebrate this regatta's 25th year. We have a photo history of the regatta that will be on display at the St. Thomas Yacht Club throughout the week.  Many of the past winners and participants of this event have gone on to become college All-Americans, and, on the world sailing stage, first ranked match racers, one-design class world champions, Olympians and team members of America's Cup campaigns."
Last year's overall champion, St. Thomas' Mia Nicolosi, will be back, as will the British Virgin Islands' Rayne Duff, who took the overall trophy in 2014. These two are expected to keep the rest of the advanced fleet sailors on their toes as they all vie to be the first-place finisher.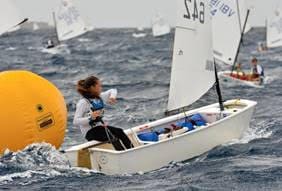 Nicolosi and Duff will be up against tough competition from fellow V.I. sailors, who include Caroline Sibilly. Sibilly won the 2017 VIODA Triple Crown, a trio of regattas that includes the Cruzan Open in St. Croix, VIODA Championship in St. Thomas and BVI Dinghy Championships in Tortola.
Other V.I. sailors to watch are St. Croix's Mathieu Dale; St. John's Alejo Di Blasi, Katherine Majette and Winborne Majette; and St. Thomas' Julian van den Driessche, Max van den Driessche, Tanner Krygsveld, Robbie Richards and Andy Yu, who, with Nicolosi and Sibilly, will represent the territory at the Optimist North American Championships, June 25 to July 2, in Toronto, Canada.
Additionally, Dale, Julian van den Driessche, Katherine Majette, Nicolosi and Sibilly will compete under the U.S. Virgin Islands at the Optimist World Championships, July 11-21, in Pattaya, Thailand.
The IOR/EMS welcomes several other high-caliber competitors such as the members of the U.S. National Team, who will also compete in the Optimist Worlds in Thailand. This includes Stephan Baker, Justin Callahan, Mitchel Callahan, Liam O'Keefe and Charlie Leigh. Baker and O'Keefe were members of Team Spectra, which won the 2016 TOTE Maritime Team Race.
Talented Caribbean sailors racing in the IOR/EMS include Antigua's Maria Eldridge, the BVI's Nathan Haycraft and Puerto Rico's Jose Arturo Diaz.
The TOTE Maritime Clinic, which starts Monday and is run by top international coaches, will drill sailors on starts, tactics and strategy.
Over a dozen teams are expected for the TOTE Maritime Team Race, on Thursday, June 15. The entry fee for this one-day event is $160 per team of four sailors. Registration is available only on-site from 8 a.m. to 5 p.m. on June 14.
The IOR, presented by EMS Virgin Islands, is hosted by the V.I. Sailing Association (VISA) and is sanctioned by the Caribbean Sailing Association (CSA), from June 16 to 18.
"EMS Virgin Islands is pleased to sponsor the IOR for a second year," says Cobia Fagan, owner, EMS Virgin Islands. "This regatta is a great way to showcase our local young sailors and gives us the opportunity to host sailors from many other countries. Our hope is to get more youth involved in the sport on a local level and foster their love for sailing and the water."
A Breakaway Charters boat will be available for spectating. The cost is $80 per person on Friday and Saturday or $40 per person on Sunday. Drinks and snacks will be provided. For information and reservations, call: (800) 808-7604.
In honor of the IOR/EMS's 25th anniversary, there will be a raffle, which includes a $300 certificate from Colie Sails towards the purchase of a new Olympic Sail and a set of Black/Gold Spars donated by McLaughlin Boat Works. There will also be a BBQ Night hosted by the St. Thomas Yacht Club Advanced Racing Team on Wednesday, June 14.
Social activities will include the Parade of Nations and Welcome Party on June 15 and Father's Day Brunch and Awards Ceremony on Sunday, June 18.
Trophies will be awarded to the top five sailors in each fleet and top three overall. Additional trophies include the Peter Ives' Perpetual Trophy, the Chuck Fuller Sportsmanship Award and the top female sailor. The Sea Star Perpetual Trophy will be inscribed with the names of the sailors on the winning team racing team. A new Perpetual Trophy will be introduced with the names inscribed of the overall winners from the past 24 years.
For more information, call 775-6320, e-mail: internationaloptiregatta@gmail.com, or visit the host St. Thomas Yacht Club Web site at www.styc.club. Visit the International Optimist Regatta on Facebook