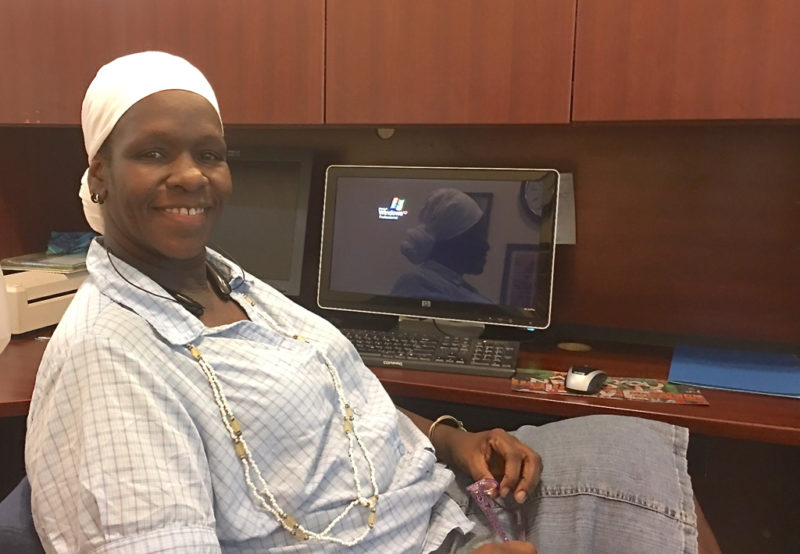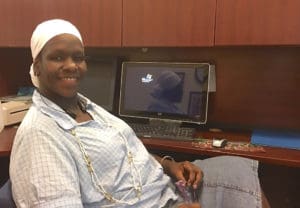 Having an address is something most of us take for granted. It allows us to be in contact with the outside world, as do phones, computers, and other devices for sending emails and messages. Most homeless people, however, don't have any of these "place holders," and their absence makes it more difficult for the homeless to access critical social services.
Fortunately, the St. John Community Foundation recognized the problem, and decided to do something about it. Last summer the Community Foundation applied for funding for a Community Block Grant, and in January they opened the doors of the Peak Potential Homeless Support Center.
The center's upscale location – in an office in the Marketplace shopping center in Cruz Bay – might seem surprising. Essentially it's an extension of the STJ Community Foundation located right across the hall.
When people raise their eyebrows at the notion that homeless people are frequenting the Marketplace on a daily basis, Celia Kalousek, the Community Foundation's executive director, offers a simple explanation, "It's not like they're hanging out here. We're providing services for them like any other business."
The Peak Potential Homeless Support Center is designed to serve as a coordinated entry into the system for individuals "who are homeless, vulnerably housed, in transition, or sleeping in the rough with no alternative support network," according to the center's funding application.
It serves as the hub for "social service referral, donations management and disbursement, appointments with an on-island case manager, off -island service providers, [and] counselors," the grant application continued.
Essentially, the center provides its clients with an address, a place where they can receive messages, schedule appointments, use a computer with internet connections, reconnect with family members, and meet with representatives from private and government agencies.
St. John native Ke-Ya Daniel serves as the center's health and human services program manager, pulling together 30 service agencies that offer legal aid, housing, health care, and other types of assistance.
In the first five months of the center's operations, Daniel has seen more than 30 individuals who come in for more than just processing paperwork.
"They're coming in, grabbing a snack, charging a cell phone, going on line, preparing a resume, or storing their valuables," she said.
One of the most important services the center offers is providing a secure place to store documents, including government issued identification which is essential for accessing services such as Medicaid or the Supplemental Nutrition Assistance Program (SNAP), formerly known as the Food Stamp Program.
In fact, obtaining and maintaining identification is a huge issue for some homeless people, according to Kalousek. She cites the case of a client who was able to reconnect with family and was ready to move back to the mainland, but was unable to travel on an airplane because he didn't have any form of identification.
Kalousek said homeless people can lose their ID's when their unsecured possessions are stolen, or when their belongings are removed and discarded by police officers during well-intended sweeps of areas where the homeless congregate.
But Kalousek doesn't want to give the impression that the center and the police are working at cross purposes. She was quick to add, "In general, I'm impressed with the police. They are good about keeping their eyes on them and taking steps to avoid public nuisance issues."
The Peak Potential Center operates on a budget of about $50,000. Initially the STJ Community Foundation applied for $60,000 from a Community Block Grant and obtained half of what they requested. They received additional funding through an Emergency Solutions Grant through the VI Housing Finance Authority.
It's not enough, but it's a beginning, according to Kalousek.
With full funding, the center "can be open daily from 10 a.m. to 4 p.m. and offer life skills education, training and other assistance including an employability certification program that is currently in development," she said.
Kalousek would like to see a full-services shelter for the homeless built on St. John. Although some members of the community are enthusiastic about the idea, including the Rev. Anthony Abraham of Our Lady of Mount Carmel Catholic Church, the "not in my backyard" mentality prevails.
Catholic Charities of the Virgin Islands does operate Bethlehem House, a shelter on St. Thomas, and some of St. John's homeless have moved there, but space is not always available. Catholic Charities Executive Director Andrea Shillingford agreed that establishing a shelter on St. John "would be ideal, but our funding is so limited."
Shillingford said she preferred not to comment about Home at Last, a program that was implemented in 2014 by Catholic Charities which has become "a victim of the territory's ongoing budget crisis." (See "Related Links, below.)
That program provided a transition to permanent housing on St. Thomas for Gregory, a long-time St. John resident who was known for cheerfully greeting ferry passengers as they arrived and departed from the dock in Cruz Bay. Originally from the states, this man was thrilled to have "his first bed in more than 20 years," according to Kalousek.
As of May, Kalousek said she knew 63 individuals on St. John who are homeless or unstably housed. She estimates that 40 can be classified as chronically homeless. About half are from the Virgin Islands. Almost 90 percent are male, and about 75 percent have substance abuse or mental health issues.
Those interested can volunteer or make a donation to the following agencies:
– Catholic Charities of the Virgin Islands at 777-8518
– Cruz Bay Seventh-day Adventist Church at 779-4477
– Our Lady of Mount Carmel Catholic Church at 776-6339
– The St. John Community Foundation at 693-9410