Dear Source:
Greetings to all our friends from St. John Rescue. We are once again in hurricane season. It is imperative that we do not become complacent simply because we have not experienced a damaging hurricane in more than 20 years. We should all be looking around our homes and yards for potential problems we may face during a severe storm.
Are there any articles in your yard that could be picked up and tossed around by a strong wind? Are your storm shutters and fasteners readily available? Do you have a supply of drinking water; is there a safe place in your home for you and your family; is there a safe storage place for important documents, food, medications? Think of the functions you perform on a daily basis and what you need to properly perform these functions. Will you be able to maintain your basic life functions for a few days if a hurricane knocks out power? In our next St. John Rescue report I will include a list of steps we should all consider in order to be prepared for severe weather.
St. John Rescue has four new members: Rena and Alan Moretti, Sean Livie, Larry Pruss. Rena and Alan moved to St. John from Las Vegas. Rena was in the real estate business and Alan was a corrections officer. They have both settled into island life. Rena is working in property maintenance and Alan is a partner, with Sean, in Salute Charters, a charter boat business. We are fortunate to have Rena, Alan, Sean and Larry as part of our team.
St. John Rescue is conducting another Emergency Medical Responder (EMR) course which started August 10. Our EMR classes are being held on Thursdays starting at 6:30 p.m. This class is a hybrid class with some topics being taken online and followed up with hands-on training. The course is offered through The American Safety and Health Institute (ASHI). For more information about St. John Rescue please contact me at 626-5118 or at stjrescue9@gmail.com. We have Alan, Rena, Sean, and Larry signed up for the 48 hour course and Asya Simons, John Fitzgerald and Matt Rasmussen signed up for the National Registry 12- hour refresher course.
Please like us on our Facebook page: www.facebook.com/stjohnrescue/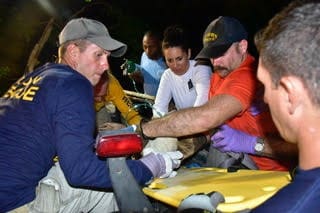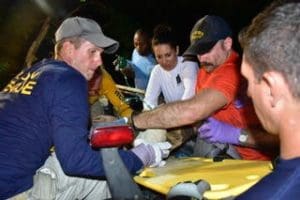 Chief Bryan Barnes conducted an intense training on June 29. (photos attached) Two scenarios were set up and members responded to each. One scenario placed three victims of a car crash in the bush. One patient was unconscious, one was suffering from altered mental status and the other has an injured ankle.
In the second staged incident, a vehicle overturned with 6 injured passengers. One was found "with no life signs." The driver had to be extricated and the other injured passengers were treated accordingly. St. John Rescue members participate in regular trainings to keep their life saving skills sharp. We value life and do our best to preserve it.
On August 17, members of St. John Rescue responded to a "car off the road" training in Cruz Bay. A Suzuki Sidekick, donated to St. John Rescue by Val Donoghue, was staged to simulate a vehicle resting on the crest of a drop-off. Rescue members worked with members of the Virgin Islands Fire Service Zulu Station to stabilize the vehicle and then to rescue the three occupants. The attached photos show the extent of this training.
Tyrone Hendricks is a beloved member of St. John Rescue. Anyone who knows Tyrone knows what a great person he is. Tyrone suffered a severe health issue recently and was hospitalized for several weeks in Miami. He is now slowly recovering at home. St. John Rescue has set up a "Go Fund Me" page to help Tyrone and his wife Brandi pay for his medical expenses. If you would like to help Tyrone and Brandi please contact St. John Rescue or go to the "Go Fund Me" site. All help will be greatly appreciated. To get onto Tyrone's page use: https://www.gofundme.com/b6z9wk-Tyrone.
During the last two months, St. John Rescue responded to several incidents.
May 14 to Centerline Road near Rte 20 for an MVC with minor injuries.
May 25 to Rendezvous Bay for a boater in distress.
May 26 to Waterlemon Cay for a missing swimmer.
May 29 to Cinnamon Bay for a missing Paddleboarder
June 12 to Reef Bay Trail for a hiker in distress
June 20 to Salt Pond for a female with a broken leg
July 8 to Estate Bethany for a DOA.
Health Tip:
Although chest pain can sometimes be triggered by some non-threatening disorders like excessive gas, anxiety, acid reflux or muscle strains, you cannot afford to waste precious time if chest pain occurs. Chest pain can be related to the following serious complications: a rupture of the aorta, angina or myocardial infarction (heart attack).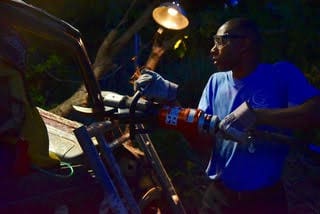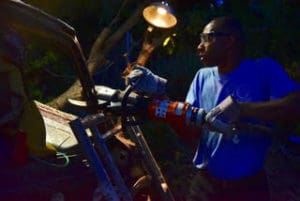 The majority of patients in the emergency room with chest pain are most likely having a heart attack, and the proper testing is usually done immediately. Minutes can make a huge difference in your survival rate. If you are experiencing chest pain call 911, 776-9110 from a cell phone if you are on St. John. Make sure that you give the 911 dispatcher precise directions to your home, make sure you say that you are on St. John and give a brief description of the condition of the patient. Also, post someone out on the main road, if possible, to direct the emergency personnel to the patient.
The most common signs of a heart attack are: chest pain, fatigue, lightheadedness, chest tightness, sensation of squeezing of the chest, shoulder pain, neck pain, arm numbness, shortness of breath, sweating, nausea. Some people suffering a heart attack will have no chest pain.
Maintaining a healthy life style including a healthy diet and exercise may help prevent a heart attack.
Safety Tip: St. John is a relatively safe place. However, it is always prudent to take precautions when you are out and about specially after dark. Try to avoid poorly lit areas and always try to walk with a friend. When you are walking to your car have your keys ready and always be aware of your surroundings before approaching the car.
Bob Malacarne – St. John Rescue