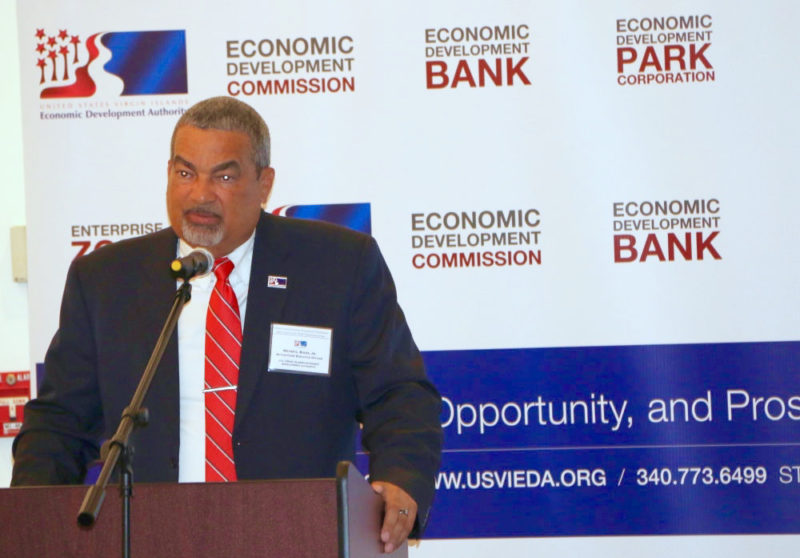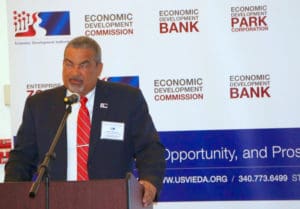 A business summit on St. Thomas gave V.I. Economic Development Authority officials the chance to thank their tax incentive program beneficiaries and also encourage them to be "ambassadors" for the agency as it works to strengthen economic development in the territory.
"This is a special year because the summit is coupled with the 45th anniversary of our tax incentive program," Claude S.M. Gerard, EDA's director of compliance, said. "This event gives us the opportunity to maintain the good relationship we have with our beneficiaries and also to keep them up to date on current trends within the program. The intent is to foster continued positive interactions."
Gerard and other officials said the tax incentive program has more than 60 beneficiaries to date, but several more have benefit applications pending. Approximately 77 businesses were represented at Tuesday's summit on St. Thomas, and officials said that according to the 2015 stats, EDC companies employed more than 3,000 residents, payed gross receipts wages and benefits of more than $136 million, made local capital expenditures of more than $84.3 million, purchased $96.8 million in goods and services and made local charitable contributions of more than $3 million. Another $22.6 million in taxes was paid to the territory, according to EDA head Wayne Biggs.
In exchange for benefits, each company participating in the program pays to the EDC annual compliance fees, gives charitable contributions, is mandated to provide term life and medical insurance to employees along with retirement benefits, and other things, Gerard explained later.
"The EDC program truly drives employment in the territory, which we get back in taxes from employees," he added when asked about some of the misconceptions about the program, including possible violations from beneficiaries who might not be meeting requirements for retaining a certain number of local employees.
Gerard explained that there are four categories for employment that businesses can fall under and currently, all beneficiaries have at least five local employees.
"The last category are designated service businesses, which are smaller financial services or investment companies and they are allowed five employees excluding the owners," he said. "The hotels do carry the majority of the weight in terms of employment, but everyone is meeting the requirements."
As a result, the relationship between the EDC and its beneficiaries is strong. Gerard said the next step is to use the businesses as ambassadors for the program. Commission marketing representatives said Tuesday that efforts are being made to attract businesses overseas and that having company representatives here share their experiences with the EDC is a key driver for growth.
"We are setting the stage to promote and enhance the territory's economy," Gerard said. "Companies receiving benefits, and we like to say incentives, play an important role in creating jobs, providing training and charitable contributions to education, along with purchasing goods and services locally. It is important to us to keep that going."