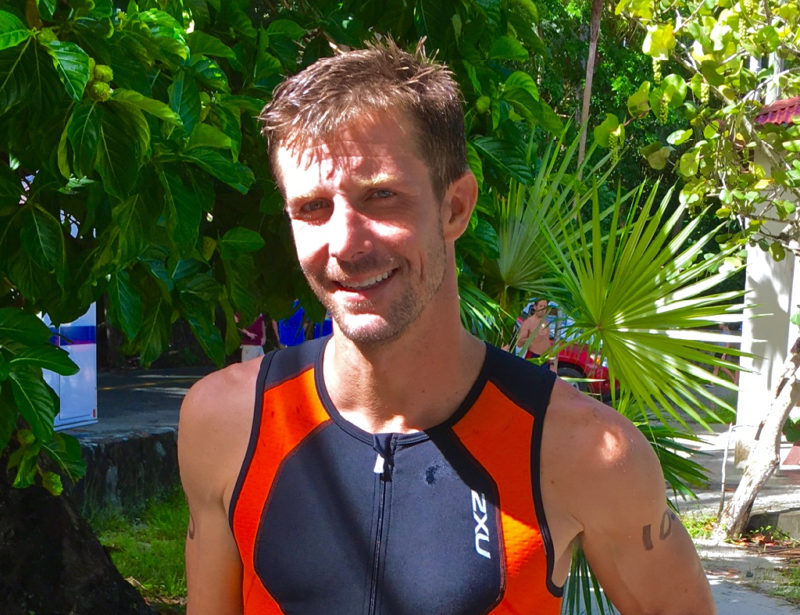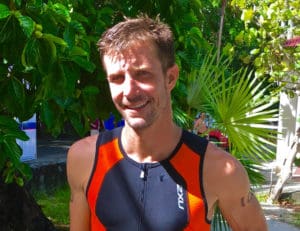 In spite of morning showers, 42 children and adults leaped into the water at Maho Bay Sunday as part of the Love City Triathlon and Aquathlon.
Now in its 18th year, the triathlon organized by the St. John Landsharks attracted 14 athletes who completed a .5-mile swim, a 13-mile bike ride, and a four-mile run. The aquathlon, a .5-mile swim and a four-mile run, attracted 30 participants. With relay team membership counted, 60 people participated overall.
Stephen Swanton from St. Croix, who came in fourth overall at the 2017 St. Croix 70.3 Half Ironman in May, easily won the Love City Triathlon. He completed the course in 1:44:52, 11 minutes faster than runner up Brad Goggin.
Complete race results will be posted online Monday.
Swanton is vice-president of the V.I. Triathlon Federation representing St. Thomas and St. John.
"I've done the bike race before; it was wet, but I knew what to expect. It's a great course, with great volunteers," he said.
To make sure the next generation of athletes develops a taste for competition, this year the Landsharks added a special new race, a Kids Mini Swim Run. Open to children ages eight through 13, that race included a 50-yard swim and a .8-mile run. Eight youngsters completed the course.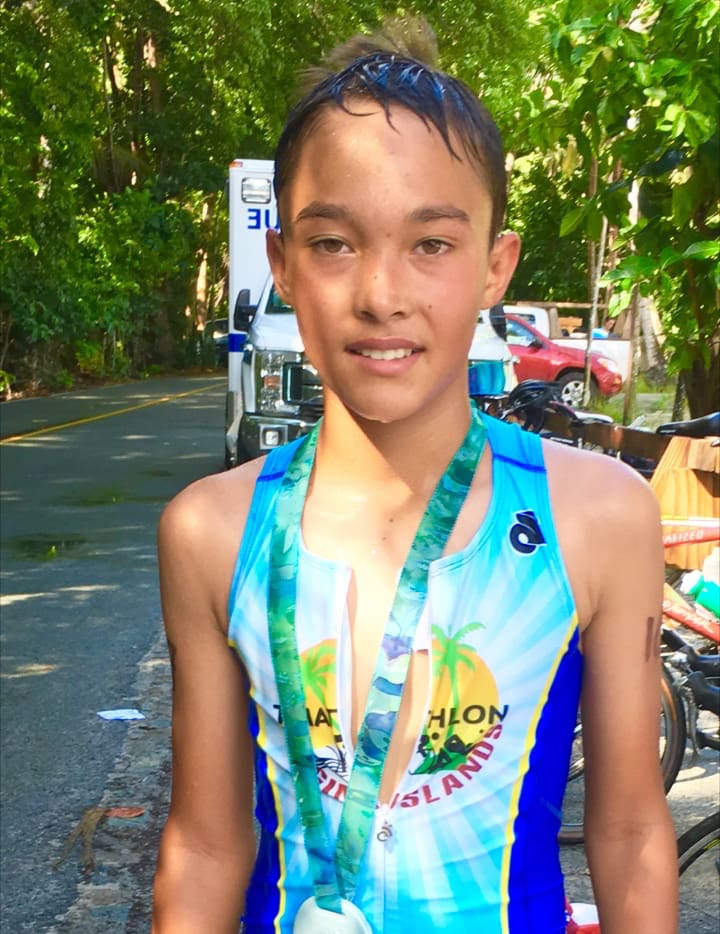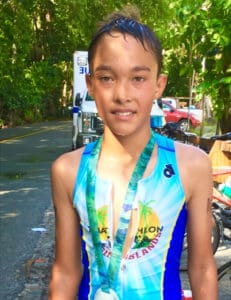 Taber Helton, a 13-year old from St. Thomas, was permitted to compete in the triathlon, his first adult race. A student at the Montessori School, Helton said the bike segment was the hardest part "because it was so steep."
Helton placed fifth, the youngest competitor to ever take part in the event.
The cyclists began at Maho Bay and rode west down the North Shore Road to Cruz Bay, then east on Centerline Road to Kings Hill, and down the steep grade back to Maho Bay.
The race drew high praise from participants.
"It's my absolute favorite race," said Raf Muilenburg, a part-time resident who grew up on St. John. "It brings out what's awesome about St. John – the gorgeous aquamarine water and the views of the whole island. I tried to turn my bike to take in every view as I passed," he said.
"What I like about St. John races is they're so well organized," said Gareth Thomas of Tortola. "And the cars are much more courteous here. They pull aside and cheer you on. We come over every year for the carnival bike race. We usually bring over ten people."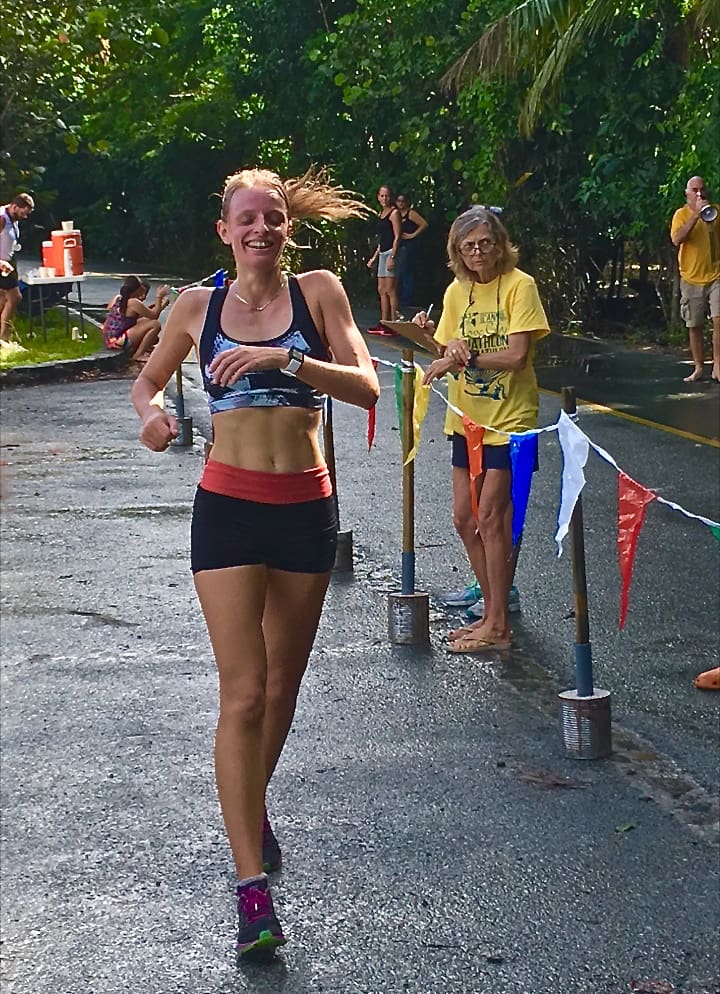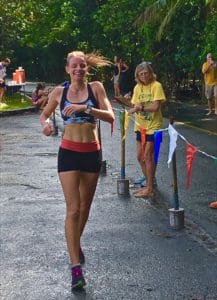 What made this race different this year was the slippery conditions caused by multiple morning rain showers.
"I think I was going faster uphill than downhill because it was so wet," said Mickey Ennis, also from Tortola.
The bike segment was probably the most challenging part of the race, according to Matt Crafts, one of the event's organizers.
"People are going to have sore hands from braking," he said.
The number of participants this years increased by 15 over last year, according to Mary Vargo, one of the race organizers. She credited Redwood Parks Company, the new management company at Cinnamon Bay Campground, for the increased attendance.
"They stayed open over Labor Day weekend, instead of closing in August, and they offered a discount rate."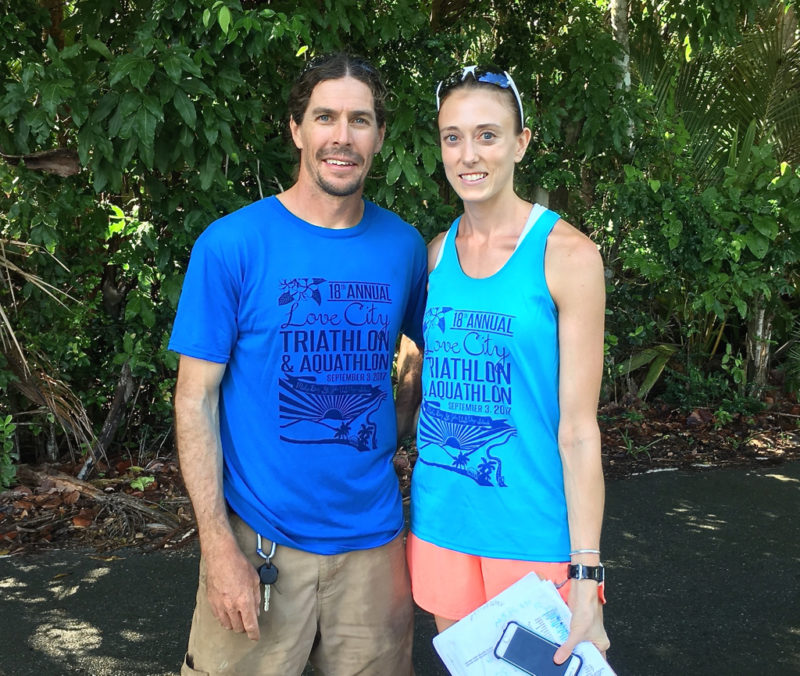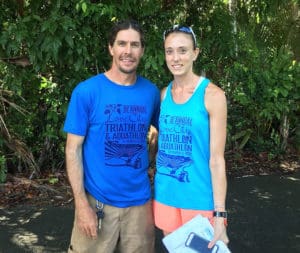 Vargo said the Love City Triathlon attracted as many as a hundred participants in 2004 and 2005, but attendance gradually fell off, especially after 2013 when Maho Bay Campground closed. Maho Bay Campground, which was located very near the race transition site, used to offer deep discounts for racers and their families.
To encourage participation, the race organizers dropped the entry fee from $50 to $35 for adults and made purchasing a T-shirt optional. Prizes are island-made ceramic medallions and woven palm frond bowls.
"We just charged enough to cover expenses," Vargo said.
Vargo said any profits will be used to pay for insurance costs for future Landsharks events, including the Turkey Trot on Thanksgiving Day and the Ten Bay 10K race held in December.
More than 20 volunteers, as well as members of St. John Rescue, the Virgin Islands Police Department, and the Virgin Islands National Park, were on hand to makes sure the events ran smoothly and safely.
Following the race, many athletes, volunteers, and organizers said they were going home to continue hurricane preparation in anticipation of the arrival of Hurricane Irma on Wednesday. The race was a good distraction, several said.