Help has arrived on St. John, bringing relief to the island that was devastated by the destructive force of Hurricane Irma.
The storm that battered the island has brought out some of the best – and some of the worst – in the residents.
"Things are a lot better today," Source reporter Amy Roberts said in a phone call Saturday afternoon. "Lots of people who volunteered to help are arriving, and the St. Croix ferry arrived with supplies."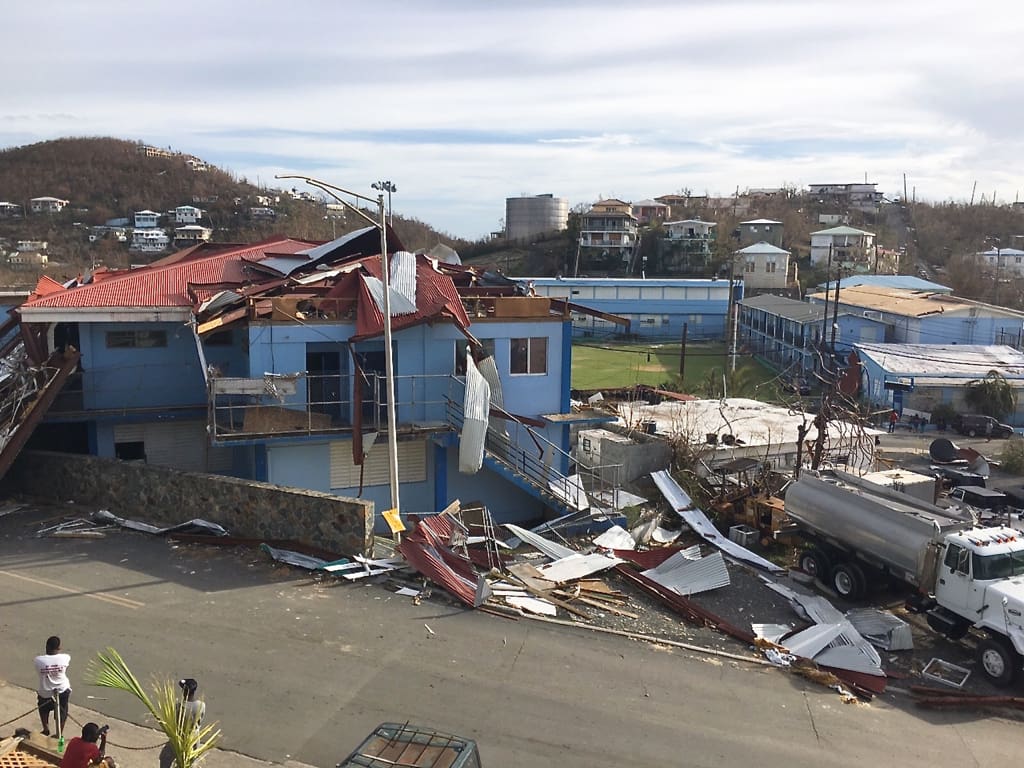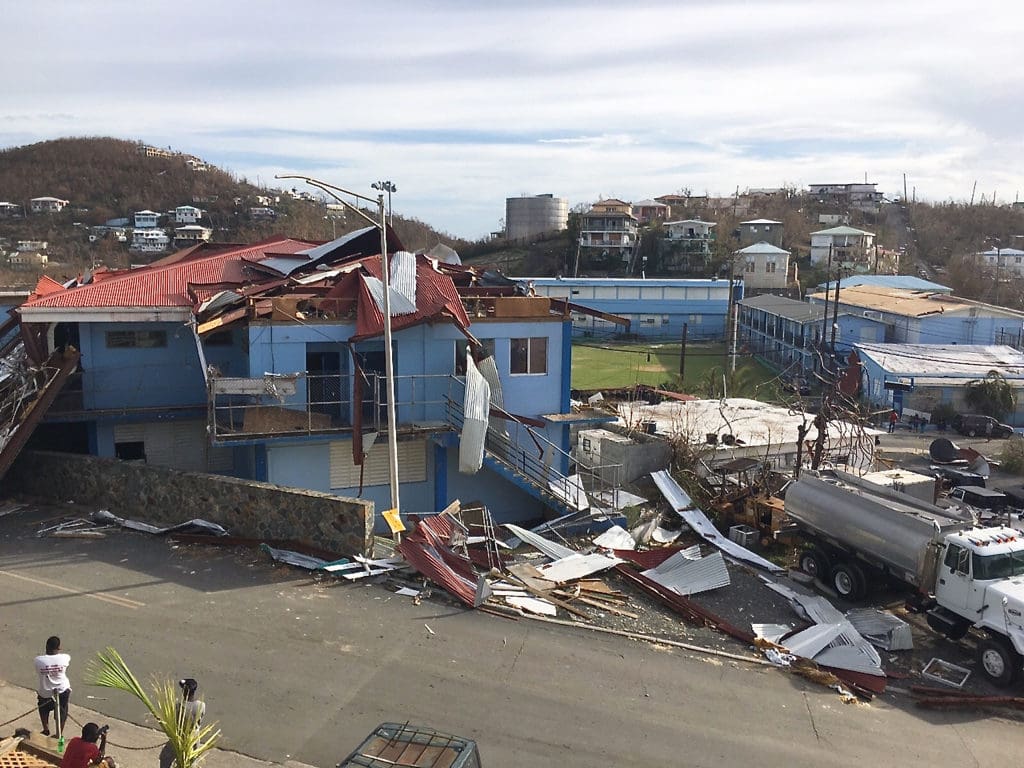 On the return trip, relief vessels were taking people back to St. Croix so they could be evacuated to the states. Three groups of evacuees were being prioritized – pregnant women, women with children age four or younger, and older women.
One women who was carried out by the evacuation was Lee Morris, in her 70s, a widow, who said, "I have to abandon my house. I hate to go."
Morris apparently crawled out of the ruins of her house in 100 mile and hour winds during the height of her storm and made her to a neighbor for safety. She said she loved her house, and was upset that she was unable to take her dog. She is trying to make contact with family in California.
At the Westin resort on St. John, a big boat came in and took off guests and staff.
Roberts said both the Grande Bay Resort and Gallows Pointe resorts looked as is they had weathered the storm, "They both appear to still have their roofs," she said.
Some heroes
Some of the relief effort is coming from country music star Kenny Chesney, who owns a large home on St. John. He has reportedly sent a private plane loaded with supplies for St. John. The plane had to land at St. Croix's Henry E. Rohlsen Airport.
One hero on St. John was Deverell Alfred, the cook at the Julius Sprauve School, which had been turned into a shelter for Cruz Bay. She came in Friday afternoon and got the kitchen operating. Since then she has cooked three meals for more than 200 people at a time – Chicken, rice, corn and salad.
School had been scheduled to open last Tuesday, the day before Irma hit, so the kitchen was well stocked.
Helicopters carrying supplies were bringing water and food –in the form of military MREs, meals, ready to eat.
Redhook Family Practice in Cruz Bay was open from 10 a.m. to noon Saturday and will be again Monday. They intend to stay open, Roberts reported.
At Mongoose Junction the shopping center had a diesel generator running Friday and people gathered around one corner of the parking lot where they could get the Wi-Fi signal, sending email and checking the news on the internet.
However, the Wi-Fi went out Saturday, apparently because the fiber optic cable got cut.
Mongoose Junction scheduled an 8 a.m. meeting that was specifically for store owners in the center, but others on the island heard about it and came over. It turned into a community meeting where people exchanged information and news was disseminated. Another such meeting was planned.
Help from All Over
Mark Leslie Lavendoski and his family were visiting St. John from North Carolina. They spend a week enjoying the beaches and exploring the island, but when it was time to go, their scheduled flight was canceled by the storm and they were stuck in the path of Irma. They rode out the storm with the friends they were visiting.
The Lavendoski's are Jehovah's Witnesses and they spent time after the storm helping clean up the Kingdom Hall. They said the church's headquarters is sending relief supplies to St. John.
Jon Bergeron, incident commander from the U.S. Public Health Service, said FEMA has brought 16 people to the island for search and rescue, doing door to door searches, and the National Park Service has a dozen workers for tree removal and fixing up the park's housing so displaced people can stay there.
Shortly after noon a crew from Viya, the island's telecommunication company, arrived on St. John to start sorting out and restoring the phone service.
Not Everyone is a Hero
On the down side of human nature, scattered break-ins and looting have been reported across St. John.
Thieves apparently broke into the office of St. John Insurance at Mongoose Junction, stole a 600-pound safe and vandalized the office. The insurance company is going to need to be able to operate in the days and months to come to help residents deal with the damage.
Little Switzerland, the jewelry store in the center, has a broken window. Throughout Saturday morning a weakening alarm continued beeping.
There also have been rumors of looters moving around in neighborhoods where they think nobody is in the house.
More Damage
Reporter Judi Shimel, who also lives on St. John. said many of the boats anchored in Hurricane Hole, the safe anchorage spot during storms, appear to have been smashed up by the storm. "It looks like those that didn't sink ran up on the shore," she said in a text from the island.
Both fire stations on St. John were damaged, and the ambulance stationed at Romeo Company in Coral Bay has a basketball-sized hole in the windshield, according to Shimel.
Two people were injured in the Hansen Bay area, including an elderly woman who Sjimel said had been "sucked out of her house by the wind" when she tried to shut a door that had flown open.
While supplies have begun flowing into the island, "everybody is wondering where the FEMA tarps are," Roberts reported. Word is they would be available on St. Thomas, but there has been no word on when they would be available on St. John.
There have been suggestions that the government's planning for the storm was inadequate and didn't take into considerations of the front line responders.
One officer, who asked that his name not be used, said ""there is no plan. … There is no emergency plan in effect."
An emergency medical technician said, "The EOC (emergency operations center) did not listen to people with boots on the ground. We were left out of the planning."
At the Cruz Bay harbor, where members of the V.I. Fire Services were unloading a boatload of supplies, David Goodrich from St. Croix Rescue stood watch "with very big gun for security." Not that there was anything going on. "People definitely are getting mindful."
Another St. John property owner, looking over the damage spread over the island, , commented, "Hurricanes don't blow, they suck."
And someone who moved to St. John in 1995, just n time to go through Hurricane Marilyn, said incidents like this help you put things in perspective.
"Your needs and your wants are separate things."