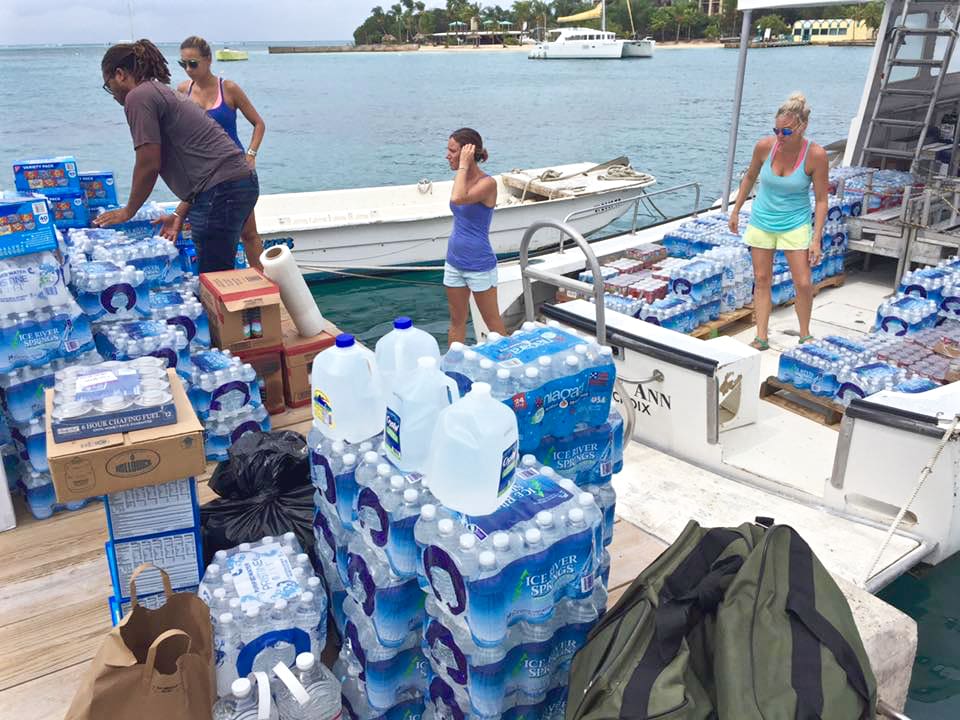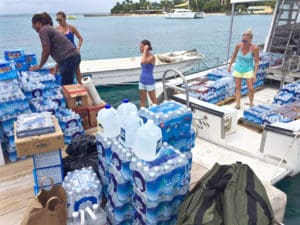 Less than 24-hours after Hurricane Irma terrorized the Caribbean, Crucians, almost unscathed in comparison, began to gather resources to help victims on the devastated sister islands of St. Thomas, St. John and Water Island.
Siblings Matt and Sarah Ridgway, born and raised on St. Croix, fueled Matt's power boats and started a Go-Fund-Me account, Irma Relief for Our Sister Island, while they cleaned downed trees and debris from their own homes.
Matt owns Caribbean Sea Adventures, a Buck Island tour company, and on Thursday began filling two 42-foot powerboats with 12,000 pounds of supplies donated by residents. Since then, the Go-Fund-Me account has raised more than $47,000 to be used to fund future shipments.
People from all over St. Croix have delivered water, food, toiletries, clothing and pet food to the CSA's dock on the Christiansted boardwalk, according to crew member Michelle Griffith.
After gaining approval from the U.S. Coast Guard, both boats left Friday morning, heading north, unsure where they would find suitable dockage. Griffith said the crew had received word the docks at St. Thomas's Marriot and Ritz Carlton Hotels were available as backup to offload the supplies. The boats planned to make the three to four hour return trip filled with people who need shelter.
Griffith said the company will continue with daily trips to St. Thomas, St. John or Water Island indefinitely.
"We'll run as long as we can, as long as we have supplies. We'll utilize the boats to help our sister islands," she said.
The QE IV, St. Croix's ferry, is another vessel helping victims on the other three Virgin Islands. Warren Mosler, QE IV owner, offered the vessel for use by the V.I. Government and the ferry began deliveries Saturday. He said he doesn't know what supplies will be carried nor how long the ferry would run between islands.
Other efforts to help have included donations from supermarkets and several St. Croix businesses, which have begun collecting supplies that will be delivered to CSA or the ferry.
Eduardo Torres of Eddies Glass Service, stepped up right away and volunteered storage space. He said he will deliver items to the dock because he remembers hurricanes Hugo and Marilyn, when Virgin Islanders helped each other recover from those devastating storms.
People can drop off water, tarps, food and other necessary items to his Five Corners store and the National Auto Parts store across from Cost U Less.
There are several other Go-Fund-Me accounts for V.I. hurricane relief including one by the Caribbean Tourism Organization. Funds will benefit residents in the 28 member countries.
As the clean up gets underway, Lutheran Social Services will host volunteers from Lutheran Disaster Response, said LSS chief executive officer Junia Straker. Plans are being made by the organizations, she said, to help cleanup and rebuild the islands.
Residents will remember LDR volunteers who stayed for months on St. Croix after Hurricane Hugo and on St. Thomas after Hurricane Marilyn.