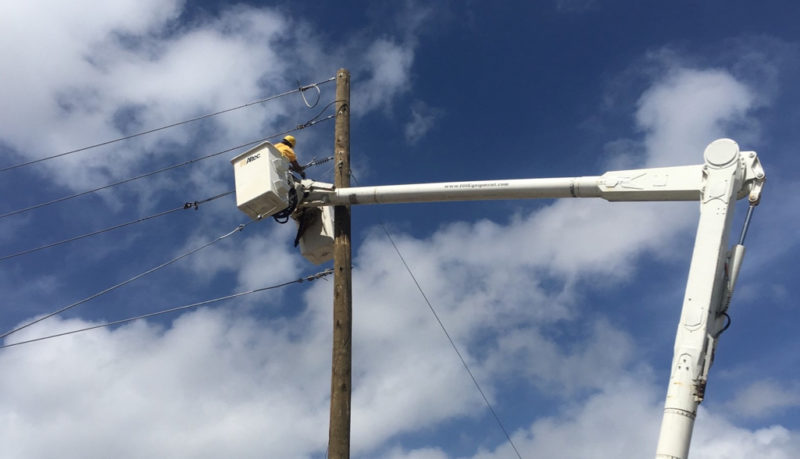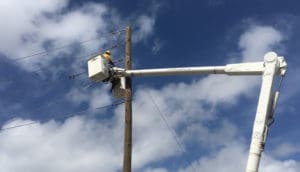 The V.I. Water and Power Authority will activate call centers in both island districts, Monday, the electrical service announced Sunday evening.
The call centers will be the primary means by which residents can report service interruptions as reconstruction and restoration takes shape, according to the WAPA news release. The emergency call Center numbers are"
– St. Croix, 340-773-0150,
– St. Thomas-St. John, 340-774-1424.
The centers will operate daily from 7 a.m. to 11 p.m.
In other news on efforts to repair and restore electrical service in the territory, WAOPA announced Sunday:
– Members of the first off island restoration crew arrived on St. Thomas Saturday and began work on Sunday. The crew is from the Western Area Power Administration. Additional crews are expected over the next several weeks. Reconstruction and restoration work since Hurricane Irma on Sept. 6 has been carried out by WAPA personnel and on-island contractors Fortress Electric on St. Croix and Bryan's Electric on St. Thomas.
– Assessments will be made over the next several days to determine the extent of damage to WAPA's distribution systems. Restoration plans for both districts will be developed and made public once the damage assessment process is completed. The restoration schedule cannot be developed until the conclusion of the assessment phase.
– While damage assessment teams are deployed next week, reconstruction and restoration crews will continue work in specific areas in both island districts.
On St. Thomas, work will be focused on the "A" feeders, which run from mid-town to the west end. Over the next few weeks, crews will work on the paths of Feeders 6A to the west end, 7A to Estate Altona, 8A and 9A into Savan, all extending outwards from the Randolph Harley power plant.
On St. Croix, crews will continue to work on re-energizing more areas in downtown Christiansted and in the town of Frederiksted.
– WAPA will receive additional inventory, including about 1,300 poles, in the coming week. This will augment the on-island supply of electrical poles, cable and other equipment that the authority has utilized to date in the restoration effort following Hurricanes Irma and Maria.
– WAPA continues to work jointly with Viya, the V.I. Waste Management Authority and the Department of Public Works on a cleanup initiative. This strategy is aimed at clearing the roadways of fallen cables, poles and other hardware and allowing both utilities to scrap the damaged equipment while the VIWMA gains access to public dump sites for regular waste hauling.
Potable Water System
– Both the Contentment and Richmond pump stations are on line on St. Croix. Potable water service is being provided to some locations while the Kingshill tank is gaining additional storage.
– Water service is available throughout Cruz Bay.
– Potable water service has been restored to all of St. Thomas's east end communities. Service has also been restored to the town district including Estate Bakkeroe. Crews continue to work to restore service to Government Hill, Estate Thomas, Savan, Bergs Home, and Contant Knolls housing community.
General Information
– For those with internet access, daily restoration updates are available both on the WAPA website: www.viwapa.vi and on Facebook, Virgin Islands Water & Power Authority.