Step by step, the territory is recovering from the double whammy of two Category 5 hurricanes this month, but there's a long way to go, Gov. Kenneth Mapp said Saturday in his daily briefing.
"Again, today is better than yesterday; and we have good, positive reports," he said.
For instance, more than 8,000 residents on St. Croix had received emergency provisions of food and water during the day, he said. But he also cautioned residents about expecting too much, too soon.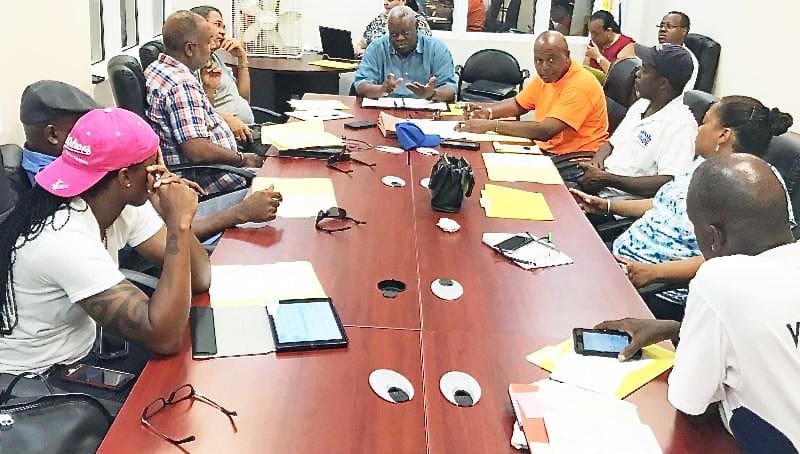 "St. Thomas and St. John are now re-entering recovery stage. St. Croix is still in rescue stage," Mapp said.
Parents who are eager to learn when the schools would be open got an indication of what they can expect.
"Accept this reality. The school year is not going to end in May or June," he said.
Mapp expects the Department of Education to have a plan before October on how to reopen schools. He said the plan would probably include consolidation of schools, double shifts and longer hours.
Virgin Islands Police Commissioner Delroy Richards reported that crime in the St. Thomas/St. John district recently has been minimal. However, he said the department faces challenges on St. Croix. He said arrests on charges of burglary were made during the last 24 hours and three people were arrested for violating the curfew.
Richards said the department would set up more checkpoints and step up on other initiatives.
Health Commissioner Michelle Davis reported that a team from her department will go to Puerto Rico to check on the 43 patients who had been evacuated from Schneider Regional Medical Center when Irma passed through. She said that 20 of the 48 patients in Juan F. Luis Hospital and Medical Center had been evacuated to an Air Force base in Atlanta. Residents who need dialysis treatment were to be evacuated Sunday, she said.
Davis also urged residents who are taking medication for diabetes to find a way to keep their medication cool.
She said all Health Department employees need to contact their superiors before 5 p.m. Monday. She has planned a meeting for all directors in the Health Department for 11 a.m. at the Charles Harwood facility.
All residents or tourists who want to take advantage of "mercy" flights off the islands or catch a ride on a cruise ship that will take about 2,000 people to Florida can call 340-772-0357.
"If you are asking whether all the people who want a 'mercy' trip will get one; the answer is no," the governor said.
Mapp said his administration is pushing federal agencies to get the island airports open for commercial flights as soon as possible, but there was still work to do on the ground. He said the St. Thomas airport should be open by the end of the week, but he still did not have an estimated time for opening St. Croix's.
About 300 residents are still in government shelters on St. Thomas and about 350 on St. Croix.
Before Irma, the government had five contractors on contract for removing debris in an emergency. It has added seven since the territory was hit with two major hurricanes within 12 days. Other contractors that have the equipment to move heavy debris and have a business license are urged to contact the government.
Mapp met with members of the 32nd Legislature earlier Saturday. He said senators raised concerns about the recovery effort, on such issues as debris removal, mosquito control, jobs in the recovery effort, the status of the hospitals, and assisting residents of public housing. All those concerns are being addressed. He said he appreciated the senators' offer to be involved in the recovery effort in any way that would be beneficial.
He said any offers of help were appreciated and had just prior to the briefing signed off on documents that would bring help from the Tennessee National Guard.
Although the official reports indicated that emergency supplies were streaming into the territory, distribution centers will not be open Sunday.
The curfew will be suspended from noon to 4 p.m. on Sunday on St. Croix and the governor has asked churches to open their doors if they can for residents who want to worship.
The curfew in the St. Thomas/St. John district remains from 6 p.m. to 9 a.m.
Mapp said the Water and Power Authority had managed to bring power back to a few areas on St. Croix.
William Vogel, coordinator for FEMA Region 2, said the cruise ship Celebrity would be in the territory to give first responders arriving from outside the territory a place to sleep.
He added that residents who wanted to apply for individual assistance, can visit www.disasterassistance.gov or call 1-800-621-3362. So far, 5,400 residents had registered as of Saturday afternoon for aid from Irma and 901 had registered for aid from damage during Maria, he said.