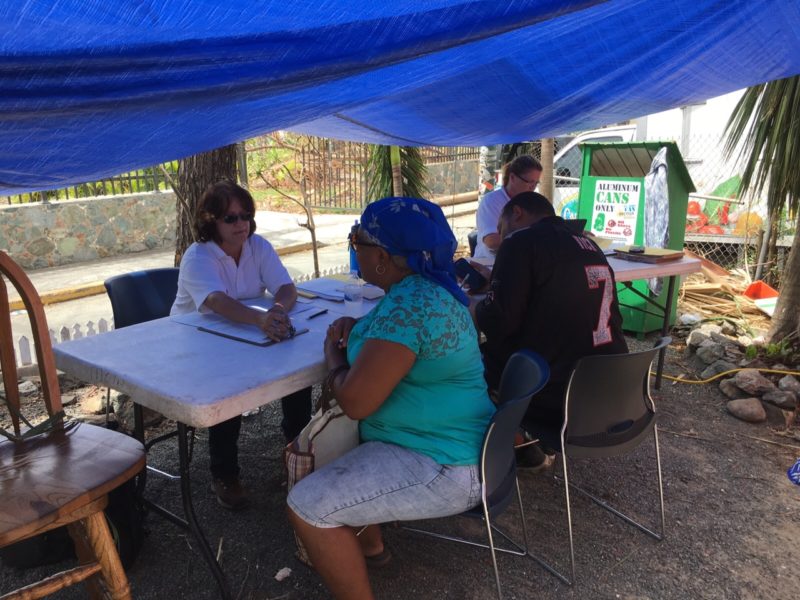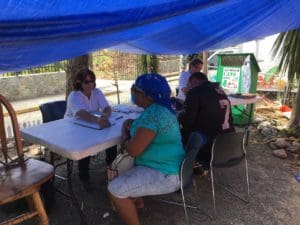 There have been reports of water contamination to fuel on St. John, causing some generators to stop working, Clayton Covel of Help.NGO's Global Disaster Immediate Response Team told St. Johnians at the Friday morning town meeting.
Covel recommended generator owners buy a bottle of Drygas or fuel injector cleaner and add it to their tanks. Drygas is an alcohol based additive that absorbs water and keeps it in solution, allowing it to pass through the combustion process.
There is Drygas available for sale on St. John.
Another major concern on the island is the risk of mudslides. The ground was thoroughly saturated by the two hurricanes and heavy rains since then, and heavy rains returned over the past few days. So there is a lot of concern for the road to Coral Bay. On Friday volunteer organizations were running shuttle bus safaris at noon and 2 p.m. to Coral Bay and a schedule for more runs was being determined. They are trying to lessen traffic by cutting down on single or double-passenger cars using the road.
Mail is being handed out outside the Cruz Bay Post Office but not inside. Covel said the post office structure was mostly intact but water got in and there is now a black mold problem. They do not want to distribute the mail from the post office for fear of dispersing black mold spores throughout the islands.
"We are not waiting for the building to be remediated," Covel said. Instead, they are starting to look for another location for postal service.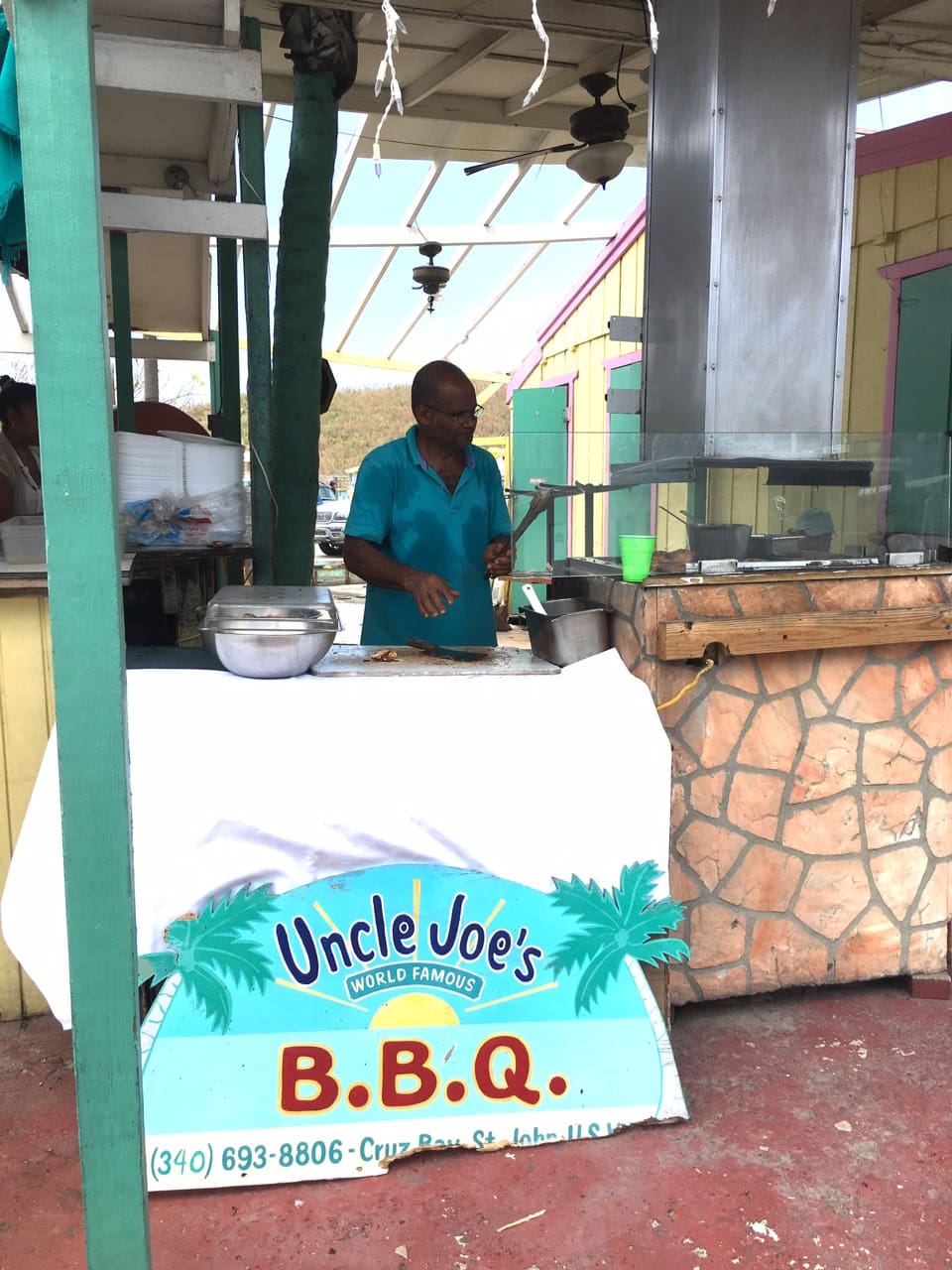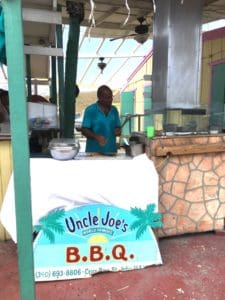 FEMA is asking residents to sign up for disaster assistance online at DisasterAssistance.gov. Those who experience difficulty applying online can call 1-800-621-3362 or TTY at 1-800-462-7585 to apply from 7 a.m. to 11 p.m. Eastern Time.
Survivors have 60-days from the date of a declaration for Individual Assistance to apply for assistance.
Some residents are reporting problems signing up. One woman who did not give her name said she had tried to register and been put on hold for two hours and so was unable to get through by phone. Email and internet on St. John have been very limited, available just at spots where free Wi-Fi hotspots have been set up. It has been intermittent, but was robust on Friday.
Friday, two FEMA Disaster Assistance Program officials were set to arrive on St. John. None had been there previously. FEMA coordinator John Covell said another 24 were soon to follow.
"We encourage you to register online, but I know that for many people, you like to talk to a human being. The team will be on island until we have reached 100 percent of everyone who needs help," Covell said.
Some said they were having difficulty signing up online or on the phone because St. John addresses are not being recognized. A VITEMA representative said to just enter the zip code and skip the full address.
St. John has long been a black hole for online addresses and location services. Global D.I.R.T is running a mapping project funded by Bloomberg and other philanthropic organizations, that will help with that in the future.
They will conduct a house-by-house survey. Through this geo-mapping technology they will be able to drop a pin at each house. The pins are color coded with information. The most immediate use is to locate each house, say whether the house is inhabited, and itemize any issues of access to the house, along with some notes on the kind of damage it has sustained. This will be used by FEMA and VITEMA to determine the amount of aid and types of aid that are necessary.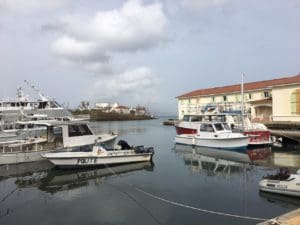 The system is flexible and updatable and will be used by FEMA and VITEMA in future emergencies. It also has the capability of recording if a person has a medical condition, so when people call 911 the emergency responders could know if the person is a diabetic or has a wheelchair or a hearing impairment.
This system will help address a longstanding problem with location information on St. John.
Global D.I.R.T. is hiring to help with the project and held a job fair Saturday. The group us looking for able-bodied people 18 and older who are capable of walking some distance. The group also is especially interested in people who are bilingual or multilingual, because the project is trying to get into the Spanish and Haitian creole speaking communities.
Efforts to clear Coral Bay of sunken boats are underway.
Jon Bergeron, incident commander from the U.S. Public Health Service, said FEMA has good aerial imagery, which allowd them to determine the size, type and location of all stranded boats. One person informally estimated there are almost 200 vessels down. In Coral Bay there are only three boats floating. One of the three reportedly belongs to an individual who died about eight months ago and has been unattended at its mooring ever since. The iconic 110-foot sailing freighter, the iron schooner Silver Cloud, has been dismasted but still floats.
The mapping indicates there are several boats that can be plucked out from the shoreline or mangrove and be floated again, Bergeron said. Asked if boat owners will be fined, Bergeron said that has not been determined yet but probably not.
Sherry-Ann Francis, the field coordinator for the St. John administrator, told residents Department of Labor will be on island between 10 a.m. and 2:45 p.m. Monday at the V.I. Legislature Annex to sign people up for unemployment.
There is FEMA unemployment for those who lost jobs because of the disaster and also regular Unemployment Insurance.
Some businesses are returning but others are still closed.
The Bloomberg Group is getting high praise for pinpointing the right places to inject some help.
"I'm impressed with Bloomberg's knowledge of the economy," said Donna Smith, owner of Kilroy's Laundry. Smith said they were making an effort to get her a generator to get her business going, both because she is an employer and because local people need their laundry done. No laundry is reportedly open yet and many residents rely on laundries.
Mary Bartolucci of Island Style Wedding said she has people who are still planning to come. She said she has a group of 75 coming in December, with a reception at Rhumb Lines, a Cruz Bay restaurant. They should have power before that time. WAPA crews were busy all over St. John on Friday.
Others who had weddings scheduled at Caneel Bay Resort have changed their plans. When Caneel Bay personnel were asked about the status of the resort, they deferred questions to their stateside public relations officials.
Marketplace in Cruz Bay is now open from 9 a.m. to 3 p.m. It has Starfish Market, St. John Hardware, Chelsea Drug Store. There are two other food markets open.
All the shops at Mongoose Junction are presently closed except for the Tap Room, which is open for happy hour. The maintenance crew is putting lubricants on all the windows and locks and movable parts and recommends that other people do the same, to prevent problems down the line.
Tunick Insurance at the Marketplace is open 9 a.m. to 2 p.m.m. Monday through Friday at the Marketplace, according to David Holzman. Holzman requested people bring photos and the policy number if they have it. St. John Insurance re-opened on Friday at Mongoose Junction there hours are 9:30 a.m. to 4 p.m.
Also at Marketplace, Cruz Bay Family Practice has been treating walk-in patients for urgent and routine care. On one day, the clinic staff performed 30 physicals for students who were taking advantage of tuition deferred period at the Gifft Hill School.
Gifft Hill is letting public school students attend until public schools open. They saw 78 students Friday and are expecting 98 on Monday, while their usual student population is less than 40. They are encouraging people who want to attend to arrive at 10 a.m. and 1:50. p.m.
"Please pop in and see how we start and end our day," Lauri Bottiger, the school's head, said.