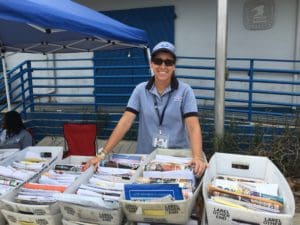 Gov. Kenneth Mapp announcing that he was sending his nomination of Nelson Petty Jr. as head of the Department of Public Works to the legislature for approval almost made the news briefing feel pre-Irma and pre-Maria normal.
Other reports also indicated the islands were making progress on the road to recovery. All government workers should be back working or at least available to work by Monday. Those not reporting to work will be placed on administrative leave without pay.
Mapp also talked about shelters being emptied soon and schools being opened on Oct. 9th.
However, the briefing also yielded news that there is still work to be done.
Mapp said those in the shelters need not fear being thrown out into the elements. The territory was under a flood watch Friday and two to four inches rain were expected over the weekend. He said the government was working with its "housing partners" so everyone would have somewhere to go.
The Blue Roof program, which has been slowly getting on its feet temporarily repairing residents' roofs, will get an active kickoff on Monday with many local government workers being trained to assist. Mapp pointed out that program addresses homes that had about 50 percent of their roof remaining. Residents with greater damage would have to get into a program of permanent reconstruction. Mapp said that program could be three months away so he is trying to expedite it.
Mapp said that Lockhart Elementary, presently serving as a shelter, is one school that is expected to be open for students Oct. 9.
Also, symptoms of recovery are seen in the scaling back of the distribution of emergency food and water. Emergency distribution of food and water will only take place on St. Croix Saturday. There would be no distribution in the territory on Sunday. Distribution of commodities will take place across the territory on Monday, but the hours are going to be shorter. Mapp said distribution would probably be cut down to four hours on four days a week because "Our ports are open our stores are getting supplied."
An emergency evacuation of residents took place with the Royal Caribbean Adventure of Sea from St. Croix on Friday; 800 Crucians had been pre-approved for the evacuation to Florida, but by 1:30 p.m. only 600 of them had shown up. The government made radio appeals to anyone else who wanted to leave to come to the Frederiksted cruise ship pier. The ship left late in the afternoon, with more than 800 Crucians aboard, to pick up more passengers on St. Thomas Saturday. The evacuees do not have to pay anything for the trip.
The curfew on the islands keeps shrinking, but Mapp says the roads continue to be dangerous to drive on at night because there are no lights, and debris and wires are still down.
The curfew in the St. Thomas/St. John district is now 6 p.m. until 6 a.m. and on St. Croix it will be 6 p.m. until 10 a.m.
The report from Delroy Richards, the Virgin Islands police commissioner, was not as indicative of progress as it was of problems. He said six people, one a business owner, were arrested for curfew violations during the previous 24 hours. He said he went to a grocery store that had been permitted to be open later to serve first responders but discovered "all of St. Croix appeared to be there."
Mapp told him to set up double checkpoints around the grocery store Friday night and do "what the law required."
Richards added that there were also three different incidents of violence involving multiple people and significant injuries. (See "Related Links," below.)
Mapp said the number of deaths attributed to the two hurricanes had been downgraded from seven to five. He said the attorney general and the medical examiner would hold a press conference Monday to explain why the number had dropped.
A statement from the Department of Natural Resources was read at the briefing saying that residents running generators without permits could only run them from 6 a.m. until 10 p.m. and that residents with permits should check the permits to see what they were allowed. DPNR recommends that generators be run only four hours a day to take care of basic needs.
The U.S. Postal Service reported the Christiansted main office, Gallows Bay office, Sunny Isles office and the Kings Hill office would be open only for mail services. No retail operations were open. The Frederiksted office remains closed. Frederiksted residents can pick up their mail at Kings Hill.
Residents who have lost their ability to earn an income because of Hurricane Irma are eligible for Federal Disaster Unemployment Assistance. Officials are working so that those who lost income due to Hurricane Maria also qualify for that assistance.
Mapp said he had spoken to local bankers and federal officials and "There should be no issue in respect to residents accessing their account or their money."
In accenting a return to normalcy on St. Croix, Mapp began the briefing by telling residents that Sunny Isles cinema would be open noon to five showing movies. He said, "Treat your family to a movie and relax."