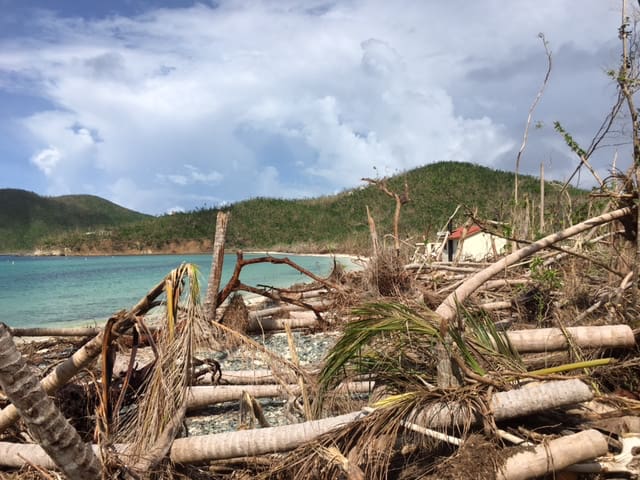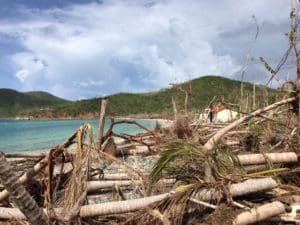 John Covell was one of the first FEMA officials to arrive on St. John, stepping on the island the week following Hurricane Irma. When he said farewell on Oct. 13 after his month's deployment on the island, he told the group gathered for the morning FEMA-VITEMA-NGO briefing that he wasn't worried about St. John.
Covell said things had changed a lot from when he was "first dropped by helicopter without a mission, and they'd said, 'Figure it out.'"
"Yesterday, I met a man coming off the ferry carrying two suitcases," Covell said. "'Where are you coming from?' I asked him. 'From St. Thomas,' the man replied. 'I hear things are so much better over here.'"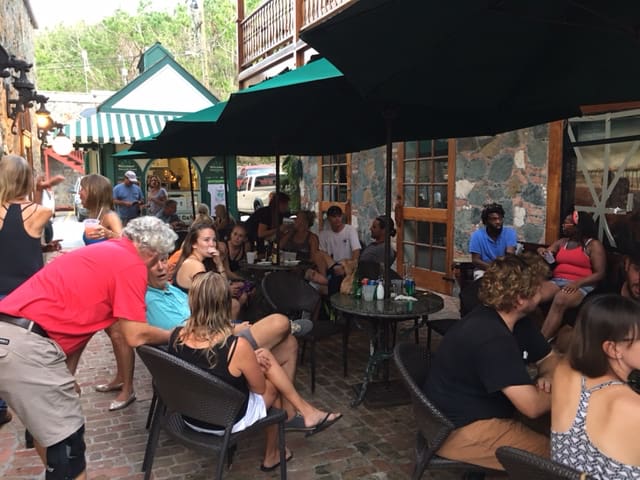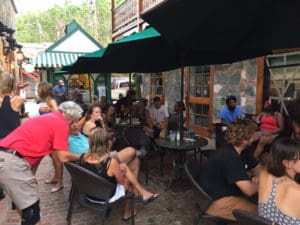 In fact, things are so much better on St. John. They're so good that the Red Cross is no longer funding free lunches at Cruz Bay restaurants. Many restaurants have reopened, including the Lime Inn, Rhumb Lines, the Landing, Chester's, Hercules' Pate Delight, Sam and Jack's, Uncle Joe's Barbecue, and Extra Virgin. The Sun Dog Café even featured live music at happy hour on Wednesday and Friday.
First Bank and Merchants Commercial Bank are now open on a regular basis, though with limited hours. ATM's at various locations dispense cash when the banks are closed.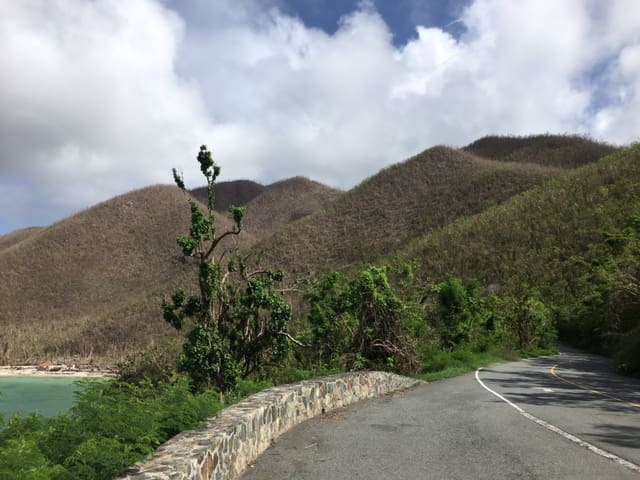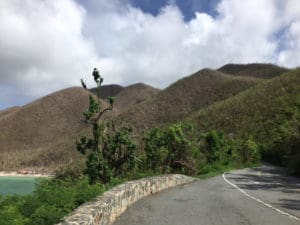 The North Shore Road is fully open to Annaberg, and Centerline Road is open past Coral Bay to the East End. Route 107 to Salt Pond and beyond has been cleared.
The water at most beaches has been tested and deemed safe for swimming by the National Park Service and the Department of Planning and Natural Resources, and people are using the beaches for swimming, snorkeling, paddle boarding and kayaking. However, the beach at Hawksnest Bay, now cleared completely of debris, looks weirdly naked without its fringe of palm trees and seagrapes.
Ferries to St. Thomas are back to their regular hourly schedule from 6 a.m. until curfew. Two barges are running from the Creek in Cruz Bay on a "fill up and go" basis starting at around 6:15 a.m.
Public schools are back in session as of Oct. 16. At the Julius E. Sprauve School, elementary students attend classes in the morning, and junior high students attend in the afternoon. High school students are back at Ivanna Eudora Kean High School on St. Thomas. The Gifft Hill School completed its fourth week of classes on Oct. 20, and the Christian Academy its third.
The post office building is open, and box holders now need their keys to collect mail instead of having it handed to them by employees stationed at tables out front. As of Friday, the computer system was still down, so only pre-stamped outgoing mail was being accepted.
St. John is clearly in a recovery mode that at times seems frenetic. The Water and Power Authority's blue and yellow trucks have been joined by a legion of white trucks from stateside contractors. As new utility poles are planted and cables are strung, impatient motorists try in vain to whiz past halted lines of traffic.
The big question is whether WAPA will be able to restore electricity to Cruz Bay by Wednesday, the target date line supervisor Richard Lanclos gave at the morning briefing Friday.
"We've got 35 linemen on the ground, and another 35 moving in from St. Thomas, and another 35 coming," said Stephen De Blasio, a consultant with the Bloomberg Group, an NGO that has been essential to the island's recovery. Another 45 are expected through another contractor, bringing the total to 150 on St. John, he said.
With that level of manpower, Cruz Bay should be ready when WAPA powers up the substation at the east end of St. Thomas and electricity is transmitted through the two underwater cables that supply St. John. WAPA crews would then move east, but Lanclos declined to give a date when power might be restored to Coral Bay.
Lighting Cruz Bay will be a big event. All of St. John has been making do solely on generator power since Hurricane Irma hit on Sept. 6. Car repair shops have morphed into generator repair shops, and people lined up at gas stations are as likely to be filling portable gas cans for their generators as they are to fill their vehicles.
While they wait for WAPA crews to arrive at their neighborhoods, homeowners have been advised to have an electrician check their meters and weatherheads to make sure they're not damaged. WAPA crews cannot connect homes to the grid if weatherheads are not working, Lanclos said.
Anyone who still has a downed WAPA pole on their property can call WAPA's hotline at 340-774-1424. If possible, property owners should copy the number on the pole's silver identification tag to facilitate the repair.
Antonio "Pumpkin" Lewis, Viya's manager of plant operations, said the phone company was following a week behind WAPA linemen to get the phone cables back up. Viya crews have been working along the waterfront from Gallows Point, Wharfside Village and Grande Bay toward the main business district in Cruz Bay. The "main fiber backbone" from these areas will be underground, Lewis said, although the hookups to businesses and residents will still be above ground.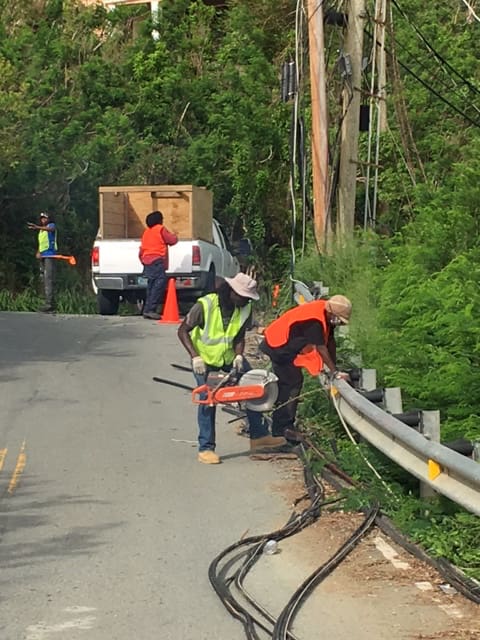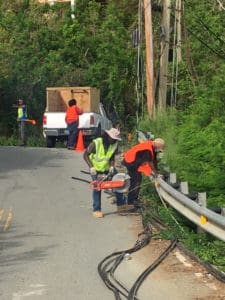 Contractors working for Viya were out on the streets chopping up obsolete phone cables for recycling.
"Trust me, they know what to cut," Lewis said.
Cell phone service should also improve as "cell on wheel" units, commonly referred to as COWS, were being deployed on Bordeaux Mountain to replace the broken tower, according to DeBlasio. He said Seacor and Kenny Chesney's group were working to get similar units for Coral Bay.
Debris removal is proceeding at an astonishing rate. Heavy equipment operators have cleared the ghut that runs past the Westin. Contractors are working with the Department of Public Works, the Waste Management Authority, the Bloomberg Group, and Kenny Chesney's Consultants to remove storm debris from the 10-foot right of way alongside the island's main roads.
Galvanized metal, broken appliances, damaged furniture, concrete rubble, and torn up brush are all considered storm debris and are being processed differently from household waste typically collected at roadside bins.
DeBlasio said residents who are dumping storm debris at bin sites were impeding the collection of household garbage and causing headaches for contractors paid to collect either storm debris or household waste.
The Virgin Islands Waste Management Authority and the Department of Public Works are working to bring a "tub grinder,' or "chipper," to chop trees and brush into small chips that can be used for mulch to aid composting.
"There's a lot of beautiful wood out there," said De Blasio, who encouraged artisans to take the wood from fallen trees.
Internet users can look forward to improved service this week, according to Rob Tutton of DIRT I.T., the collaboration formed by Global Disaster Immediate Response Group (DIRT) and a collection of local information technology experts.
The delivery of new equipment was allowing them to move forward on their plan to bring free Wi-Fi access to Coral Bay. Tutton said additional hotspots, including spots at Mongoose Junction, would soon be available in Cruz Bay.
The Bureau of Motor Vehicles has been open for two weeks, according to Camille "Juju" Paris, the St. John administrator. The Department of Licensing and Consumer Affairs was operating out of the Battery, and the VI Bureau of Internal Revenue should be open this week.
The Virgin Islands National Park announced that the Visitors Center at the Cruz Bay headquarters would be converted to a command center to accommodate additional staff.
Meanwhile, FEMA continues to process applicants for Disaster Survivor Assistance at the pavilion next to the NPS headquarters in Cruz Bay, according to Patrick Cornbill of FEMA. Details are still being finalized for the opening of a Disaster Recovery Center, a centralized location for federal disaster assistance in Cruz Bay. The Ford Building will be the DRC site in Coral Bay, he said.
The Small Business Administration is now setting up shop at the pavilion in Cruz Bay and the Ford building in Coral Bay, according to field operator Marilyn Dogon. The SBA is offering loans of as much as $200,000 for homeowners, and loans of as much as $2 million for businesses at low interest rates. Applicants must first register with FEMA in person, by phone at 800-621-3362, or online at www.DisasterAsssitance.gov, and then apply for SBA assistance in person or online at https://disasterloan.sba.gov/ela.
The New Jersey State Police wrapped up its operation assisting medical teams at the Morris DeCastro Clinic in Cruz Bay and the fire station in Coral Bay.
Lt. Kent Bellot of the V.I. Police Department said he was working with Deputy Chief David Cannonier to restructure the police command in Cruz Bay.
Veterinarian Heidi Stout of Canines, Cats and Critters said the Animal Care Center in Cruz Bay was once again reaching capacity. CCC and ACC worked with the International Federation for Animal Welfare to airlift more than 90 pets left behind on St. John to be reunited with their owners or put up for adoption stateside. She said discussion of another airlift was underway.
Jim Furneaux, board president of the St. John School of the Arts, said the school was making plans to reopen and offer free art classes to all St. John children. A fundraiser is scheduled for Friday in New York City at the Professional Children's School. Details re available on SJSA Facebook page.
Furneaux also serves on the board of Partnerships in Hope, which is working with the V.I. Department of Education to set up a community center in Coral Bay at the former Guy Benjamin School. Furneaux said five of the seven classrooms at the school were totally destroyed by the storms, but efforts were continuing because "Coral Bay needs a community center."
Love City Strong, in addition to working with DIRT on an island survey, is opening a pop-up store next to the Dog House Pub to collect and distribute free clothing.
The FEMA-VITEMA-NGO briefings held at the National Park Headquarters will continue to be held on Mondays and Thursdays at 7:30 a.m.
Shared content for the Virgin Islands Source and St. John Tradewinds.