More than 440 vessels are sunk or beached around the U.S. Virgin Islands and the owners of more than half – more than 220 vessels – have yet to tell the Coast Guard or V.I. Planning and Natural Resources Department what they want to do.
The deadline of Friday, Dec. 1, is right around the corner, so DPNR and the Coast Guard are trying to get the word out and get owners to contact them.
"To date we have received owner intent for less than half of the more than 440 vessels affected by hurricane impacts to the islands," Coast Guard Commander David Reinhard said in a statement. Reinhard is the incident commander in charge of vessel salvage operations. "Our mission here is to minimize any threat to the maritime environment, however, we want to return property to interested vessel owners if possible," Reinhard said.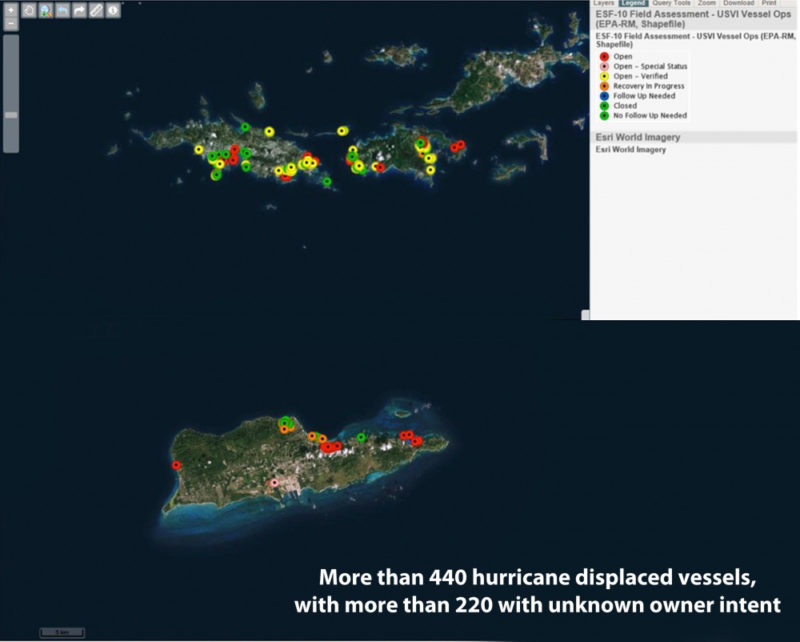 After Dec. 1, all vessels without identified owners will be declared abandoned. The abandoned vessels will be removed under DPNR authorization.
Salvaged vessels will be cleaned of all potential pollutants and then transferred to DPNR. DPNR then oversees the further disposition of the vessels.
So far, more than 100 vessels have been salvaged through owner insurance, direct owner salvage or under federal operations.
Officials strongly urged vessel owners to contact DPNR before Friday. If owners do not have insurance or a way to salvage their vessel, they can request special consideration for federal assistance, or waive their rights to their vessels.
Owners do not need to actually salvage the vessels by Friday – just communicate their intent.
Owners can contact DPNR through the Vessel Owner Notification Hotline at 340-423-6353, by email at usvidpnr@gmail.com or get more information at http://usvihurricaneboatrecovery.wordpress.com.