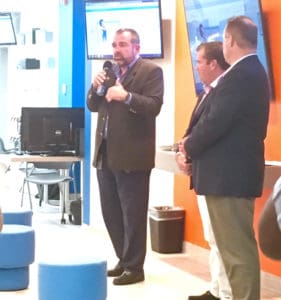 Dear Virgin Islands Customers:
As we prepare the expanded launch of the Viya-Connect Mobile Data Hotspot Devices (MiFi), Viya wants you to know that we hear you.
We are a company comprised of employees from, living in, and with roots grounded in St. Thomas, St. Croix, St. John and Water Island. When Irma devastated St. Thomas and St. John, our Crucian brothers and sisters formed a support team to send supplies and aid without hesitation. When Maria devastated St. Croix only weeks later we witnessed outreach from the other, already crippled Virgin Islands, in sharing what supplies and aid they could in return.
We all proved we are one Virgin Islands, working together.
Our priority has always been customer satisfaction as we aim to provide the best communications services in the Virgin Islands. We are working on many fronts to restore Internet. One solution is the Viya-Connect Mobile Data Unit (MiFi). When distribution was launched on St. Thomas, demand forced customers to stand in lengthy lines for extended periods of time as our associates attempted to deliver the product without access to our internal systems, billing, etc.
As residents ourselves, we have had enough of standing in line! To ease the discomfort of long lines, we devised a system to form a queue for faster, more personalized service.
We borrowed the concept of a "lottery" in that all have the same opportunity to secure the devices in an order that is randomly established. By signing up to participate you will be assigned an appointment which will ensure that we satisfy every customer's need for Internet access and are ready with your account information to speed the process.
To release a Viya-Connect Mobile Data Unit (MiFi), we were requiring a security deposit to ensure the units were returned in good condition. This was a standard procedure prior to the hurricanes. We have reassessed this policy and will not require a deposit from our current customers going forward. Our strategy is to provide you with an immediate, affordable Internet option.
Our goal is to remain connected with our community and to keep you in touch with friends, family and, for businesses, your customers. Please continue sharing your thoughts with us as we work through this restoration. Together, we will stand connected.
Thank you, Alvaro Pilar, CEO of Viya