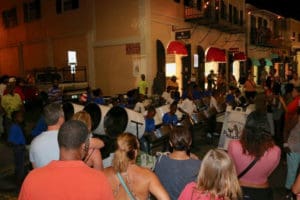 The St. Thomas-St. John Chamber of Commerce's Miracle on Main Street is one of the most popular events of the holiday season, and when it was decided this year that the event would not happen because of hurricane recovery, more than a dozen local businesses stepped in to fill the void.
"The Chamber of Commerce has done this event for years and they did an incredible job but, as it is for all of us recovering after two hurricanes, funding was just tight," India Association President Pash Daswani said. "Many of us thought it would still be nice to have it, so several sponsors stepped up to try and make it happen."
The cost of an event like Miracle can range up to $50,000, a high bill for any organization representing businesses who have been affected by the closure of Main Street, whose stores only began to reopen last month with the return of cruise ships to the island.
"I think with all that we've gone through, it's important for the community to be able to come together and enjoy the season like normal," Daswani added. "No one's doing this for the money or the business, we have the other 364 days for that. This is about the community, staying positive, and celebrating together."
Part of the celebration will be in memory of local producer Steven Bornn, who St. Thomas-St. John Chamber of Commerce members said was a major supporter of Miracle on Main Street.
This year's event will feature the usual local arts, crafts and food stands that will be set up in Emancipation Garden throughout the day, along with entertainment from Spectrum Band, Bernard Liburd, Clinton Stapleton, Pan in Motion, Ulla Muller Elementary School and Bertha C. Boschulte Middle Schools. Shops will remain open late into the evening.
"This event is about coming together for an evening of shopping, entertainment, dining and visiting with friends," according to Chamber news release. "There will be entertainment all over the downtown and stores and restaurants will be open. Holding the event closer to Christmas, will give shoppers the opportunity to complete their list and enjoy a night on the town."
This year's sponsors are: MSI Building Supplies, First Bank Virgin Islands, International Capital & Management, A. H. Riise Stores, Isidor Paiewonsky & Associates, TOPA Properties, West Indies Corporation, Bellows International, India Association of the Virgin Islands, BrisaMax, Mafolie Hotel, Royal Caribbean, Cardow Jewelers and Lockhart Realty.
Related Link — https://stthomassource.com/content/2017/12/01/steven-a-bornn-dies/