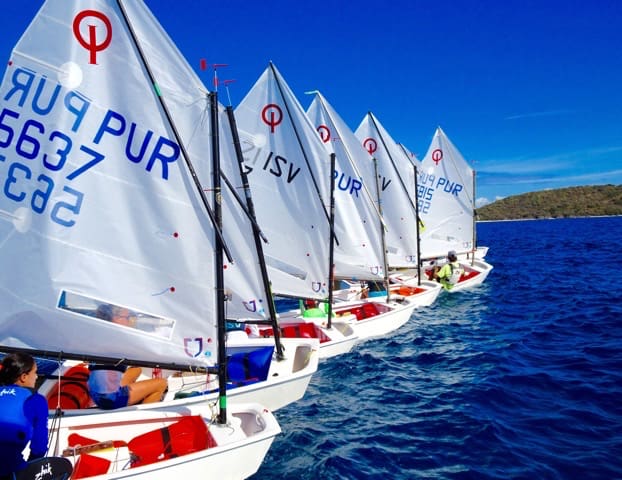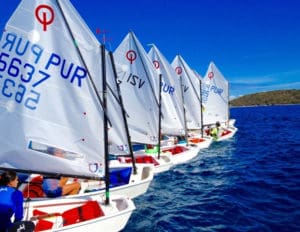 Junior sailors from St. Croix, St. Thomas and Puerto Rico will vie for honors this weekend in the Crucian Open Regatta 2018, hosted by the St. Croix Yacht Club. The races kick off the 2018 Caribbean Cup Series.
Stakes are high. A one-design regatta, the Crucian Open serves as a team qualifier for the 2018 Optimist North American Championship in Vallarta, Mexico, June 24 through July 1.
It also marks the second of three events used to determine the ISV (Virgin Islands) team for the 2018 Optimist World Championship, Aug. 27 through Sept. 6, in Cyprus.
Regattas in Jensen Beach, FL and on St. Thomas help narrow down ISV team contenders, too.
To date, 38 young sailors have registered to compete in the Crucian Open: 30 Optimists, aged eight and older, will each skipper his or her own boat and eight older youth sailors will race 29ers in teams of two.
While beginning Optimist sailors (Green Fleet) will compete in Teague Bay, advanced Optimists (White, Blue, and Red Fleets) and 29ers will race in the Buck Island Channel, as long as conditions permit.
"If conditions are tough, we will hold it closer to shore," said St. Croix Yacht Club Commodore Karen Stanton. "But the advanced kids love the winds. They'll go out close to the reef."
Thanks to lead racing coach Santiago Galan (aka Tino), St. Croix boasts a community of accomplished youth sailors, as does St. Thomas, under the instruction of Austin "Argy" Resano. Unlike Optimist instructors in cooler climates, they coach year around, and the kids benefit.
Last July, the USVI sent five sailors – the ISV team max – to the Optimist World Championship in Thailand.
"We've always sent a full team from the Virgin Islands, ever since my kids were sailing 20 years ago," Stanton said. "And they learned from the old sailors at the yacht club."
The St. Croix Yacht Club will host registration and a welcoming party Friday evening, 5 to 7 p.m. Additional Crucian Open information is online at www.regattanetwork.com.