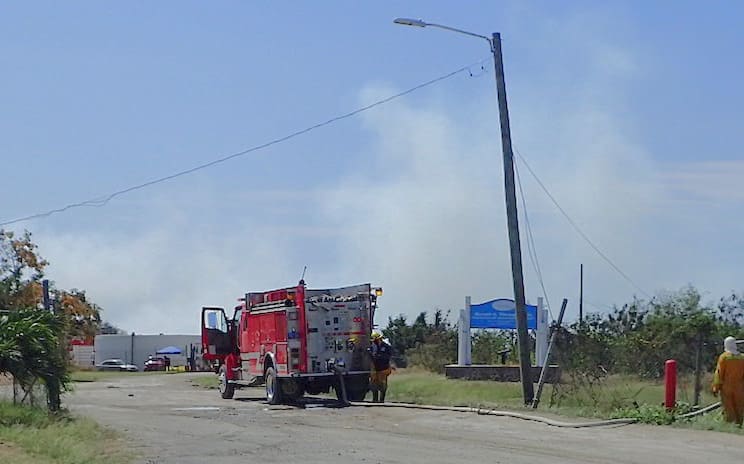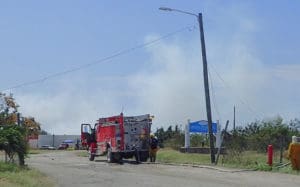 A top official at the Virgin Islands Fire Service said Friday it took seven crews about 15 hours to bring the blaze at St. Croix's Anguilla Landfill under control, and the fire cannot be declared completely extinguished.
Deputy Fire Chief Gregory Williams said crews from the V.I. Waste Management Authority and the contractor hired to manage the landfill were working to make sure no flare-ups occur.
Emergency crews were called to the landfill around 6 a.m. Tuesday to an area where trash had been processed into bales on the south side of the property.
"About 150 of them were on fire," Williams said.
Seven fire crews worked until 9 p.m. Tuesday night to extinguish the blaze. The remainder of the work was left for heavy equipment operators from VIWMA and A-9 Trucking. Those efforts continued through Friday, he said.
Williams said it appears the Tuesday blaze broke out above ground and was brought under control without any concerns of fire spreading through buried trash and potential methane pockets below.
"Fire suppression continues," VIWMA Communications Officer Charmin Springer said Friday afternoon.
Fire has been an on-again, off-again condition at Anguilla for several years. The last landfill fire that sent firefighters to the site occurred in 2015. That one took two to three days to put out, Williams said.
Local and federal environmental agencies are looking into potential effects the fire may have had on surrounding areas and the nearby Henry Rohlsen Airport.
On March 7, the U.S. Environmental Protection Agency mobilized an emergency response on-scene coordinator to the landfill to offer technical assistance and assess the immediate needs of local responders.
That coordinator was informed that no EPA assistance was needed at that time. The agency said Friday it remains prepared to support V.I. authorities if assistance is requested.
According to Department of Planning and Natural Resources Spokesman Jamal Nielsen, "no air quality monitoring has been done as yet" near the landfill.