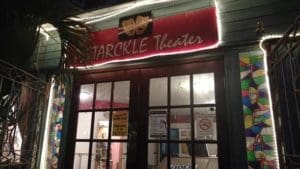 A final round of casting auditions for 13 choice acting roles in the upcoming May comedy, "Going to Come Back," written by St. Thomas playwright Susan Hunter, will be held at 6 p.m., Monday, April 2, both at 6 p.m., at Pistarckle Theater (4126 Anna's Retreat, St. Thomas). This comedy is a sequel to last season's popular play, "Catch and Keep," also written by Susan Hunter, and it will offer performances from May 3 through May 19.
Contact Director Frank Bartolucci for details and cast openings by calling 998-5611 or emailing francisbartolucci@yahoo.com.
Several male and female roles are available. All auditions will take place at Pistarckle Theater, in the far back of Tillett Gardens, 4126 Anna's Retreat, St. Thomas.
"Going to Come Back" is a hilarious comedy and the sequel to last year's popular "Catch and Keep," also by Susan Hunter. One year after inheriting The Catch & Keep, an old St Thomas Manor Home, we return to find the sage island woman Nevilina, who is still cheerfully helping Bo run the guest house. Bo has had quite a year, missing her old friend and life, while learning how fit in and get things done, island style.
Cast Roles Available:
BO: A young Continental woman, who inherited an old property on St. Thomas called The Catch & Keep. She has made it into a lovely B&B in the one year she has owned it — against all odds.
NEVILINA: The wise and capable helpmate of Bo's mother at the old Catch & Keep, who has stayed on to befriend and help Bo
GHOST GIRL: The protective resident ghost of the Catch & Keep, (she has been nicknamed Gigi, as in G.G., Ghost Girl).
MRS. PETERSON: A demanding, haughty guest from Denmark, on St. Thomas for the 50th anniversary with her husband
PETERSON: A man who has obviously seen, and hopes again for, happier times
JACK PARKER: A friendly young newlywed who is enamored with his slightly ditzy wife.
TRIXIE PARKER: Charms everyone, joyously thinking a step behind, with her heart of gold
PANSY JONES: A beautiful young woman who is having second thoughts about her future
MRS. MOLLY JONES: The mother of Pansy, here to arrange her daughter's wedding on famous Magens Beach — and enjoy a drink or two…or four
ARCHIE: A gregarious man, also soon to be married on the same famous St. Thomas beach as Pansy
LUKE: The man that is marrying Archie
COSMOS GEORGE: A mature, handsome, considerate plumber
STEPHANIE: Bo's estranged friend from the States