While the aromas of Wednesday's Food Fair packed happy folks into Emancipation Garden and its environs, St. Thomas small business people gathered at E's Garden Teas on Garden Street to learn how to keep opportunity on the front burner.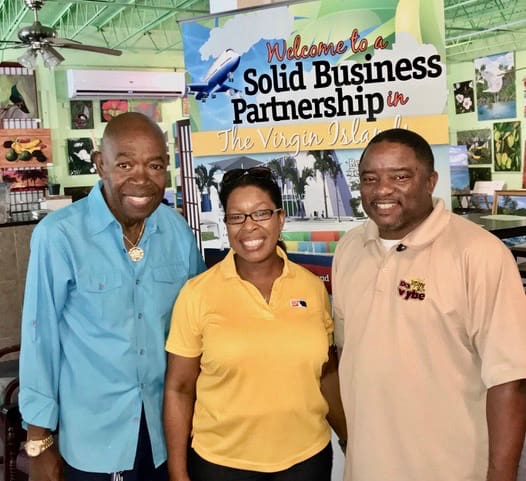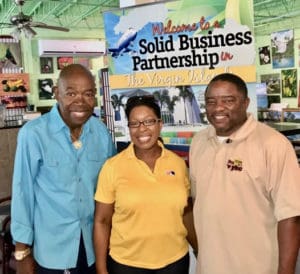 The open house, sponsored by the Economic Development Authority's Enterprise Zone Commission, gave the community – including residents and business owners – the chance to learn about federal and local economic development programs.
"We support the efforts of local citizens in 'distressed' communities to revitalize their neighborhood," said EZC Director Nadine Marchena Kean. "It is the citizens who develop a community plan and we assist with low-interest loans, federal and local grants and ideas to develop the 'good community', a neighborhood offering all services needed to prosper and grow."
EDA team members dispensed materials about community plans, suggestions for services needed and ways to fund new projects. Local vendors and artists displayed their wares as Addie Ottley of WSTA and Sheldon Turnbull of "The Vibe" did their radio shows from the middle of the tea house. Tropical Designs owner and cultural expert Tulip Fleming displayed her handmade Caribbean art and fashions while extolling the benefits of the Enterprise Zone program.
"This is a wonderful way to spread our culture and creativity around the world," she said.
Peter Gonzalez explained that his metal artwork was an outgrowth his effort to help fund his daughter's school field trip. He now makes a business of reworking soda cans into bas relief art.
"I never thought I'd be shipping these all over the world," he said.
Kean said she realizes that that this is just the beginning and that the EZD can be a powerful driving force for small business throughout the territory.
There are four designated enterprise zones in the US. Virgin Islands, in Christiansted and Frederiksted on St. Croix and Savanne and Downtstreet and Garden and Upstreet on St. Thomas. In these zones, investors can be eligible for tax incentives and economic development benefits for working to improve historical communities. The Rehabilitation Tax Credit is available to people who are committed to revitalizing the territory's cultural and economic areas.
Further information is available by calling 340-773-6499 or online at www.usvieda.org.