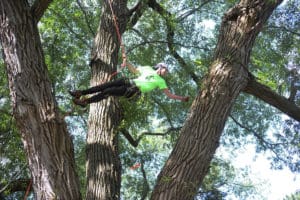 The Forestry Division of the Virgin Islands Department of Agriculture (VIDOA) and the University of the Virgin Islands Cooperative Extension Service (UVI-CES) are hosting a series of free educational seminars for tree care professionals and other interested persons. They will take place from 8:30 a.m. to 4:30 p.m., on Thursday, May 3 and Friday, May 4 on St. Thomas; Monday, May 7 and Tuesday, May 8 on St. Croix. The St. Thomas seminars will be held at the sevenminusseven studio (the warehouse complex near the airport and behind Boyne's Gas). The St. Croix seminars will be held at the St. George Village Botanical Garden.
They will focus on tree climbing methods, precision tree felling, chainsaw safety and handling, pruning methods and tree biology. All persons involved with managing trees are encouraged to attend these important seminar series.
For additional information and registration, contact the VIDOA's Louis Hilgemann at 778-0997 or email [email protected].