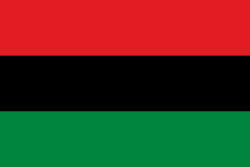 The 32nd Legislature will host an African Liberation Day Flag-Raising Ceremony at 10 a.m., Friday, May 25, on the grounds of the Capitol Building on St. Thomas.
The program, which is abbreviated this year due to the impacts of hurricanes Irma and Maria and the recovery efforts, will include cultural presentations and a ceremonial flag raising outdoors to recognize African Liberation Day and African Heritage Week.
African Liberation Day is officially celebrated around the world annually on May 25. It became a territorial observance in 1989 when legislation was enacted proclaiming the third week in May to be African Heritage Week. An act of the V.I. Legislature requires it to hold appropriate ceremonies, including the raising of the African Liberation flag in recognition that a majority of the territory's population descends from African ancestors, whose culture and heritage have significantly shaped the Virgin Islands.
African Liberation Day has contributed to the struggle to raise the level of political awareness and organization in African communities worldwide about their respective struggles for liberation and development.
In 2017, the Legislature passed a resolution to petition the Governor of the Virgin Islands to join with it to develop a comprehensive program focused on education and awareness of the contributions of people of African descent throughout the Caribbean.
"Knowing who we are is essential to our progress," Senate President Myron D. Jackson said. "We invite the public to dress in cultural attire and [we] look forward to joining together for this special occasion."