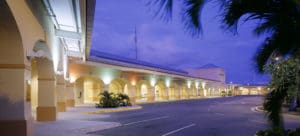 The Virgin Islands Port Authority (VIPA) received notice that U.S. Customs and Border Protection (USCBP) will begin processing pleasure vessels and charters at the Victor W. Sewer Marine Facility located at "The Creek," in Cruz Bay, St. John.
Customs officers will be available starting June 8 and will clear vessels daily from 9 a.m. to 5 p.m. Passenger ferries arriving from foreign ports cannot be processed at this checkpoint and will continue to be cleared at the Edward W. Blyden Marine Facility at The Waterfront in Charlotte Amalie, St. Thomas, until further notice.
For more information about the USCBP operation on St. John, call 776-6741.