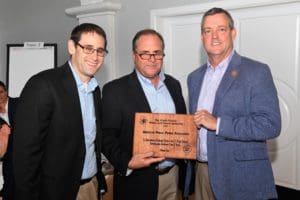 A two-day workshop organized by the American Public Power Association (APPA) and the Virgin Islands Water and Power Authority (WAPA) highlighted lessons that were learned and improvement opportunities in the wake of the 2017 hurricane season, a season that produced two back-to-back Category 5 hurricanes, which devastated WAPA's electric system. The workshop, held on St. Thomas on Aug. 23-24, was funded by the U.S. Department of Energy.
Event participants included WAPA leadership, staff and governing board members; APPA mutual aid team members and responders; and representatives of the U.S. Department of Energy, the Federal Emergency Management Agency (FEMA), the Army Corps of Engineers (ACE), and the Virgin Islands Territorial Emergency Management Agency (VITEMA).
"The stake is in the ground right now at about 100 days. That's what we did, and that was really fantastic," said WAPA Executive Director / CEO Lawrence Kupfer. "But we are here today to figure out how we can get power restored better and quicker. That's what we're here today to try and figure out."
Through panel discussions, roundtables and workshop activities, the group looked back at restoration efforts during the 2017 hurricane season to highlight successes and flag opportunities for process improvement. The panelists also discussed the logistics involved in restoring electric service to a territory in the wake of a major disaster and noted improvement opportunities in the areas of:
· Mutual aid deployment;
· Investing in critical infrastructure (including strategic undergrounding of transmission and distribution lines);
· Shipping, storing and staging materials;
· Communications across the islands and with the mainland; and
· Pre-storm contracting (with utilities, contractors, port authorities and others).
"We had the largest deployment of electric utility workers in the history of the United States last year," said Mike Hyland, APPA's senior vice president of engineering services. "What can we do better? What can we do to harden, to be more resilient, more reliable? What can we do to be better safety-wise? What can we do to be better at customer focus and customer service? And that doesn't happen magically. It happens because of workshops like these."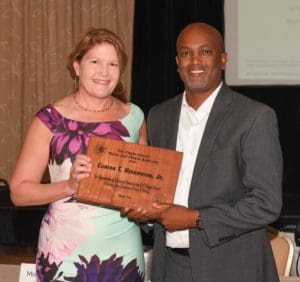 VITEMA Director Mona L. Barnes highlighted the tremendous hurdle of getting hit by consecutive Category 5 storms, saying, "Your worst case scenario' is never the worst." But she went on to point out the critical nature of planning for the future. "What we choose to discuss in this room today is going to affect this territory maybe 20 or 25 years from now when that next 'worst scenario' comes."
Industry partners participating in the workshop included: Tropical Shipping, Customs and Border Protection, Bureau of Internal Revenue, Department of Property and Procurement, The West Indian Company Ltd., Virgin Islands Port Authority, Haugland Energy, the Northeast Public Power Association and the Western Area Power Administration.