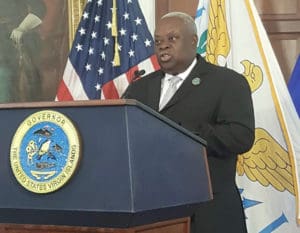 Qualifying graduates of Virgin Islands high schools will receive free tuition to attend the University of the Virgin Islands under a plan announced Tuesday by Gov. Kenneth Mapp.
Speaking at a news conference in Christiansted, Mapp said as many as 1,700 residents can receive the funds to complete an associate or bachelor degree at UVI under the proposed scholarship program.
Mapp said he submitted the bill – titled the Virgin Islands Workforce Development Scholarship Program – to the V.I. Legislature. The bill outlines a four-year free-tuition program providing college education to all public, parochial or private V.I. high school graduates. The program is slated to begin in the fall of 2019 and will be available to the first 1,700 applicants territory-wide who meet the requirements.
Speaking at the news conference, UVI President David Hall, said it has always been his dream to provide Virgin Islanders a "clear path to receive a college degree without the burden of wondering how they will pay for this life transformative experience."
"Today signals the first step in a major investment in the economic, educational and social future of the Virgin Islands through the creation of this free tuition program," Hall said. "Once this legislation is enacted the Virgin Islands will be a national leader in its commitment to higher education. Only two states have passed laws providing free tuition for four-year degrees. The V.I. will be the first territory to move in this direction and UVI will be the first HBCU (Historically Black Colleges and Universities) to offer free tuition to its residents."
UVI presently provides free tuition for seniors, veterans, and high school salutatorians and valedictorians including those who graduate from GED programs.
To qualify for the program, students must be a graduate of a Virgin Islands high school, a bona fide V.I. resident, must apply for federal financial aid and grants and attend UVI on a full-time matriculated schedule. Students who were displaced because of Hurricanes Irma or Maria and completed their education outside of the V.I., will still be eligible once they have regained their V.I. residency. Students' household income cannot exceed a per-capita annual income of $35,000 per family member.
While attending UVI, students must complete a minimum of 100 hours of community service, complete a minimum of 12 credits and maintain at least a 2.0 GPA each semester. For every two years of free education received, the student is required to work one year in the territory or the grant will be converted into a loan.
Government House issued a news release following the press conference outlining the program's revenue source. The proposed legislation provides for an annual appropriation of $3 million from the Internal Revenue Matching Fund, beginning in Fiscal Year 2019. UVI is authorized to use up to eight percent of the funds for administrative costs associated with the program.
In his letter transmitting the bill to Senate President Myron Jackson, Mapp cited his desire to alleviate the financial burden on Virgin Islands families, as well as the need to develop a more prepared workforce.
"Many talented graduates from our local high schools leave the Territory and borrow huge sums of student loan money to attend college on the U.S. mainland," Mapp said. "Moreover, as a result of Hurricanes Irma and Maria, our workforce has been severely strained, and in order to address these deficiencies, and to ensure that we can meet the demands of the recovery efforts and growth of our economy, it is necessary to invest in our people."
In his June presentation to the Legislature's Finance Committee, Hall told senators the university will continue to be "negatively affected" if it accepts a reduction in the general operating budget of $1.75 million as proposed by Mapp. Hall requested the Senate provide an additional $1.75 million to restore the operating budget plus an additional $1.5 million for salaries, $598,494 to address increased GERS funding and an additional $100,000 to go toward the Virgin Islands and Caribbean Cultural Center. The same report said UVI collects approximately $14 million in tuition revenue each year.
It is unclear how the new tuition assistance program will affect UVI's present tuition revenues or its ongoing budget deficiencies.