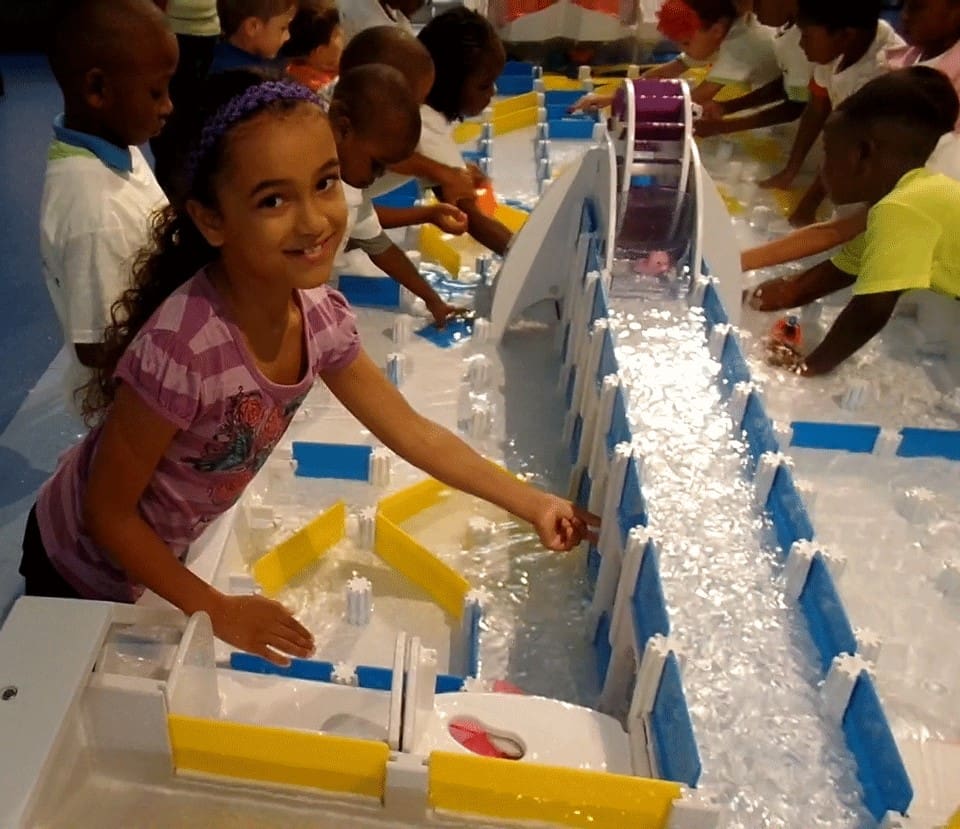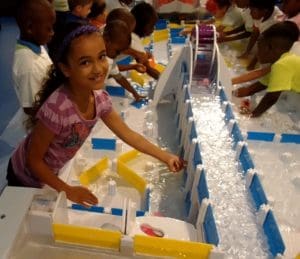 "Thoughts Flow" Water Table is a remarkable exhibit by Tom Egan, an American artist who works with water, which will debut in the museum's new, permanent location opening Oct. 27 in Buccaneer Mall, Havensight. The exhibit is sponsored by the Princess Cruises Community Foundation through a grant to the Community Foundation of the Virgin Islands (CFVI) for the purpose of supporting youth, families and literacy projects as the territory recovers from hurricanes Irma and Maria.
In this hands-on exhibit, visitors will manipulate flowing water by creating patterns with short and long movable panels while imagining their next panel placement — literally being able to create millions of different flow patterns.
This is a key phase in the development of problem solving and critical thinking skills for children. It has been shown that being deeply engaged in abstract thought can, before age 12, actually help build the physical pathways in the brain that are used for such thinking. This exhibit is a playground climbing structure for the brain.
With his water art exhibits located in children's museums, science centers and aquariums around the world, Tom Egan has been delivering his captivating interactive experiences for decades. His water artwork is on permanent display in New Delhi, India; Tokyo, Japan; Fairbanks, Alaska; and St. Thomas, Virgin Islands.


By so deeply intriguing and engaging the human mind, "Thoughts Flow" stimulates the problem-solving skills of visitors from age 4 to 104. "I am honored by the inclusion of my water artwork into the experiences provided to the beloved children here in the Virgin Islands," said Tom Egan.
This exhibit is made possible through the support of Princess Cruises Community Foundation, a nonprofit public benefit corporation, established in 2008 to provide financial and in-kind support to non-profit organizations.
About Princess Cruises Community Foundation: Its mission is to touch the lives of the people in the places we travel, the places we are from and the places where we live through education, preservation of natural and historical global landmarks, responding to disaster relief and supporting global communities' local health and welfare efforts.
The Virgin Islands Children's Museum is located at Buccaneer Mall, Suites 4-6, Havensight, Charlotte Amalie, St. Thomas.