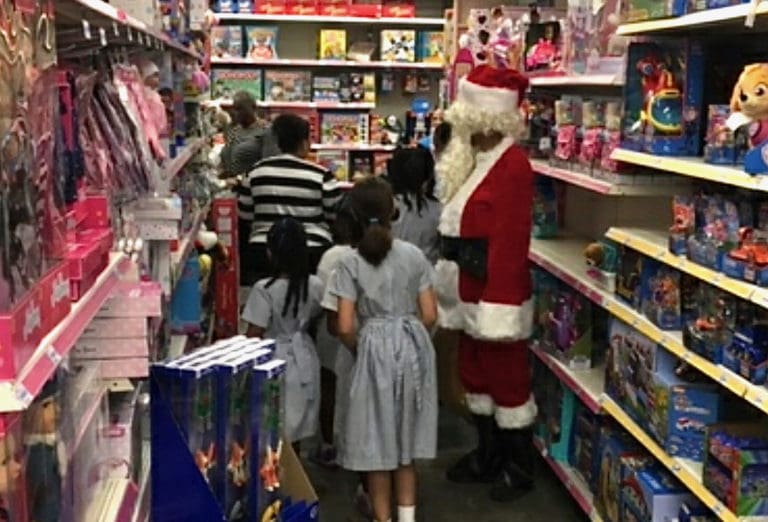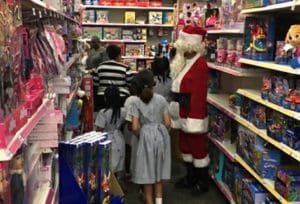 The kindness of strangers is brightening the season of giving across the Virgin Islands this month. Signs of that generosity appeared on the faces of children, bouncing through the aisles of retail stores on St. Thomas and St. Croix.
Other clues showed up in photos of charity workers posed besides shopping carts heaped with goods.
People, groups and businesses are joining in efforts to aid the needy. Police and other law enforcement personnel most recently hosted the annual Shop with a Cop. Managers at one Kmart store submitted the names of local non-profits for a Secret Santa spree.
Shoppers at Tutu Park Mall have also been invited to fulfill the wishes of children and the elderly who pinned their hopes – along with cards – near the mall entrance. Holiday wishes included a washcloth, a bottle of hair dye, "a nice risk watch," and a microwave oven.
Mall manager Monique Creque said reports from organizers at Goodwill Ambassadors, Inc. say donations are already coming in.
"I know people have been dropping off gifts. Dec. 24 is the last," Creque said.
Kmart manager Brenda Borrows recalled the bustle of Thursday and Friday, with back-to-back events. Five local groups brought children and shoppers by on Thursday for the shopping spree. Friday brought teams of students, donning sparkly reindeer antlers, patrolling the store along with uniformed officers.
A smattering of regular morning shoppers watched as anticipation turned to joy upon arrival at the toy aisle.
"The Shop With a Cop event took place after Kmart had its own pre-holiday event. It was part of the blessing from Secret Santa," Burrows said.
The store manager declined comment about the benefactor. It was a secret, she said. But Burrows added she was impressed with the choices made by invited groups and evidence of careful budgeting as they went through the checkout.
As the Friday excursion began, VIPD coordinator Jacqueline Freeman welcomed U.S. Marshal Jim Clark who joined the fun, armed with an envelope of cash sent over by the U.S. Attorney's Office.
"Last year we had a lot of children who went shopping and bought things for their parents," Freeman said, "and the police go along to help them make their purchases."
School administrators from public and parochial schools helped get gifts into the hands of students, still displaced after the 2017 hurricanes. Help from other agencies, and disaster response contractor Witt O'Brien, provided the means to get gifts for children on St. Thomas, St. Croix over the weekend, and St. John on Tuesday.