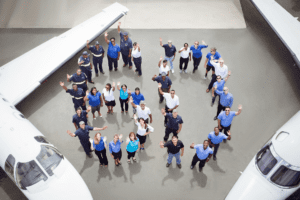 Bohlke International Airways (BIA) celebrates 60 years in business this month. The company hosted an appreciation event for its clients and partners over the weekend at Leatherback Brewery. It was there that recently retired leaders William (Bill) and Ruth Ann (Tuddy) Bohlke were honored and presented with locally-made gifts to mark the 60-year milestone.
"Our family and team are grateful to mark this anniversary and continue the legacy my grandfather began in Caribbean aviation," said BIA President and CEO William (Billy) Bohlke Jr. "We are proud to say our business is still thriving and now employs more than 50 people. Despite many challenges over the years, our resilient team has weathered the storms."
St. Croix's fixed-base operator (FBO) and air charter fleet opened its doors in 1959 and formerly operated under the names Virgin Islands Airways and Eastern Caribbean Airways. For many years the Bohlke family also owned what is now Signature St. Thomas (formerly the STT Jet Center). The current BIA business includes offices on St. Croix, San Juan and Dallas-Fort Worth.
"My wife and I are honored to see our son lead this business into the future of aviation," said William (Bill) Bohlke Sr., BIA's former president. "We have the U.S. Virgin Islands community to thank for their unending support."
Bohlke International Airways is an award-winning fixed base operator (FBO) and charter fleet based on St. Croix in the U.S. Virgin Islands. They specialize in serving destinations on the United States east coast, northern South America and throughout the Caribbean. The company was established in 1959 by William Bohlke. It is a family-owned business with a third-generation pilot at the helm. Get more information at www.Bohlke.com or by calling 778-9177.