Campers are flocking to St. Croix's shores for annual Easter camping, right now. Below are reprints of 2007, 2008 and 2010 articles, exploring the history of this tradition and concerns that it could potentially fade away. Salt River used to host many campers but when it was closed to campers in 2008, some felt a time-honored tradition was at risk. Is it still at risk? Or is it going stronger than ever? You decide. Tell us the story of your family camping  and feel free to send photos – in our comment section or send us a note. We'd like to show our readers the tradition lives on.
Is Easter Camping Becoming an Endangered Tradition?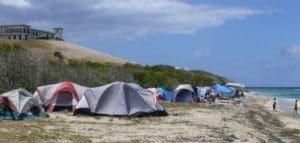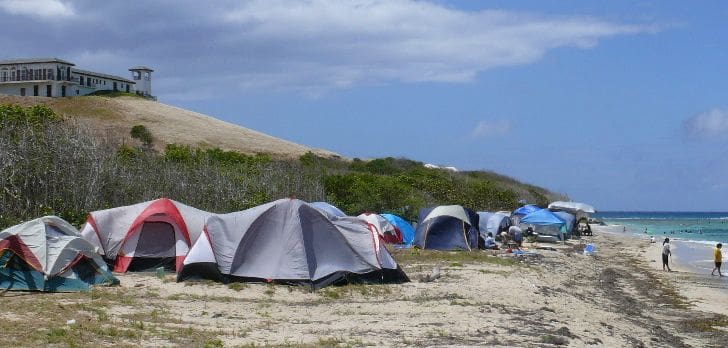 April 5, 2007 — There is an annual mass migration toward the shore happening right now on St. Croix; one that goes back many years. However, some feel the migration may be under nearly as much threat from development and outside influences as our sea turtles.
This migration, however, is of people — not animals. Popular all over the Caribbean, the tradition of Easter camping is especially strong on St. Croix and Vieques.
At Cramer's Park, Salt River, Dorsch Beach, Rainbow Beach, Ha'penny Beach and a dozen other locations, tents began popping up one by one last Sunday, suddenly blooming in profusion like bougainvillea Thursday afternoon.
Music and the smell of food on the grill began to rise into the breezy, sunny air. For the next several days, a significant share of St. Croix's population will be living outdoors, and many more will come to visit for the day before going home to sleep.
Some perennially popular camping sites are facing restrictions, such as the historic Salt River area; or simply vanishing, as big hotel projects begin to take root near the shore, which may be happening in Estate Betty's Hope.
Juan "Kike" Ayala, Gloria Fredericks and dozens of their friends and family have been camping at Betty's Hope for the past eight years. They have built a very elaborate makeshift campsite, dubbed "Camp Paraiso." Its many amenities include a trailer with changing rooms, a shelter with a small slab and outdoor kitchen, a large freshwater tank raised up to roof height and even a generator.
When they came back this year, they found every entrance to the beach area blocked by TransCapital, the development company that has leased the land from the Port Authority to build a hotel and casino. After some phone calls and some work moving rocks out of the way, Ayala and Fredericks were able to get in and set up camp, but they don't know yet what their status will be next year.
George Flores of Estate Whim and a small gaggle of media people were visiting Camp Paraiso Thursday morning, talking to Ayala, Fredericks and some of their friends.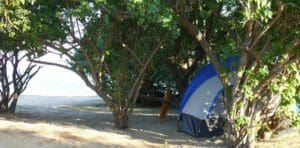 "They've told us we will have to tear down the shelter and stick to tent camping," said Ayala. "We're hoping we can persuade them to leave the shelter awhile longer, even use it themselves for storage if they want."
Fredericks said people flock from the big island of Puerto Rico to Vieques to camp over the holiday. Meanwhile many of her friends and relatives on Vieques fly over to St. Croix nearly every year to camp at Betty's Hope with Fredericks.
"It's a custom here. We did it one year, and we liked it a lot. We've looked forward to it every year for the last eight years," said Fredericks. "Usually we have a large crowd from Puerto Rico in. We have a DJ and dance. The kids swim and play and we fish, play dominos and cook."
"This is a very old practice," said Flores. "I ran into it in the '30s as a child, so I know for sure it goes back more than 60 years."
"Back in the day we didn't have tents and generators," said Flores, while everyone stuffed themselves on fresh johnnycakes made by Fredericks and roast bluefish caught by Ayala.
"We put down four sticks into the sand and laid coconut branches over them for a quick, homemade tent," said Flores. "We were very poor people and made do with what we had at hand. We went to the beach for fish, farmed for provisions and drank water."
Fueled by good food, good weather and good company, the Easter camping discussion veered off into debate over biblical history, stories in the news about Jesus' family tomb and local politics. The press event had evolved into liming.
"Well, you know we have a law introduced by former Sen. Adelbert Bryan saying we have a right to access the beach," said Flores. "The law says no matter how much money someone has, the people have a right to enjoy the seashore."
Over at Salt River, new restrictions on overnight camping stick in the craw of some campers. For the first time this year, overnight camping is prohibited on the five acres that form a point off the shore and on the shorelines, which extend 50 feet back from the high tide mark.
People can still camp further back from the water and on neighboring private land. The Department of Planning and Natural Resources has announced they will be vigorously enforcing rules against littering, digging, brush cutting and driving near the major historical sites in the area.
A major historical landmark, Salt River is the site where Christopher Columbus landed on Nov. 14, 1493 and, with a skirmish, had the first-documented encounter between Europeans and the indigenous people of the Caribbean. The site is also a major pre-Columbian archeological site, with a Taino ceremonial ball court among its treasures.
Trash dumping, abandoned vehicles and a lack of preservation of the historical and archeological assets of the site led former Senate President Lorraine Berry and National Park Service Superintendent Joel Tutein to create a task force to restore and protect the site two years ago. This year's restrictions come out of that task force.
For now there is an agreement between campers and the park service, although many campers feel they have been blamed for trash and debris left by others.
There will be plenty of time for debate and discussion in the months ahead. Meanwhile, the weather is great, there's barbecue on the breeze and no work or school for most until Tuesday. It's a good weekend to go camping.
Easter Lures Family Campers to Beaches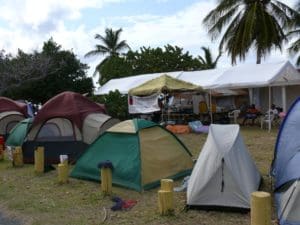 April 3, 2010 — At Salt River, Dorsch Beach, La Vallee, Cane Bay, Great Pond, Ha'penny, Campo Rico, Altoona Lagoon and myriad other locations tents began appearing one by one early this week, suddenly exploding in profusion like popcorn as the weekend approached.
By Thursday afternoon, 50 or 60 tents were up way out east at Cramer's Park, and music and the smell of food on the grill began to waft on the breeze. Nearly half the tents are kids and parents participating in Positive Works, a more structured, summer camp-like experience put together by Sen. Terrence "Positive" Nelson.
Every year for the past 13 years, Nelson and his family have hosted the youth camp. "The object is to get kids away from the usual setting of video games and TV and doing more outside activities," Nelson said Thursday, as his mother Henrietta Nelson loaded up a plate of fried sprat, caught and cooked by patriarch Adolphus "Buddy" Nelson, to munch on.
The camp has hikes down to Jack and Isaac bay, a daily beach cleanup and other structured activities for the children. Adults sit down with the children for structured discussions, where the children talk about what is on their minds, with adults guiding the way and offering feedback, he said. On Easter Sunday, there is a sunrise service and they hold a meeting to talk about the meaning of commemorating the resurrection of Jesus Christ.
"We also have a sort of boys-to-men ritual, where we go through a little process out in the bush, sort of like a badge of courage," Nelson said.
There is a fee, to help cover food and supplies, but it often ends up being negotiated based on ability to pay, Nelsons said. Plaza Extra, Food Town, McDonalds and other businesses help out by donating food, ice and other supplies. By the weekend, there will be over 60 children and 20 to 30 adults, he said.
Many of the children come year after year.
"It's a fun way to get away from the home and have another experience and I like sleeping in the tents," said Brandon Brewster, a 15-year-old student at St. Croix Educational Complex, who is back for the fifth time.
"I really like the hike we do on Saturday and the sunrise service," said Elizabeth Montanez, a senior at Complex back for her fourth or fifth time.
To get to campsites on the South Shore at Great Pond you have to drive many hundreds of yard through dense brush, skirting the edge of the pond. When it has been raining, the way is nearly impassable. A dozen or more families keeping coming back to the same spot not just year after year, but generation after generation.
"We've been coming here for at least 28 years," said Raul Torrens Sr. "My son here, Raul Jr., has been coming all his life. And my grandson, Raul Esteban Torrens, his mother's water broke while we were out here, Good Friday, April 13 of 2001, so he was practically born out here. We have five generations here."
Depending on their inclination, family members sit and talk, swim, boat and fish, cook, eat, play dominoes and sleep.
The future of camping at Great Pond is somewhat uncertain. Paul Golden of Golden Gaming plans a resort hotel on the property. In December 2008, construction crews bulldozed many of the campsites, knocking down shanties into piles of rubble. Since then, campers have returned, setting up more temporary outposts.
The Torrens, Encarnacion and Rivera families all use the same site and take pride in taking care of the land and leaving no mess. "In three decades, there has never been an incident of any kind, and look around, there is no trash," Torrens said. "We clean up everything and there is a Porta Potty we rent for the weekend."
A hundred yards away, the Cruz family makes camp and a regular stream of family and friends pops in and out. Vera Falu, director of the Herbert Grigg Home for the Aged, has been coming to camp with the Cruz family for 30 years, she said.
"It is a great time to get away with the family," she said. "We sit around and tell stories with the children."
Alicia Barnes, chairwoman of the Democratic Party District Committee, was there visiting the Cruz campsite Thursday.
"This is a great Crucian tradition we hope remains alive and well and can be preserved for our children and grandchildren," said Barnes. "I remember as a little girl my dad would take us camping at Cramer's park and we would play outside all day and get so tired and sleep in the tent t night. It was just a great thing. … Monday is my daughter's birthday so we are going to have a little celebration right here by the sea."
It is difficult to leave any of the campsites without drinks and food in your hand, especially the Cruz family site. Ruth Cruz loaded up a heaping plate of arroz con pollo, beans and steamed conch for this visitor.
"It is fresh conch, caught today," Cruz said. "You can't leave without eating," she said with a note of finality.
Many families have been camping for several days already, with a core group holding down the fort while friends and hangers-on come and go. Most families will have a big feast on Easter Sunday and pack and clean up Monday and Tuesday. Then it is back to the normal day to day world of work and television.
Easter Campers Flock to Local Beaches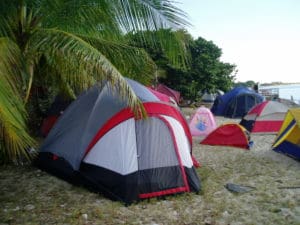 March 23, 2008 — At Cramer Park, Salt River, Dorsch Beach, Rainbow Beach, Great Pond, Ha'penny, Campo Rico, Altoona Lagoon and a dozen other locations, tents began popping up one by one last Sunday, then blooming in profusion like bougainvillea by Thursday afternoon. Dancehall and reggae music and the smell of food on the grill began to waft on the breeze.
Popular all over the Caribbean, the tradition of Easter camping is especially strong on St. Croix and Vieques. For days a significant share of St. Croix's population has been living outdoors, and many more come to visit for the day before going home to sleep.
Carlos and Crucita Delgado have been camping out with the family for at least the past 35 years. They were out at Salt River with children and grandchildren Saturday.
"We have the same spot nearly every year," Carlos said from his perch on a folding chair in the shade of a mangrove tree, while Crucita fried up peas and rice in a surprisingly complete makeshift kitchen. "Sometimes we come out two weeks before Easter and camp out every night. I get up in the morning, go home to shower and get ready, go to work all day then come back here for dinner and camp out again," he said.
"These are my grandbabies here," he said. "We want them to keep on with the tradition when they get older."
Asked about new rules and regulations for camping at Salt River, Carlos said he had gone to the public meetings about camping there. He understood the need for rules, so long as his family could keep camping every year.
"It is dirty before we get here," he said. "But we clean our area so it will be cleaner when we leave than when we got here."
Out at Cramer Park dozens of tents filled the grassy area just beyond the beach. Kids were running everywhere. Kites were flying, taxi vans were far afield of their usual routes, dropping campers off and picking them up. The park was filled with kids and parents participating in Positive Works, a more structured, summer camp-like experience put together by Sen. Terrence "Positive" Nelson.
"This is our 11th year with Positive Works," Nelson said. "We try to give the children a safe, wholesome experience with some structure.
"We went on a hike this morning to Jack and Isaac bays — really beautiful, pristine places on St. Croix. We do a morning cleaning every day, with tent inspection, hygiene and exercise. And we have some great activities, like a martial arts demonstration and this afternoon we are having African dancing."
Nelson said Pastor Will Woods of Altona Baptist Church also gave "a wonderful short lesson on the meaning of Easter."
Out at Great Pond, the Cruz and Bermudez families and their friends have set up almost a home away from home, with actual beds, generator, a water tank on a truck bed, a shelter with a large kitchen area and an ocean-view living room, complete with two sofas and carpeting.
All day long, older kids and some of the adults went out beyond the reef in a small motorboat to snorkel, fish and haul around a rubber raft filled with kids.
"We've been coming out here since around 1982 or so," Ruth Cruz said, while husband Miguel chopped up fresh caught red snapper and conch to make a big pot of seafood soup.
"When I woke up this morning and looked out over the water through the mangrove, there was a quiet wall of gray," Ruth Cruz said. "It was so beautiful. Coming here is like our vacation close to home."