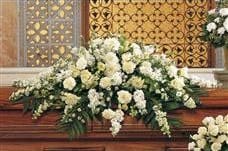 Justine Flashman, age 90, of Loganville, Ga., formerly of the Virgin Islands, has died. A memorial service will be held 11 a.m., Sept. 7, at St. Oliver Plunkett Catholic Church.
Justine worked with Hodge & Francois, later Hodge & Hodge Law Firm. She held a longtime membership in the St. Thomas Bridge Club and was an active member of Our Lady of Perpetual Help Parish. She had a gift for entertaining and a general joy for life. She moved in many social circles and was widely beloved. In her later years, she drove a car with a bumper sticker that read "Outrageous Older Lady."
Justine is survived by her sister and brother-in-law, Nila and Gary Benton of Grayson, Ga.; niece and nephews, Joseph and Amy Benton, and Chris Benton; great nephew, Alex Benton; and a host of other family and friends.
In lieu of flowers, donations may be sent to St. Oliver Plunkett Catholic Church, c/o The Society of St. Vincent de Paul, 3200 Brooks Drive, Snellville, GA 30078. Arrangements are by Tim Stewart Funeral Home, 300 Simonton Road, S.W., Lawrenceville, GA 30046 (770-962-3100). Please leave online condolences at http://www.stewartfh.com.