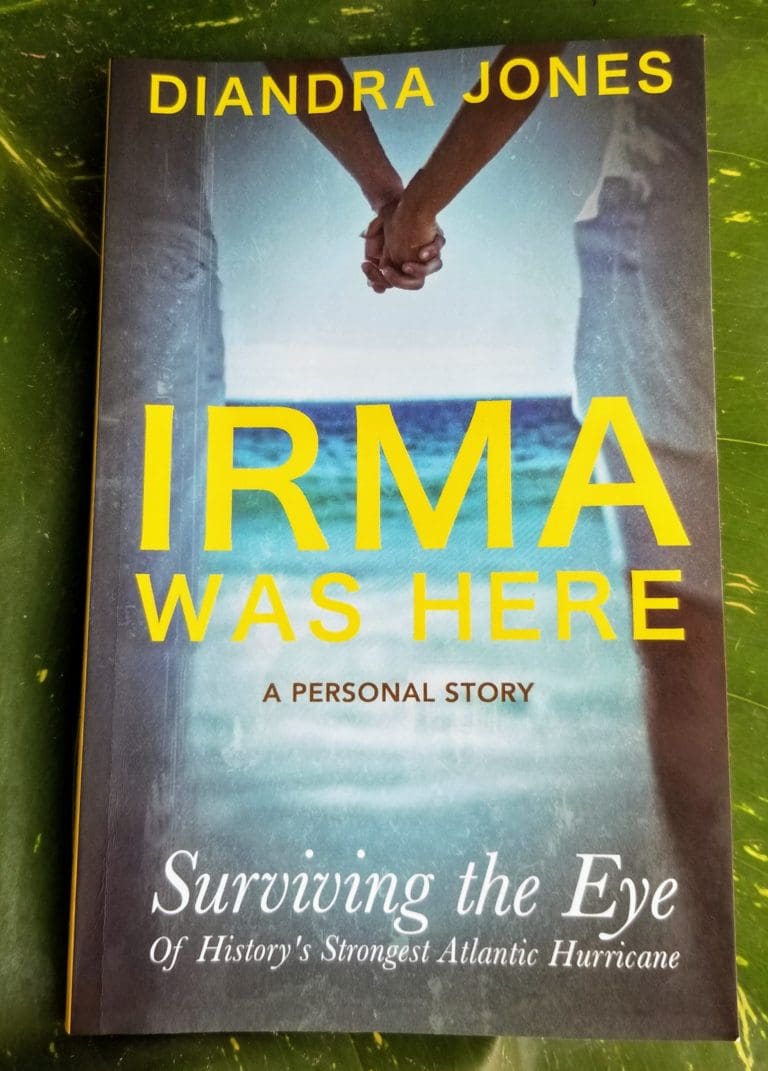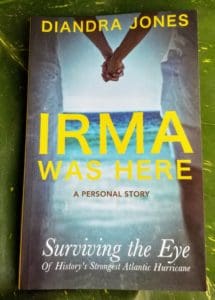 Author Diandra Jones' personal account of surviving Irma, a Category 5 hurricane that swept through the Atlantic, is a testament to both the psychological cost of a natural disaster of such proportion and the immeasurable resiliency of Caribbean people.
Jones' book, "Irma Was Here," is a short but impactful read totaling 125 pages, an intense firsthand account of what it was like for the author before, during and after the strongest hurricane the world had seen to that date – Sept. 6, 2017.
Jones was living comfortably in the British Virgin Islands after moving from the U.S. Virgin Islands when Hurricane Irma struck, a disaster that, as for many islanders, changed the entire course of her life. It was a disaster that Jones attributes to climate change.
"Initially, I hesitated to even mention climate change until I spent some time back in the States and realized how much ignorance still prevailed about climate change and its connection to increasingly volatile natural disasters," Jones said.
Jones said she grew quite angry, "as if these misinformed people had personally destroyed my home and taken away my former life. I had to subdue much of that anger in my reworking of the book. I had to find more love and compassion within my heart, even for those with whom I strongly disagree and with whose words I take personal offense."
"Irma Was Here" does not come off as hostile or resentful, though those feelings are expressed within the book when a lack of aid and information fails to come into the islands. Jones said anyone who knows her knows she's not an angry person by nature. "But it's a real slap in the face to experience something so traumatic and historic and then have people ignore it, or worse yet, deny its root cause," shared the author.
Tempering this anger was something that Jones said required many revisions of the book, and that, overall, the writing was painful. She said she imagines that reading the book may also be painful for fellow survivors.
"Irma was a terrible collective trauma we all endured, and to read or write about it, is to relive it … I think the writing of the book actually delayed my healing process, like picking a scab day after day. But it was something I felt I had to do because Irma was bigger than me and all of us. She was a warning to the world, and I felt it my duty to pass along that warning," Jones said.
She also read many books on hurricanes and natural disasters while composing "Irma Was Here" and realized many of them neglected to share the psychological impact and terror associated with going through a hurricane of such magnitude. That was something Jones said she needed to include in her book, and she did.
Not only does Jones detail the terror that occurred in her own mind during the event, but she details a series of grim tales that other islanders went through while at the mercy of Hurricane Irma.
"The most difficult chapter to write was the one depicting the actual experience of Irma. It's difficult to convey the horror in real time of those god-awful winds and the inner thoughts; the fear of death, the visceral experience of coming face-to-face with such colossal natural forces. I felt I had a duty to describe it well, especially because few humans in history have ever experienced firsthand 200 mph winds," said Jones. The author pointed out that she lived through a Category 4 hurricane, which Jones said felt like a cakewalk compared to Irma.
Recently, Hurricane Dorian was experienced by the U.S. Virgin Islands as a Category 1 hurricane that continued to build strength and caused devastation to every place it touched as it headed north.
The book, Jones said, validates the experience for others and gives Irma the historic attention it frightfully earned, even though Dorian has already broken some of Irma's records.
"I only hope that more people share their stories because the media and the public have a short attention span when it comes to natural disasters. They lose interest and forget quickly. Survivors need to talk about their experiences so the world realizes the impact of these freakish super-storms and ultimately takes climate change more seriously," Jones said.
Jones fears these storms will "become the new norm." And after what she has been through, Jones would advise people to evacuate if possible or, at the very least, prepare for the worst in the event of another hurricane warning.
"Irma jumped from a Category 2 to a Category 5 pretty quickly and with little warning, as did Dorian," Jones said.
In the book, Jones describes the feelings of shame she experienced when driving to the airport to try to evacuate, a task that ultimately proved impossible, causing Jones and many other islanders to be forced to endure Hurricane Irma.
"I felt shameful because it seemed as though I was abandoning my community. And if I was really so afraid, then shouldn't I have been telling everybody they need to get the hell out of there instead of smiling and waving to people as I snuck away to the airport? It felt duplicitous," Jones said.
Jones said that experience drove home the realization that not everybody had someplace to go nor the resources to exit so quickly. The author said she learned a humbling lesson about privilege.
The aftermath of the hurricane is described as vividly in the book as going through the hurricane itself, as Jones depicts the looting and feelings of helplessness. She speaks of the rationing of food and water, along with the desperation and anger Jones felt after she and her friends were left thirsty and battered.
"Irma Was Here" is a compelling read that took Jones about four months to write and another year to edit and rework. The book is ripe with images depicting the mass destruction that took place.
The last three pages of the book, a timeline from 2017 to 2019 of worldwide record-breaking disasters and anomalies, is perhaps most telling of climate change. Those include unprecedented flooding and rainfalls, large-scale fires, heatwave records, rapid snowmelt, glacier loss, wind storms and blizzards.
If there is anything Jones wants her readers to take away from the book, she says it is that climate change is real, and its devastating effects are happening now and being felt by millions.