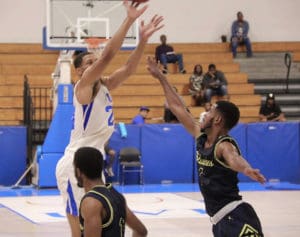 The UVI men's basketball team lost a pair of games to the University of Michigan Dearborn at the Sports and Fitness Center on Friday and Saturday, dropping their record to 4-4 on the season. Meanwhile, the UVI women were buried in the first game of a three-game road trip.
Both of the men's games followed similar storylines, as UVI trailed both contests by three at halftime, the Wolverines ran away with the game in the second half.
In Friday night's contest, UVI trailed by two points with just under eight minutes remaining, but Michigan Dearborn went on an 11-3 run to gain a double-digit advantage with about five minutes to go before eventually winning 76-60.
In the second game, the visitors built their lead to 14 after the first 10 minutes of the second half and UVI fell 76-67.
The women's basketball team lost its first game of a three-game road trip, 88-36 to Loyola University of New Orleans on Sunday.
The Lady Bucs jumped out to a five-point lead but by the end of the first quarter they trailed 20-13. The floodgates opened in the second quarter as UVI was outscored 20-3 and never recovered.
The Lady Bucs continue their road trip with a Monday game against Xavier University of New Orleans before a rematch against Loyola University of New Orleans on Tuesday.
Both teams have two home games coming up this weekend, with the men's team taking on St. Louis Pharmacy and Governor State at 7:30 p.m. on Friday and Saturday, respectively. The women's team will play Johnson College at 5:30 p.m. on the same days