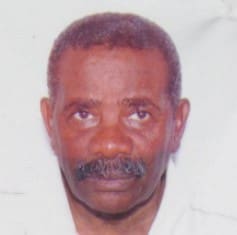 Richard Emanuel Smith, affectionately known as "James" or "Smithy," died Dec. 31 at Schneider Regional Medical Center.
A viewing will be held from 10-11 a.m. on Friday, Jan. 17, at Turnbull's Funeral Home, followed by a memorial service at 11 a.m. Interment will be at Eastern Cemetery.
Born in St. Paul's Parish, St. Kitts, W.I., on Nov. 15, 1943, he moved to St. Thomas in the 1960s.
He worked in the construction field his entire adult life, starting as a laborer with many contractors and quickly gaining the skills and experience he needed to succeed in the business. Twice he was employed with the Virgin Islands Housing Authority, from which he retired in 2005. Even in retirement he was called upon to ply his trade. Health issues forced him to put down his tools, and he could usually be found relaxing with friends at the Tutu Park Mall.
James is survived by his wife, Myrna Mike Smith; brothers: Joseph (Peter) Smith, Vendell Williams, Lincoln Gillard, Earnest Gillard, Curtney Gillard, Lester Gillard, Vincent Williams, Grenville Williams and Cuthbert Williams; sisters: Katherine Gillard, Naomi Gillard, Iona Gillard, Hurdith Gillard, Alice Gillard and Marjorie Williams; sisters-in-law: Olivia Williams and Martha Williams; stepsons: Franklyn Mike, William Mike and Sylvester Mike; stepdaughter, Janice Mike Smith; special aunt, Assie Dore; special cousin, Randolph Bennett; special nieces: Dionne Gillard, Kerry Smith and Vanessa Smith; and special nephews: Elroy (Gregory) Smith and Necil Smith.
He was also survived by his mother, Anna (Priscilla) Smith, who died Jan. 7, 2020.