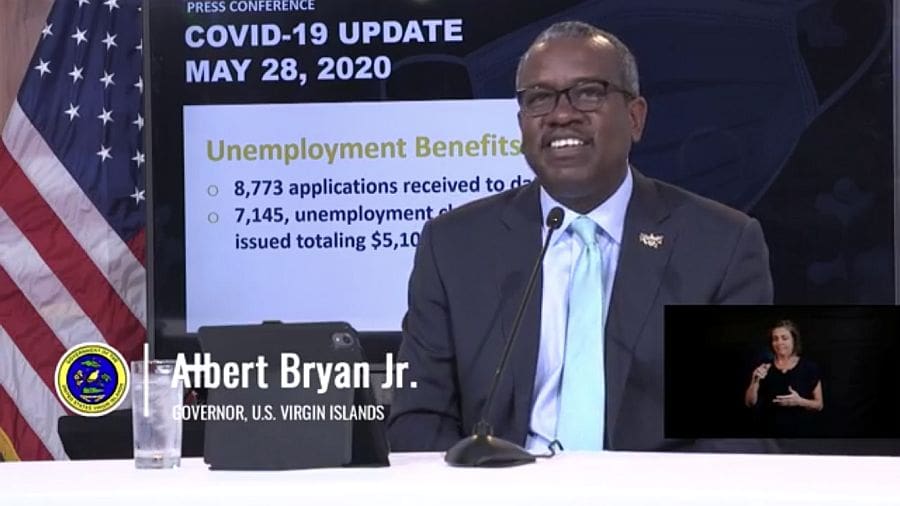 With 500 negative COVID-19 tests returned over the past few weeks, the territory's public health experts believe the potential for community spread has been eliminated and that doors are ready to open to visitors on June 1.
Gov. Albert Bryan Jr. said during a press conference Thursday that he is excited about the next phase and confident in the numbers, though consistent monitoring as visitors come in will determine whether the needle shifts back and restrictions are tightened again. As of Thursday, 1,708 residents have been tested and of those, 1,617 are negative, 69 positive and 22 are pending. Two active cases are currently being tracked, including a sailor who was brought into the territory for treatment and has been on a ventilator at the Schneider Regional Medical Center on St. Thomas.
Monitoring infection trends over the past three months, Bryan said that 33 percent of the total tests have been conducted in the past three weeks with "consistent negative outcomes." Along with an absence of positive tests, there have been no hospitalizations and the number of calls coming into the Health Department's hotlines have reduced from 50 to 28 daily.
"This is what really gives us the confidence to take the next step forward on June 1," he said.
The territory's shift to blue – or "open doors" – primarily means the reopening of hotels to leisure guests. Bars and restaurants were reopened Tuesday with restrictions, including maintaining social distancing guidelines for customers and mask requirements for employees, and Bryan said the "no mask, no service" policy will also remain in effect at other local businesses.
"We are really excited about the step we are taking and it is a safe step because we are assured the people in our community have been doing what they need to eliminate COVID-19 within the community," the governor said. Meanwhile, there should not be a large influx of visitors as the number of overall flights coming in are at 15 percent of what they were previously, and booked to about 30 percent of capacity, he said.
Cruise ships are not expected back until at least August, and while flights are expected to gradually increase, it's not anticipated they will be back in full swing until next season, Bryan added. On St. Thomas, talks with merchants on Main Street indicate stores won't open for another week, either June 8 or June 15.
Until then, dealing with the financial hardships brought on by the pandemic is the focus, and Bryan said the government has paid out this week close to $30 million in federal benefits between unemployment checks and economic stimulus funds.
Looking at unemployment, Bryan said the Labor Department hit a milestone this week after issuing 3,118 checks in one day, for a total 7,145 checks overall totaling $5.1 million in benefits. Through the federal compensation program, unemployed residents are also receiving a lump sum check for an additional $600 in weekly benefits retroactive to April 4. Those who filed for unemployment before that will also be receiving a lump sum check along with the $600 weekly, which will continue through July 31.
Efforts to provide relief for residents who are self-employed will soon be rolling out, and Bryan said Thursday that Labor is currently prepping its computers and database to begin receiving applications.
Residents with questions or in need of assistance can call a new hotline set up at Labor at 1-877-374-0356.
A third set of benefits, credits for residents on their electric bills, are also coming to an end. To date, 29,414 residential customers have already received their $250 credit, along with 5,461 commercial customers, who are due $500 each.
The government has also independently set aside $1 million for high school students heading to college. Any public or private high school graduate can apply for a $1,000 scholarship through the V.I. Board of Education, and Bryan said the only stipulation is that they would have to write a letter to the board describing how they have been financially impacted during the pandemic. Guidelines have been sent to the board and Bryan said additional details will be provided in the coming weeks.
Until then, the government hopes to have a "smooth transition" to June 1, and the governor encouraged residents Thursday to keep maintaining social distancing and mask requirements moving forward. With graduation season underway, he emphasized that high school students should think before leaving home and going out in groups, citing the need to keep the risk of exposure down.
"Do not go out this weekend and lose your minds in the streets," he said. "Try to remember we are still under a state of emergency and dealing with a deadly virus, one that can quickly go from one to 50 people infected. Be responsible, use your masks and do a little less by staying at home as much as you can."