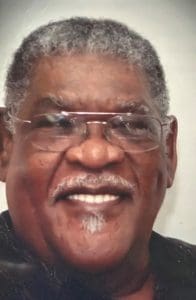 Lawrence A. Walcott died on Friday, June 19.
Lawrence was the second son of Hezekiah and Claudia Walcott (deceased). He is also predeceased by sisters: LaVerne S. Walcott-Smith and Denise E. Walcott; brother, Kenny L. Walcott; and brother-in-law, MG (retired) Jean A. Romney.
He is survived by his wife, Rosemary Walcott; sons: Lawrence A. Walcott Jr., Kenny D. Walcott and Michael A. Walcott; daughters: Jurenne L. Walcott and Dr. Danielle M. Walcott; grandchildren: JeLlana Canton Anderson, Lawrence A. Walcott III, JeNe' A. Walcott, Anthony G. Mason, Anitra M. Mason, Kaela D. Walcott, Dominique M. James, Dominic M. James, Kaylyn M. Hodge and Noah L. Walcott; and great-grandchildren: Ava M. Kellman and Aninah K. Mason.
 He is also survived by daughters-in-law: Sandra Y. Walcott, Verna L. Walcott and LaToya D. Walcott; siblings: Elmer O. Walcott, Beverly C. Walcott-Romney, Kurt A. Walcott and Diane E. Walcott-Rivera; sisters-in-law: Aracelis Bermudez Walcott and Willie Mae Watts-Walcott; brothers-in-law: MG (Retired) Renaldo Rivera and Steven C. Mayers; several grand and great-grand nieces and nephews too numerous to mention; the Henry, Petersen and James families; and special friends: Enid Schjang and Marie Christian.
 Funeral services for the late Lawrence A. Walcott will be held at 9:30 a.m., Thursday, July 2, at the Kingshill Cemetery.
 Funeral arrangements for the late Lawrence A. Walcott are made by the James Memorial Funeral Home.
The family requests that attendees wear a face mask and adhere to social distancing guidelines.