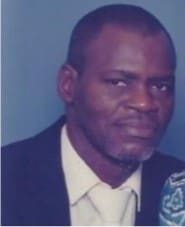 Percy Fahie has died.
The first viewing will be held from 3-5 p.m., Monday, Sept. 21, at Turnbull's Funeral Home. The second viewing will be held at 9 a.m. followed by the service at 10 a.m., Tuesday, Sept. 22, at C5 Hoffman Church. Interment will be on Tortola, British Virgin Islands.
He was preceded in death by brothers-in-law: Cyrus Penn ("Mong") and Robert Penn ("Bob").
He survived by his wife, Lynnett Penn-Fahie; sons: Percy Fahie ("Al") and Macklin Fahie ("Macko"); daughters: Stacia Fahie and Madeline Fahie; brothers: Boycie Fahie ("Pal"), Reuben Rabsatt, Alcie Fahie in the USA, Oraldo Fahie ("Scotch"), Maxie Fahie ("Mappi") in the USA and Ashield Fahie ("Davey"); sisters: Elena Fahie ("Nana"), Ilena Fahie ("DingDing"), Idrena Fahie ("Slim"), Iona Fahie-Collins ("WeeWe"), Leona Fahie-Turnbull ("Jingee), Arona Fahie-Forbes ("Polly"); and aunt, and Fairdora Donovan.
He is also survived by an uncle, Calmus Lettsome; daughters-in-law: Kisha Francis-Fahie and Sylvia Todman-Fahie; grandchildren: Kyle Francis DeAndre Smith-Fahie, K'Andra Fahie and Alena Karina Braithwaite-Fahie; and brothers-in-law: Kendol Collins ("Fresh"), Clayton Turnbull ("Wailer"), Jeffrey Forbes, Perenette Smith, Paul Fahie, Ranold Fahie ("Nolly"), Jones Burton, Wendell Prince, Monroe Penn ("Crafford"), Douglas Penn ("Bop"), Randolph Penn ("Pieo"), Rupert Penn ("Hip"), William Penn ("Bill"), Lionel Penn ("Picky Lock"), Alfred Penn ("Nub"), Allan Penn ("Lil Joe"), Ivan Penn ("Pompie") and Fritz Penn.
Other survivors include sisters-in-law: Gladys Fahie, Brenda Fahie in USA, Carla Fahie in the USA, Louisa Fahie, Joan Burton ("Pearlette"), Peggy Fahie, Yvette Penn aka ("Granny"), Arlene Crabbe ("Girlie"), Hazel Penn ("Pookie"), Adina Penn, Alexia Penn, Arilene Penn, Joan Penn, Denisha Penn, and Darlene Penn; as well as many other relatives and friends too numerous to mention.