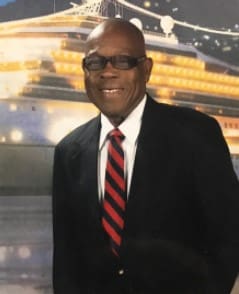 Leonardo Emanuel Joshua Jr., better known as "Sports," passed away on Monday, Oct. 5, at Roy L. Schneider Hospital on St. Thomas, V.I.  Leonardo was born on St. Thomas on Nov. 4, 1926, to Amarlia Callwood and Leonardo Joshua Sr. He served as a private in the U.S. Army, was a member of the Indians Baseball Team and a member of the VI Taxi Association.
Leonardo is survived by two daughters: Phyllis Joshua Blackburn and LaVerne Joshua Smith Mason; sisters: Rena Joshua and Phyllis Astorve; son-in-law, Samuel Mason; stepdaughter, Denise Russell Prince; and nieces: Patricia Joshua Phillips, Edita Joshua, Danielle Ostrove, Paulette, Patrice and Michelle Joshua, and Linda Wall Badillo.
He is also survived by nephews: John Peterson, Gregory, Franklin, and Michael Joshua, and Michael and Arthur Kavanaugh; grandchildren: Curtis Lindesay, Kay Blackburn, Tiffany Smith Todman and Ajah O. Smith; great-grandson, Emanuel Lindesay; and great-great-grandchildren: Tijah Reynolds, K'ron, Bryson and Ajaiha Smith, Jericho Todman and Aliyah Lindesay. Leonardo leaves to mourn a host of other family friends.
Leonardo was predeceased by brothers: Austin, Lionel, Aubrey and Raymond Joshua; sisters: Eunice and Edita Joshua, Shirley Wall; and great-grandson, Judah Todman.
Arrangements are by Turnbull's Funeral Home. There will be a viewing from 9-10 a.m. followed by a funeral service at 10 a.m. on Thursday, Oct. 15. Interment will be at Eastern Cemetery, Veterans Section.