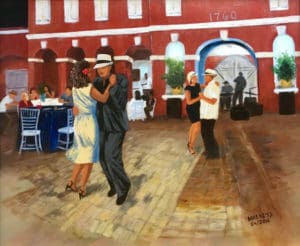 Project Promise will bring the beaches of Cuba to the homes of participants when it hosts the fifth annual Havana Nights online on Saturday, Feb. 13, with entertainment beamed all the way from Cuba.
"This year is the virtual edition," said Resa O'Reilly, the founder and president of Project Promise. "We definitely wanted to be responsible citizens and not host the in-person event because, usually, we have about 350 to 400 people at the Frederiksted fort. The virtual lineup will be no different than it would have been it were in person".
The fundraising event will be hosted by James "Jimmy" Webber, and there will be entertainment directly from Cuba – El Guiro De La Habana and Combinación Perfecta.
"I try to bring an authentic experience here to St. Croix and usually I partner with local artists. Being that it is virtual, I figured we can be super authentic this year, so I partnered with a friend from Cuba and he coordinated the efforts for me," O'Reilly said.
Participants can expect to participate in a dance lesson, dance number and a concert coming directly from the beaches of Cuba.
"This year, because of the pandemic, we lowered the price and increased the prize," O'Reilly said.
The ticket's price, which is usually $65, was lowered this year to $25. Some of the prizes include round trip airline tickets from St. Croix or Miami to Cuba. The winner of the virtual door prize will also be eligible to win a five-night stay at an all-inclusive beach resort in Cuba. The winner will then have two years to plan their trip to travel to Cuba and is not required to be present to win.
Tickets can be purchased online at either the Project Promise website or the online ticket broker, Eventbrite.
"If you are also interested in having a small, 10-person watch party with friends, those packages are available as well," O'Reilly said. The package will include dinner for ten people at $50 per person.
Purchasing the ticket supports Project Promise, an organization dedicated to giving at-risk youth the tools and support they need to live healthier lives. Its signature program is the "Caterpillar Project."
Sponsors of "Havana Nights" include Family Planning, The Virgin Islands Lottery, TEAM Consultants, OCWEN, JKC Communications, Marshall & Sterling Insurance, Cane Bay Partners, Frederiksted Healthcare, Victoria House, St. Croix Obstetrics & Gynecology, Caribbean Printing & Marketing.
"Our program this year has been so challenging in way of funding and purchasing a ticket will help us move forward in 2021."