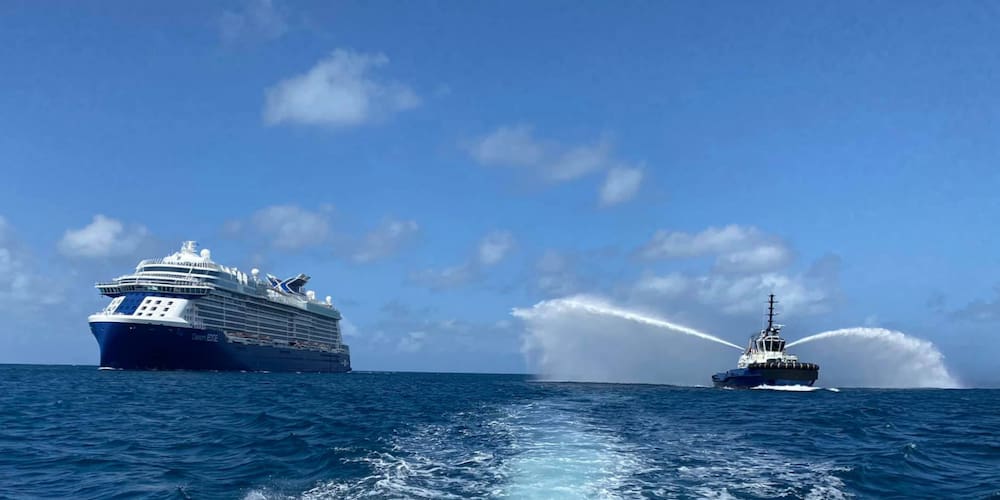 A water salute, moko jumbies, live band and Department of Tourism greeters were all part of the welcome passengers aboard the Celebrity Edge received as the cruise ship – the first to dock in the territory in the past 15 months – arrived on St. Thomas Tuesday with about 1,500 passengers and 700 crew members aboard.
Tuesday's call was prefaced by the approval of the cruise line's "Healthy Return to Service" protocols by the Centers for Disease Control, which representatives said look at "every touchpoint" from the start of the cruise to the end. Getting on the ship, passengers must either show their vaccination card or, for those who are unvaccinated, show proof of a negative PCR test taken five days beforehand. Those passengers also take another test before getting on board and are tested again five days into the cruise.
According to members of Celebrity Cruise Lines' team, the Edge sailed into port Tuesday with at least 95 percent of its passengers fully vaccinated.
CDC protocols also include a mandate for port agreements between the cruise line and each destination's government to "make sure we are all aligned and see eye-to-eye on how the process works." According to Tourism Commissioner Joseph Boschulte, those agreements were approved prior to the ship's docking.
"This has been a joint effort lead by the Governor's Office, Health, Port Authority, West Indian Company Ltd., and Tourism, along with our cruise partners and the CDC in coming up with acceptable protocols that could be signed off on by everyone," Boschulte said Tuesday. "We're happy those agreements were put in place before today's arrival, and now, we're having the same conversations with the other lines. The territory has long been an anchor in cruise itineraries, so we do expect to see more activity in the months ahead, but we do have to continue doing what we have been doing for the past number of months in terms of safely managing our economy with the safety concerns all around."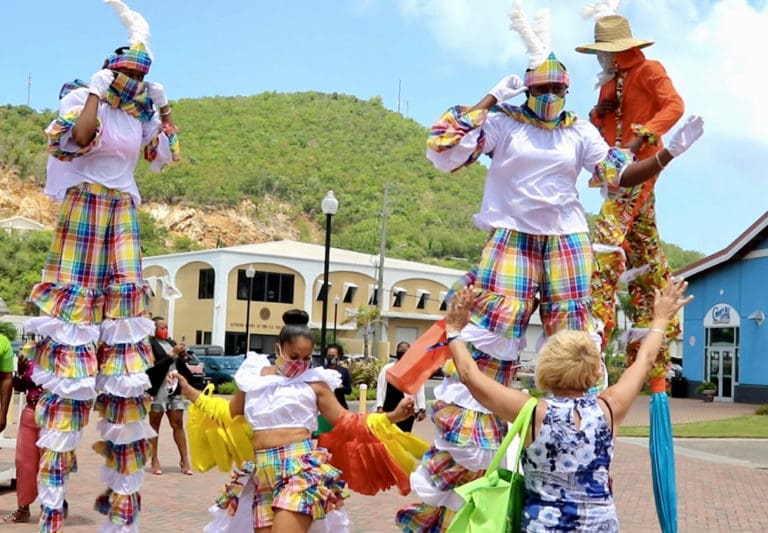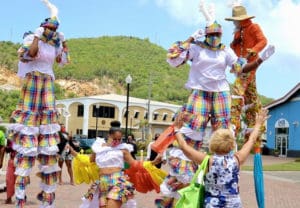 Cruise ship calls are expected in the territory in August and September, including a call by the Celebrity Equinox on St. Croix on Aug. 18.
On the logistics side, the V.I. Port Authority led the charge in keeping businesses and vendors at the Crown Bay Marine Terminal informed about the safety protocols put in place by the Health Department. Tenants were also invited to meet directly with Health officials to reinforce masking and store capacity limitations, as well as answer questions. Signs and banners were posted around the center as reminders and security guards were on hand for enforcement.
Requirements for businesses also included handwashing and hand sanitizer stations, and keeping a log of visitors at each location to help with contact tracing if necessary.
"This really starts a new age for us in terms of cruise travel," Boschulte said Tuesday. "We know that COVID isn't gone, so staying diligent with safety protocols is a must."
Many managers of local businesses said they felt safe with the protocols that have been put in place and were grateful to see the return of business to the center.
"It's exciting to be here at this point today," said Isaiah Massey, store manager for Diamonds International. "It's been a long time, and it's been a whirlwind getting to this point, so we're just thrilled to get back on course and to some sense of normalcy. And as far as the marina, Health has put some things in place to make us feel as safe as possible, from tourists to employees, so we're very confident that all will go smoothly. We're all looking forward to more to calls in the future."