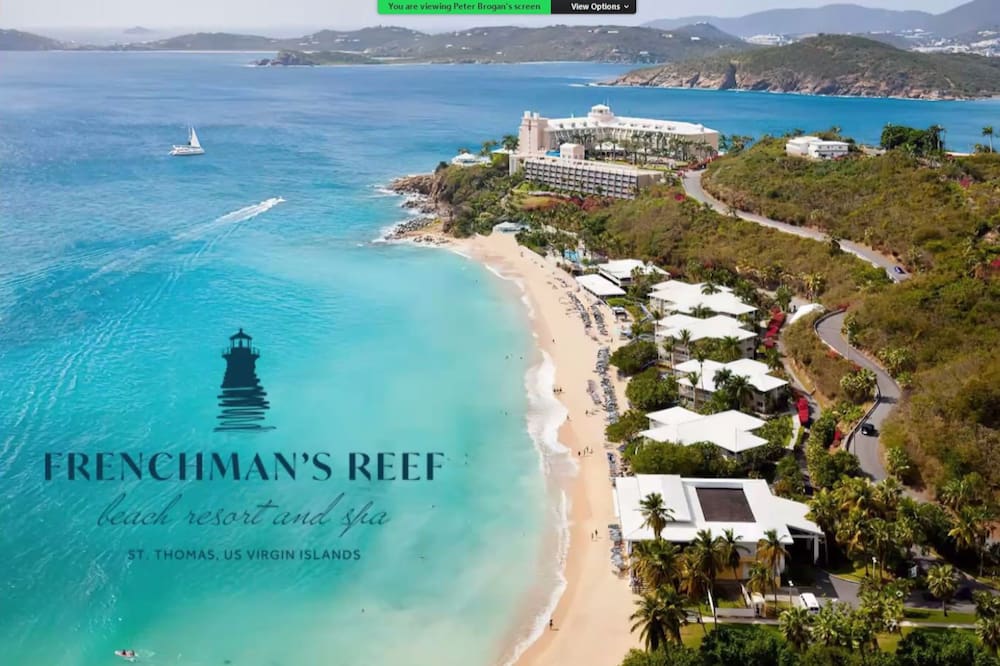 Officials from CREF3 USVI Hotel Owner, Inc., a company owned and managed by Fortress Investment Group, on Tuesday presented plans for the Frenchman's Reef Marriott Resort, which the company has scheduled to reopen in November 2022, after it was devastated by the storms of 2017.
The presentation was made during Tuesday's meeting of the V.I. Economic Development Authority Board.
The project to restore the Marriott Frenchman's Reef Resort and Spa in St. Thomas, originally owned and operated under DiamondRock Hospitality Company, was stopped in 2019.
"Under new ownership, construction has finally begun and is actively ongoing," said Attorney Adriane Dudley, who represents CREF3.
Originally, under DiamondRock Hospitality Company the resort was slated to open in 2020 but then was sold to a New York-based private investment firm Fortress Investment Group earlier this year.
At Tuesday's meeting, Joe Gould, managing director of Fortress Investment Group, detailed the plans for the property. He said Fortress has invested more than $50 million.
The total investment into the resort is expected to be more than $402.6 million dollars. Gould said that the resort will support $1.5 billion in business sales, $559 million in income, and $182 million in U.S. Virgin Islands tax revenue in the next 10 years.
"Our goal in purchasing the Frenchman's Reef is to build upon its rich history," Gould said. "We have carefully layered the design, branding, and conception to truly provide a unique experience while working together to create an overall destination, and an overall encompassing ecosystem."
Some of the renovations will include 486 guestrooms, 10 restaurants and bars, four pools, a 60,000-square-foot indoor and outdoor function space, a kid's club and activity center, 13 treatment room luxury spas, and a 1,400-foot white sandy beach.
Areas of expansion will include improved guest room experiences, an additional eight guestrooms at the main building, upgrades to the pool deck, fully redesigned and expanded spa and fitness facilities, upgraded infrastructure, a more efficient wastewater treatment plant, and an erosion plan in accordance with CZM permitting.
"We are confident that the reopening will reinvigorate the U.S. Virgin Islands tourist economy and reestablish St. Thomas as a leading tourist destination."
A few restaurant options both guests and locals can expect are a coffee bar, sushi bar, and a restaurant where locals can once again enjoy Sunday brunch.
"We have already booked over 10,000 group rooms committed for 2023-2024," said Gould.
Gould said that the opening of the Marriott Frenchman's Reef will create about 900 jobs.
"Former employees are more than welcome to apply and come back to their positions at Frenchman," he said, noting that the normal application process, with a drug test and proof of vaccination, will be required.
Employee hiring will commence in September 2022 followed by intense training in anticipation of reopening in November 2022.
The resort will also provide health insurance, life insurance, paid time off, local group discounts, and charitable events and donations.
Fortress Investment Group was founded in 1998 and is a leading and diversified global investment manager with over $53 billion in assets under management and 18,000 institutional clients and private investors worldwide.
The CREF3 officials requested the V.I. Economic Development Authority Board transfer EDA Benefits from DiamondRock Hospitality to Fortress.
Attorney Dudley said that under the Hotel Development Act of 2019 the company wants to secure 50 percent of the designated hotel occupancy tax, an economic recovery fee of two and a half percent, and authorization to issue hotel development notes.
"In 2017 Hurricanes Irma and Maria devastated the Frenchman's Reef Marriott Resort and Spa property," Dudley said. "It must be emphasized that without these benefits this project could not proceed to the extent planned and for sure we could not open in season 2022."
During the questioning portion of the hearing member Haldane Davies asked, "What is different from Fortress to Diamond Rock?"
Gould responded, "We have the team, the expertise to execute the project. We have secured the finances necessary subject to approval from the EDA. We have the experience most directly correlated with the redevelopment of the Westin in Grand Cayman, very similar in being an island location, in need of significant investment, over $50 million put into the asset to bring it back. We watched on that project, and we delivered on budget and on time."
Other companies requesting EDA benefits Tuesday included Centripetal VI, LLP, Systilogic, LLC, and WVJD, LLC.
Present at the hearing was Chairman Kevin Rodriguez, Haldane Davies, Jose A. Penn, Positive Nelson, and Phil Payne.