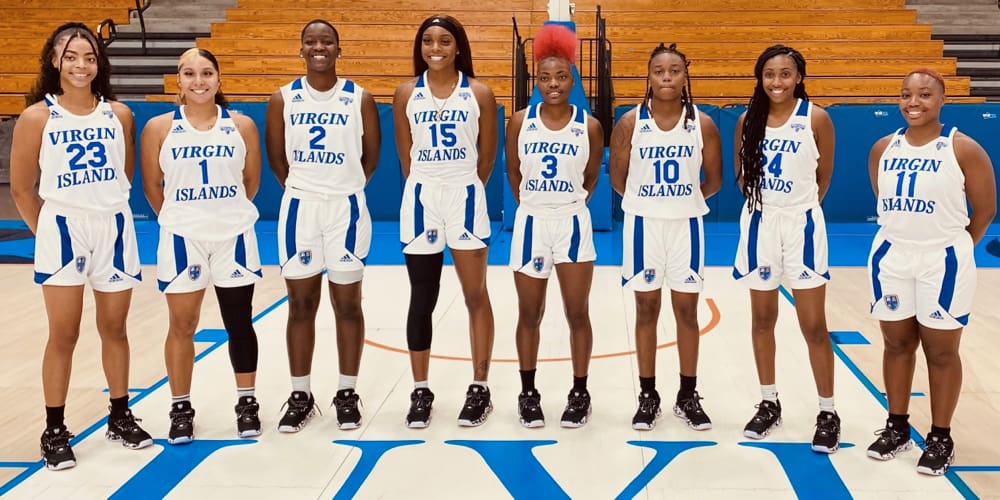 After the COVID-19 pandemic dashed hopes last year for school sports, University of the Virgin Islands coaches Alfonzo Duncan and Niki Collins spoke Monday about the upcoming launch of the Bucs' basketball season, which kicks off Oct. 29.
The Buccaneer basketball season begins with a trip to Sumter, South Carolina to take on Morris College in a men's and women's doubleheader. UVI takes the court at home on Nov. 3, on the first day of the UVI-HBCU Basketball Classic, marking more than 1,000 days since the teams played on its home turf.
Flanked Monday by four of his players, Duncan said his team has been working hard over the past few weeks, but its members are new and haven't played together as a team.
"We have a lot of ground to cover in a short amount of time," he added, saying that the Bucs face teams that have been playing together for years. But he said his players have been running well with the new system – a motion-style offense, which makes it difficult for teams to scout, and a man-to-man defense he has introduced.
"We have tremendous talent with this group, and I'm looking forward to great things," Duncan said.
For the women's team, Collins said her players have the ability to quarterback the whole game, operating both an effective offense and defense.
"I think they are able to get the ball out quickly and transition and just be a running team," she said. Collins said, like the men's team, the team is learning the tempo of college basketball and is learning her style, which focuses more on running plays.
Asked how the team is "gelling" in the first few weeks together, Collins joked that they "haven't killed each other yet," but are adjusting to the different styles and levels of play.
New website
UVI recently upgraded its sports website and is offering its official mobile app, Buccaneers Sports Network.