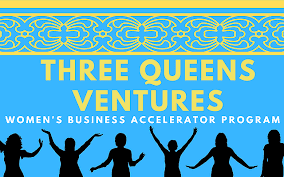 In March of 2021, SEAT Innovation and Entrepreneurship Center (SEAT IEC), launched its Three Queens Ventures Women's Business Accelerator. Five women were ultimately selected for this highly impactful program, which aimed to see the participants increase their company's profit, potentially providing employment opportunities, and contributing to the community's economic development.
The women who made up the initial cohort of Three Queens Ventures are:
The participants were paired with mentors representing diverse business and professional backgrounds. Throughout the four-month program, the women also obtained weekly curriculum sessions led by industry experts, a new e-commerce website or improvements to an existing one, office amenities at SEAT Caribbean Coworking Space, and seed funding for their business.
Additionally, every Three Queens Ventures fellow received individualized consulting, marketing/social media assistance and financial planning.
Jennifer Sequeira, co-founder of SEAT Caribbean and SEAT IEC said, "The first round of our Three Queens Ventures Women's Business Accelerator program was a remarkable success. Our entrepreneurs, mentors and program speakers were greatly satisfied with the program and the individual outcomes. We are very excited and look forward to helping our next group of entrepreneurs achieve their business goals."
A business showcase was scheduled to take place in July 2021, which was to be the culmination of the four-month program and an opportunity for each entrepreneur to introduce their businesses to a wider audience; however, due to COVID-19 restrictions, the event had to be postponed to a future date.
Three Queens Ventures is currently recruiting for the second cohort of V.I. businesswomen who aspire to propel their business forward by utilizing the resources and opportunities offered through its women's business accelerator.
For more information visit: www.seatcaribbean.com/three-queens-ventures.
About SEAT Innovation and Entrepreneurship Center (SEAT IEC)
SEAT IEC is a U.S. Virgin Islands 501(c)(3) non-profit organization that empowers entrepreneurs within the territory because they are one of the primary vehicles through which a community's economy can grow. The mission of SEAT IEC is to support, empower, advise and train individuals who have traditionally been underrepresented in the small business arena.