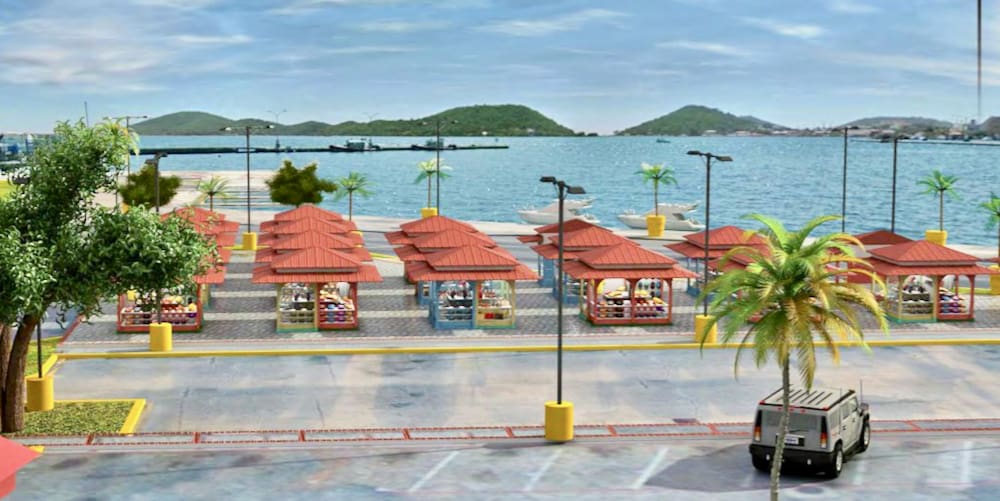 St. Thomas-St. John Historic Preservation Committee members gave the green light Tuesday to designs for new kiosks at Vendors' Plaza, a space that before had historically been dotted with tents and tables for merchandise.
The application, submitted by the Department of Licensing and Consumer Affairs, includes renderings by Alexander Plastics Inc., doing business as Creations Global Retail, for standalone booths that pull in aspects of the downtown's historical architecture, such as eaves and arches, while also offering more practical features, such as storage spaces. The kiosks will be wheeled so they can easily be moved around and dissembled, according to presenters.
While the final decision was contingent upon the company revisiting the color scheme of the kiosks so that they matched the committee's approved palette, members said they were overall "blown away" by Creations Global's attention to detail, which was incorporated through work with V.I. historian and culture bearer Felipe Ayala.
No timeline was given for construction and installation, but in meetings held with vendors over the past month DLCA Commissioner Richard Evangelista has said the kiosks are expected to arrive within the next four to six months. In the meantime, Vendors' Plaza reopened on Nov. 1 after being closed for more than a year due to the global COVID-19 pandemic, with a range of social distancing and health protocols in place, including lowering the number of vendors from 54 to 17 to allow for more space.
With one vendor allowed per square, the spots are in rotation, with masks required and handwashing stations installed. A lottery will be conducted to determine where each vendor will be in the rotation, Evangelista has said. Tents will remain until the kiosks are installed.
Tuesday, Evangelista also addressed issues that weren't needed for the design application but have been of concern to the community, such as the subleasing of vendor spots. By law, vendors pay $200 for the spot and $65 for a license, but Evangelista has said he's received reports of them being re-leased for upwards of $1,200 a month. The commissioner said he plans to assign someone from DLCA to regularly monitor compliance. Further, he said there also had been reports of vendor vans taking up parking spaces near the plaza for extended periods of time.
Any non-functioning or derelict vehicles have been removed, and vendors will be asked to park elsewhere, such as the Fort Christian Parking Lot.
St. John Utility Undergrounding Project
During the summer, work in Cruz Bay as part of a multi-phase initiative to bury the power grid on St. John was halted after human bones were observed in a trench that was being excavated on the western tip of the historic district. Historic Preservation gave the V.I. Water and Power Authority the permit to begin the work, understanding, according to committee members, the potential for finding artifacts or remains, given that the work would essentially divide a larger, complete burial space. An archaeologist remained on-site during the course of the project, which was ultimately stopped while officials determined the best way to proceed.
Speaking to the Source Tuesday, Historic Preservation Committee member Kurt Marsh Jr. explained that discussions with Public Works on a potential space on site for the re-internment of the remains are progressing.
"What has been helpful during this process is the level of continuous communication amongst all the entities," Marsh said, adding that as the project moves forward, it is expected that even more historic artifacts will be found along the waterfront, providing more potential for "sourcing" or timestamping of materials.