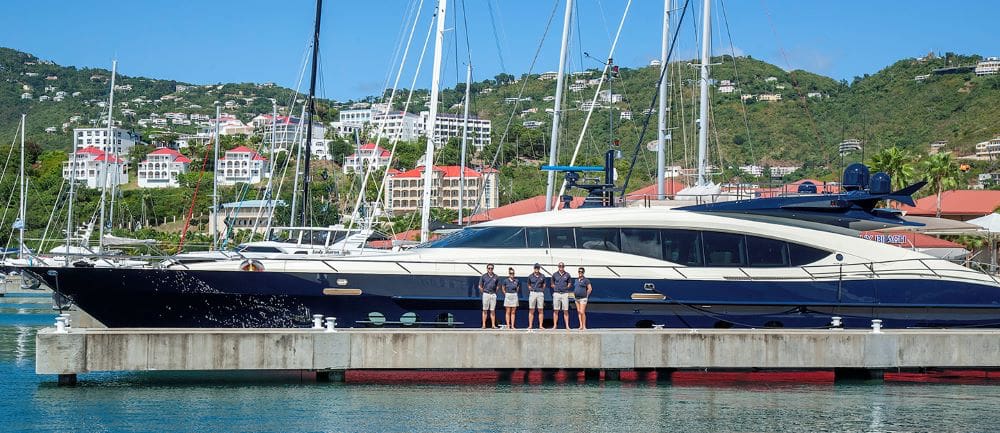 The Virgin Islands Professional Charter Association kicked off the season with the USVI Charter Yacht Show, an event that drew brokers from across the Caribbean the U.S. and Europe, the association said in a news release issued Thursday.
The fully vaccinated event took place from Nov. 7 through 10 at IGY Marina's Yacht Haven Grande St. Thomas with COVID-19 protocols in place, the statement said. More than 100 brokers attended in person, with an additional 40 taking part online. Almost 40 yachts were open for the show, a number that was down slightly from past years but many yachts were already out on charter.
The association touted "solid ongoing sponsor support from local and U.S.-based businesses" and the Government of the Virgin Islands, which "provides the firm foundation for the continued growth and success of the charter yacht industry and its economic contribution to the U.S. territory as part of the vibrant marine tourism sector."
Gov. Albert Bryan Jr. said in opening remarks at the charter brokers' Nov. 7 welcome event that at the start of the pandemic "a conscious decision that we were not going to close our shores to sailors."
"We were going to honor what is in our Virgin Islands national anthem, the Virgin Islands March, to 'hold out a welcome for one and all.' That attitude has certainly paid off. I'd like to thank all the charter brokers who made last season one of the most amazing seasons on the water. Including, for the first time, charter boats in Christiansted and Frederiksted on St. Croix. Totally amazing," Bryan said.
"We are investing in the infrastructure of our blue water economy not only in the charter industry but in fishing and cruising, by putting in new ports, new boat launches, and moorings. And we will be putting in a tender pier on St. Croix so charter yachts can not only cruise over but have their passengers come ashore as well as they already enjoy in St. Thomas and St John."
Strong Season Ahead
In the last five years, the U.S. Virgin Islands' charter yacht industry has proved resilient in the face of challenges such as hurricanes and a global pandemic, grown as an economic force, and put the U.S. territory back on the map as an unsurpassed self-contained jewel of a charter yacht destination, according to the association's news release.
According to the association many yachts have near to fully booked seasons, and that season started earlier this year, as of Nov. 1. With enhanced marine infrastructure projects slated, the season ahead will further solidify the U.S. Virgin Islands as a prime yacht charter destination in the Caribbean – and world, the release said.
"We are looking at an unprecedented number of sailing and charter vacations in the U.S. Virgin Islands, and this year feels like we are prepared for it," says Dare Blankenhorn, VIPCA president and owner of St. Thomas-based Charter Caribe. "The government support that we have received has allowed us to focus heavily on developing our products within the territory. Every week, we are seeing infrastructure progress and feel the pace and rhythm of the U.S. Virgin Islands increase. Our goal today is to be grateful for our opportunities, and to take care of the things that matter to all of us… protecting our beautiful environment, creating a healthy balance between tourism and our infrastructure needs, and making sure that everyone is living, working, and experiencing the best aspects of the U.S. Virgin Islands."
A 'Must-Do' Show
This year's USVI Charter Yacht Show format provided safe and effective ways for brokers to see the yachts and crews, including small group tours and meals aboard the yachts and open-air socially distanced social functions onshore. Real-time videos of the yachts tours and crew interviews gave virtual attendees an up-close view.
"The show offered a great cross-section of the different boats in the fleet for charter. I do not believe there is any substitution for stepping on the boats, meeting the crews, and interacting with all the different industry personnel," said Nick Cirillo, owner of Blue Ocean Charters, based in Havre de Grace, Maryland, and winner of the show's 2021 Broker of the Year award. "Any guest that steps aboard a vessel in the Virgin Islands is about to experience one of the best vacations in the world. The natural beauty, wonderful cuisine, and people really make the Virgin Islands stand out. Additionally, with COVID changing the charter industry, I have been pleasantly surprised with the rediscovery of the USVI's as a charter destination."
Ann McHorney, chief executive officer and charter broker for Fort Lauderdale, Florida–based Select Yachts said she missed the show in 2020 due to COVID.
"So it was doubly good to have a chance to reconnect with familiar crews and boats, meet new and catch up with fellow brokers as well. When charter guests come to the Virgin Islands, they want to get on a boat, leave their cares at the dock, have fun, eat well, play, laugh, and enjoy the marine life. That's just what this fleet offers," McHorney said.
A Boutique Fleet
The fleet of yachts on display ranged from 45 to 120 feet in length and included monohulls and multihulls, power and sail. Each yacht and its crew together provide a distinct experience.
"What's special for us in winning this award is that this is our second season in the term charter industry and first year showing in person," said Captain Ish Alexander, who with chef Julia Malone charters the Lagoon 52, Southern Comfort, and who won Best Yacht in Show in the Up to 55-foot category. "A lot is new and fresh, and we're still learning, but we work as hard as we can to put forward the best product. It's nice to have this acknowledgment in the award and it shows we are evolving in the right direction."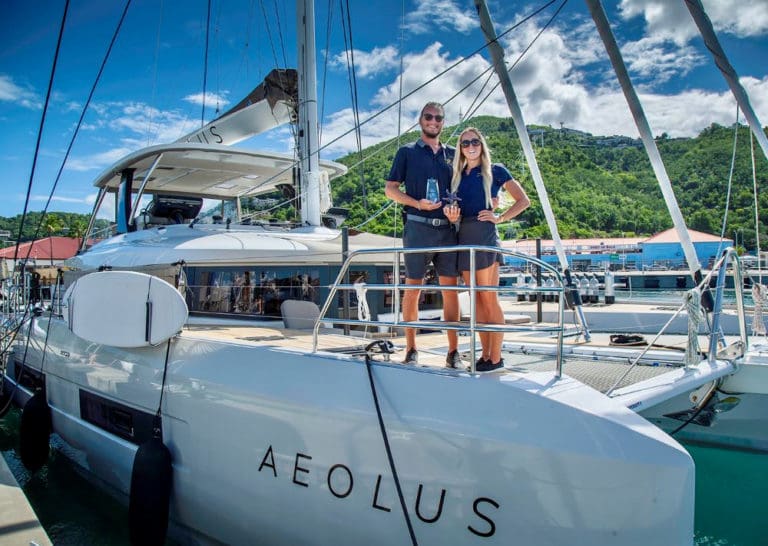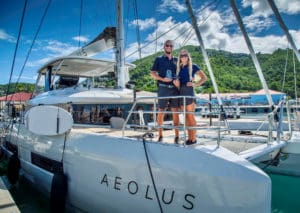 It's the little things that set the 2021-build Lagoon 65, Aeolus, apart, according to Captain Mayon Hight, who with chef Therese Gorsich, and stewardess/Mate, Elizabeth Bork, earned Best Yacht in Show in the 56- to 65-foot category. "We have high-end bath products, water toys like Seabobs and Subwings, and at the end, each guest gets a custom video of highlights of their charter."
Burn Rate, a 120-foot Palmer Johnson motor yacht, earned Best Yacht in Show in the 66-foot and over category.
"For us, it is an honor to be able to work on Burn Rate and we have a lot of pride in keeping her in mint condition. All the credit goes to the crew for their hard work in keeping that high standard," Captain Evert Theron said. Theron works with chef Tanya Theron, stewardess/Mate Karien Koekemoer, deck mate, Daan De Beer, and engineer Louis van Wyk.
The Best Crew Award went to Captain Ryan Querry, chef Dani Querry, and stewardess/mate, Christian Doyle aboard the 2021-launched Lagoon 65 Justified Horizons.
"We leverage our combined talents to offer an experience that is a step above," said chef Dani Querry, who adds that they already have 22 weeks of charter on the books for the 2021-2022 season. "We capably handle our jobs individually and we work together well as a team so that no guest is left wanting. Ryan is a dive instructor, I'm the chef, and Christian ties it all together with incredible touches like tablescapes. We are the only 6-cabin Lagoon 65, which means we can take 10 guests. One of our niches is celebrations. We go over the top with decorations and a homemade cake for guests celebrating special occasions."
2021 USVI CHARTER YACHT SHOW COMPETITION WINNERS
Best Yacht in Show – 66ft & Over
Winner: Burn Rate ◦ Crew: Evert Theron, Tanya Theron, Karien Koekemoer, Daan De Beer, Louis van Wyk
Runner Up: Lady Sharon Gale ◦ Crew: Keith Cressman, Annette Sharpe, Frans Cornelisse, Zara Browne
Best Yacht in Show – 56ft – 65ft
Winner: Aeolus ◦ Crew: Mayon Hight, Therese Gorsich, Elizabeth Bork
Runner Up: Le Reve ◦ Crew: Dirk DeLo, Sandra Anderson
Best Yacht in Show – Up to 55ft
Winner: Southern Comfort ◦ Crew: Ish Alexander, Julia Malone
Runner Up: Sea Dog ◦ Crew: Keagan Steyn, Olivia Boyd
Best Crew in Show
Winner: Justified Horizons ◦ Crew: Ryan Querry, Dani Querry, Christian Doyle
Runner Up: Aeolus ◦ Crew: Mayon Hight, Therese Gorsich, Elizabeth Bork
Broker of the Year – 2021
Winner: Nick Cirillo, Blue Ocean Charters
Runner Up: Lynne Campbell, Carefree Yacht Charters
Cocktail Mixologist Competition Grey Goose – 2021
Winner: Mixologist: Amy Cann, Let's Play Too
Runner Up: Mixologist: Zara Browne, Lady Sharon Gale
Cocktail Mixologist Competition Captain Morgan – 2021
Winner: Mixologist: Ish Alexander, Southern Comfort
Runner Up: Mixologist: Ryan Querry, Justified Horizons
Culinary Competition – 2021
Appetizer
1. Tanya Theron, Burn Rate
Main Dish
1. Annette Sharpe, Lady Sharon Gale
2. Dani Querry, Justified Horizons
Dessert
1. Annette Sharpe, Lady Sharon Gale
Tied 2. Therese Gorsich, Aeolis
Tied 2. Tanya Theron, Burn Rate