"Friends in the Courtyard" artisans meet Wednesdays, 10 a.m. to 12:30 p.m., at the Caribbean Museum Center for the Arts. Anyone interested in art, crafts, or anything related to the arts is welcome to join the group or lead a class, Bev Lewis said.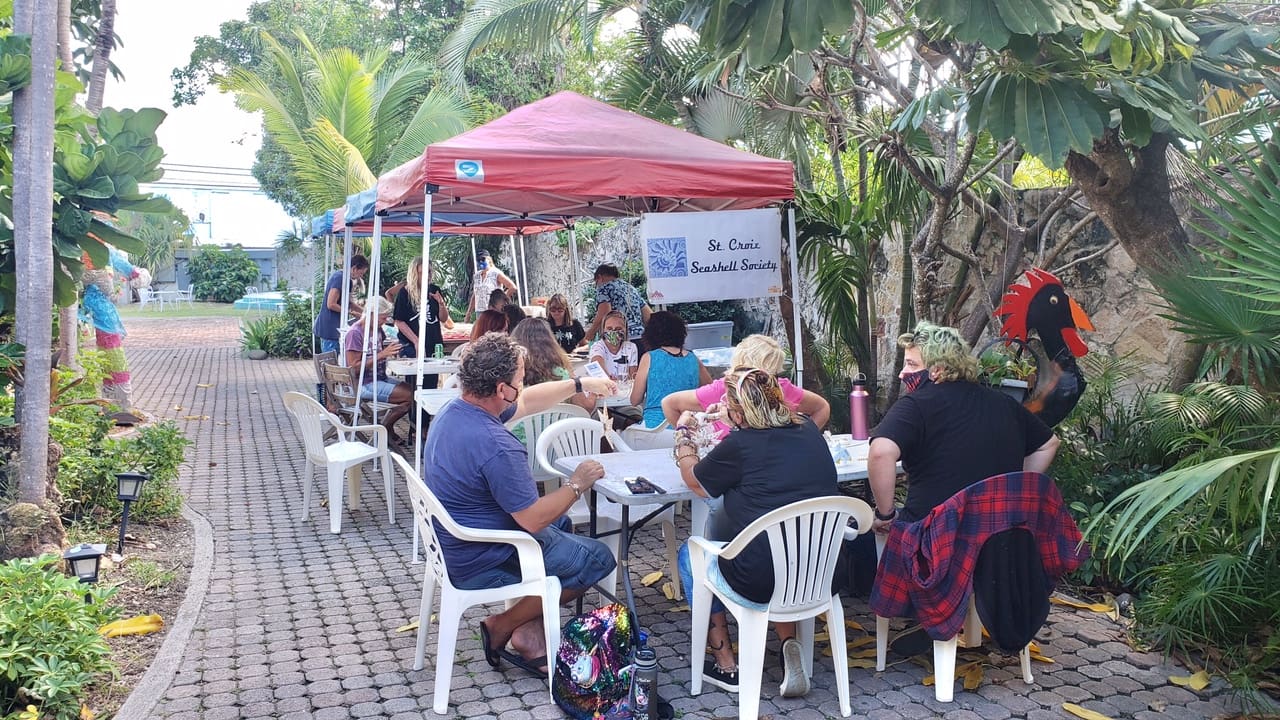 Lewis leads the group and encourages folks to join the museum and join the "Friends in the Courtyard." She said, "Our goal is to introduce different forms of art to participants like jewelry making, beading, painting, handmade paper, wire art, and so much more."
On a recent Wednesday, the local Seashell Society brought shells to the group for a class in ornament making. There were 16 participants in the adult group who purchased shells and made several ornaments for their own holiday decorations. 
The family of Richard and Nikki Lally and Allen Collins joined them for the first time. "We enjoyed every minute of it," they said. They showed off their star ornaments with plans to decorate their home for the holidays, the trio said. Richard will add live fern to his ornament for that "added touch."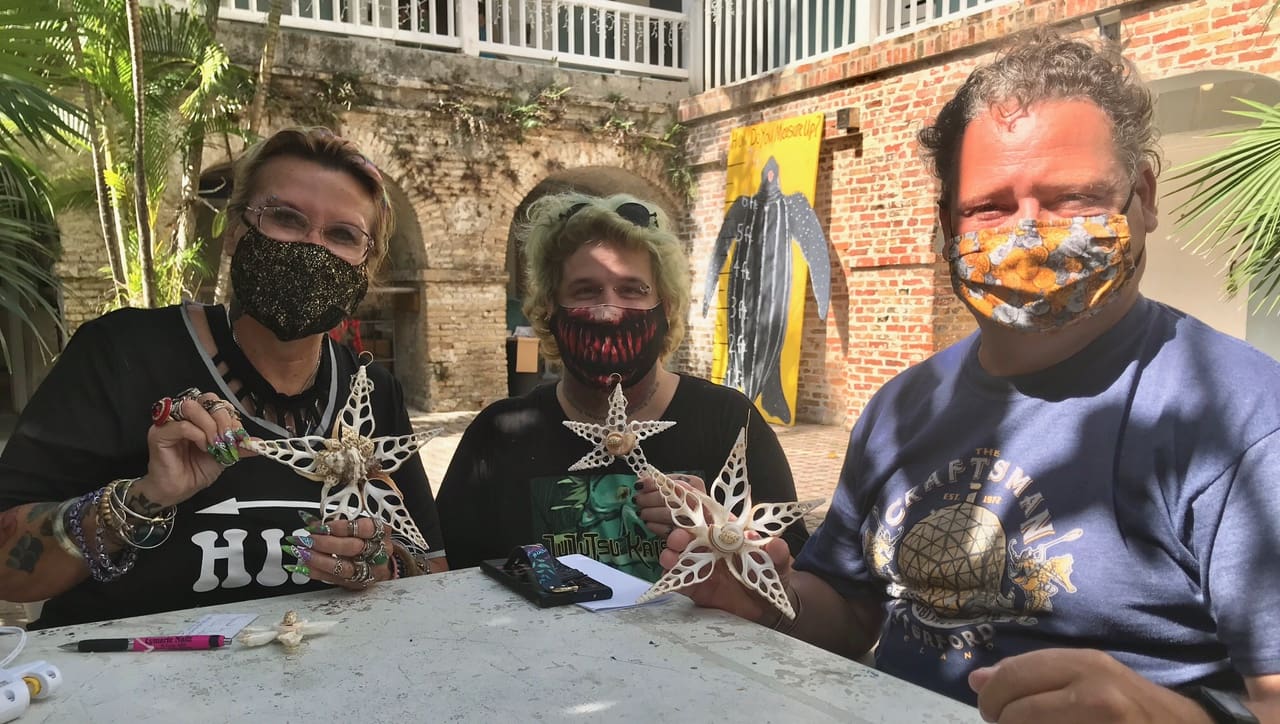 Lewis is putting out a call for artists who would like to share their talent with the "Friends" and lead a class on a Wednesday in the coming year 2022. There is no limit to the art that one can provide. "We just had two cooking classes. In one class, we baked a coconut rum cake from scratch; in the other, we baked blueberry scones. We did this all in the kitchen at the museum," Lewis said. 
Classes during the year were led by visual artists Jane Akin and Isabelle Picard, wire artist Waldemar Brodhurst, and Lewis.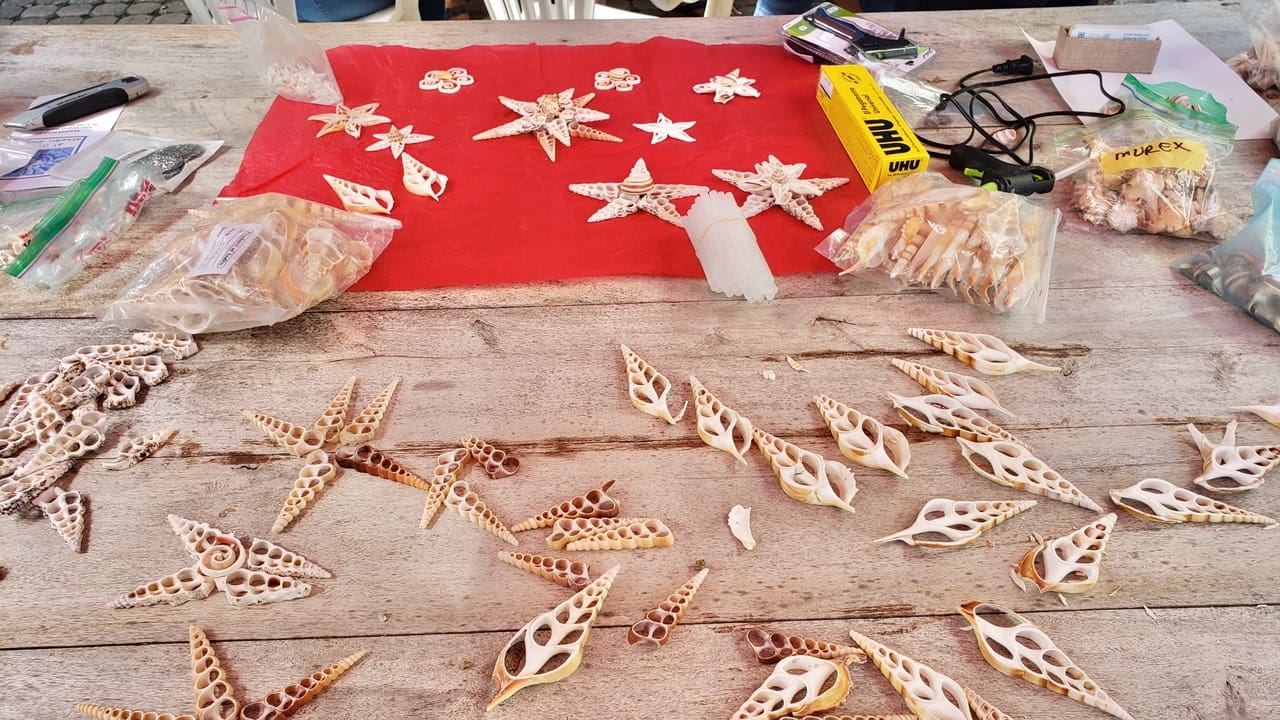 The "Friends in the Courtyard" will take a short hiatus and will return Wednesday, January 12, 2022, observing the latest CDC and Department of Health Guidelines for Covid-19.
In the meantime, please join.
Hat Class with Cassandra Chapman
Cassandra Chapman is back on island with her offerings of a two-day workshop in the art of millinery on December 28 and 29 in the Courtyard at CMCarts. Classes will be held on Tuesday and Wednesday, 9 a.m. to 3:30 p.m. Each participant will "create a unique fancy fascinator," according to Chapman. 
As an educator, Chapman has conducted and taught millinery workshops in North Carolina and the Caribbean. Hat designer Chapman has taken classes with Hat Academy in Australia, Katherine Elizabeth Millinery in England, and the John C. Campbell Folk School in North Carolina. 
With over five years as a designer, Chapman has designed hats for several Caribbean First Ladies and Ministers of Government. Her work has been described as "ethereal, light, and beautiful."
Materials included in the $75 fee: Sinamay, wire, feathers, flowers, headband, hair comb, stiffener, and use of special tools. Each participant must bring a sewing kit: Needles, invisible thread or colored thread to match their headpiece, clothespins, binder clips, straight pins with colored heads, tape measure, etc. Madras fabric is optional.
For more information: www.cmcarts.org