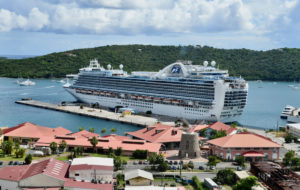 As the omicron coronavirus variant surges nationwide and regionally, the Centers for Disease Control has placed more than 80 cruise ships under investigation, including the Disney Fantasy, which docked on St. Thomas Thursday but was halted by local officials from having passengers disembark. The CDC is color-coding ships under investigation yellow based on the percentage of positive cases on board.
A Disney Cruise Line blog post indicated passengers were informed by the ship's captain after docking that they were not permitted ashore as there were passengers and crew – less than 1 percent, according to Disney – in quarantine. According to local port officials, cruise ships coming into the territory are required to report their COVID-19 numbers to the V.I. Health Department and CDC, with Health ultimately making the decision about whether passengers are let off.
Prior to ships returning to the water in summer of 2021, cruise lines had, in conjunction with the CDC, put in place a range of agreements with various destinations – testing procedures, boarding and disembarkment protocols and capacity limits on passenger numbers, among them – to ensure safety. With ships now experiencing surges, all destinations are affected, according to West Indian Company Ltd. President and Chief Executive Officer Anthony Ottley, and are trying to "err on the side of caution" by aggressively monitoring the numbers and turning ships away rather than facing another 18-month shut down.
Meanwhile, the CDC updated its cruise ship guidelines Thursday, issuing a travel advisory warning U.S residents to "avoid cruise travel" as the omicron variant continues to spread. The guidance for cruise ship travel moved from a Level 3 to Level 4 warning, the highest threat level, with the CDC additionally warning that all residents, even if fully vaccinated, should avoid cruises.
Where that places the territory, with cruise ships a staple of the tourism product, is uncertain, as the situation continues to evolve, according to officials. Contacted Thursday by the Source, V.I. Port Authority Executive Director Carlton Dowe said that like any other destination, the Virgin Islands is in "unchartered waters," with both the Port Authority and WICO following the cruise agreements and talking daily with both the cruise lines and CDC. The Port Authority turned away three ships in the past week, including one that wasn't initially on its schedule, but the hope for all, with the territory continuing to also experience an increase in overnight guests, is that the numbers will soon begin to decline.
"We find ourselves in a situation where we are being entrusted with a large part of the V.I. economy, and are having to find a cool balance between commerce from cruise lines and the safety of the people of the Virgin Islands," Ottley said during a call with the Source. "To be able to capitalize on both – keeping the local population safe and at the same time trying to get some sort of commerce in here – is a responsibility we all don't take lightly."
WICO announced Thursday that the inaugural visit of the Norwegian Joy, which was set to dock at Havensight on Friday, would also be delayed due to an "elevated number" of cases on board, primarily amongst the crew, though two others – the Sky Princess and Norwegian Escape – will still be docking.
Ottley says he expects further news from the cruise industry next week, though in the meantime, will continue to monitor how the CDC's latest guidelines will impact ship calls and, ultimately business.
"A large portion of the overnight guests we are enjoying, and there have been more as of late, we'd say about 50-70 percent have said, when asked what brought them to St. Thomas, is that they visited on a cruise for their honeymoon or vacation, or with family, loved the place and came back to stay longer," he added. "That's a bit of the challenge we're facing now: it's extremely important, the value of the cruise lines, but our top priority is always the safety of our residents."
Both Ottley and Dowe said working with cruise lines to remind passengers about local safety protocols is an important part of the daily routine, including wearing masks off the ships and maintaining social distancing. Signs have been put up around the ports, and discussions are ongoing with cruise officials and all destinations to see where additional measures can be added to safeguard against spread or contagion, they said.