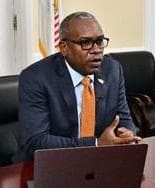 Gov. Albert Bryan Jr. will be out of the territory on Thursday, March 31, to attend the Women's NCAA Final Four to cheer on South Carolina star player Aliyah Boston, and then he will travel to Washington, D.C., for official meetings.
The governor is traveling to the South Carolina/Louisville game with Sports, Parks and Recreation Commissioner Calvert White to cheer on Aliyah. He also has an interview scheduled on ESPN at halftime. The game is at 7 p.m. on Friday, April 1, on ESPN.
During his absence, Finance Commissioner Bosede Bruce will be the acting governor; Lt. Gov. Tregenza Roach also is out of the territory attending the 2022 National Lieutenant Governor's Association (NLGA) Federal State Relations Meeting in Washington, D.C.
Gov. Bryan is scheduled to return to the territory on Thursday, April 7, and Lt. Gov. Roach is scheduled to return on Sunday, April 3.
The Bryan-Roach Administration is investing in the Territory's people, infrastructure and future through transparency, stabilizing the economy, restoring trust in the government and ensuring that recovery projects are completed as quickly as possible. Visit https://transparency.vi.gov