The quartet of Green Flash anglers departed from St. Thomas' Hull Bay around 5:30 a.m. and headed west. It was then that Edwin "Eddie" Bryan Jr. said the group soon hit a spot where for about a half-hour, they fought fish and reeled in four, including the 30.80-pounder that earned Bryan the "Largest Kingfish" prize at this year's Bastille Day Kingfish Tournament.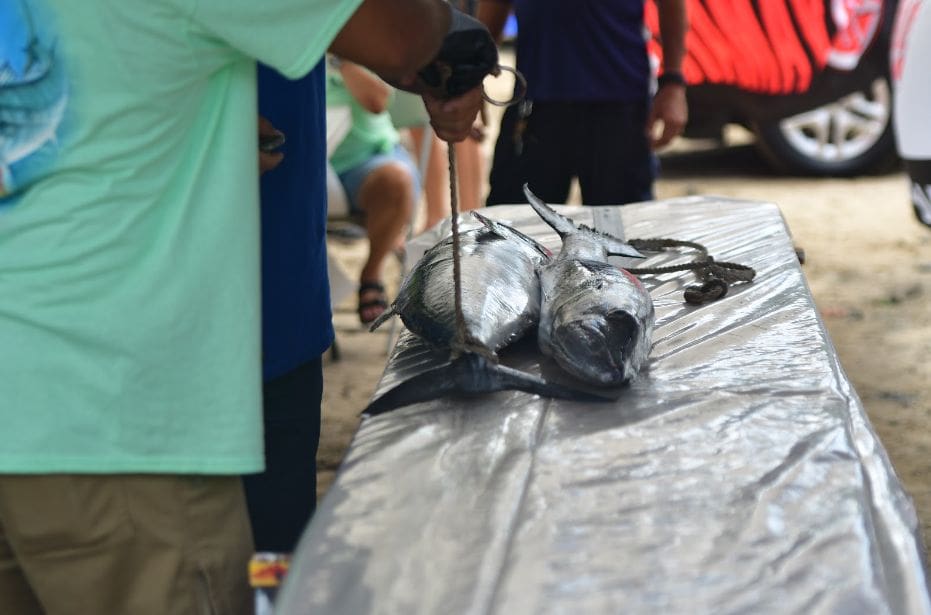 "We saw one was big, but we kept saying 'it's not enough. We want one even bigger to win'," Bryan told the tournament's press team. "We went a little further west and got two more. In all, we had a lot of fun. That's what it's all about, having fun with family and friends. And those bragging rights are pretty good, too."
Bryan was one of 166 anglers, including 26 junior anglers, on 40 boats who fished in this Northside Sportfishing Club-hosted tournament, part of the territory's annual French Heritage Week celebrations. Bryan's "Largest Kingfish" earned him $3,000 in cash, plus many other prizes.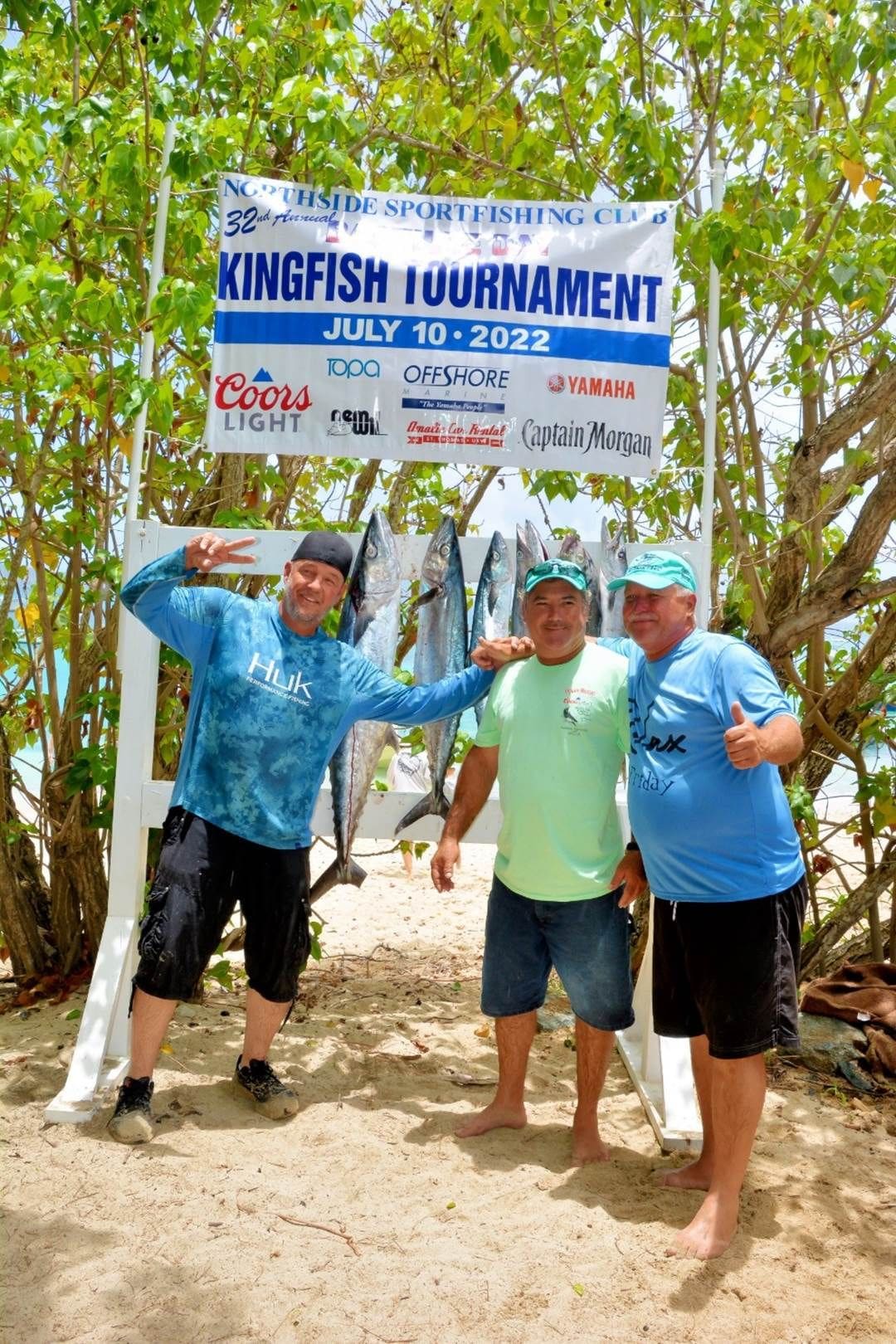 The second-largest kingfish prize went to junior angler Shane Berry, aboard Little King, who caught a 30.25-pounder.
Soaked off the boat when he came ashore, Berry said he had been waiting three years – two due to Covid – to join the tournament with his dad Shawn.
"It was a great day, but it was also very rough, and there was a lot of seaweed, so we had to pull in our lines a lot of times," Shane said. "But we still caught one kingfish, two barracudas, a mackerel, and a jack. My favorite part was bringing them in. It was a lot of fun." The four-fish day also earned Berry the "Best Junior Male Angler" award.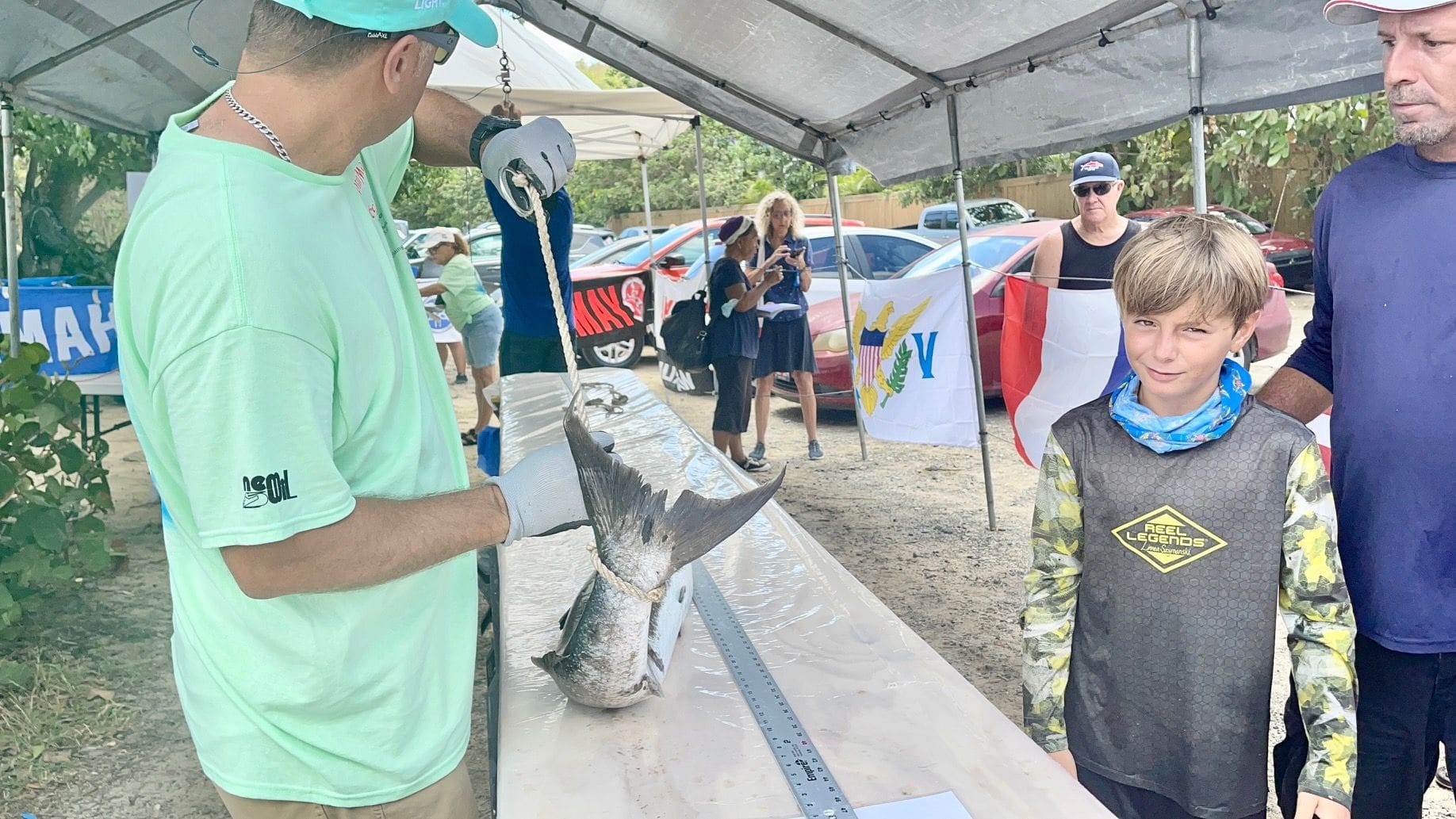 AJ Laplace, another junior angler and fishing on Mama Tried, reeled in a 20.75-pounder to win third-largest kingfish, while Anne Tagini caught the fourth, a 19.95-pounder, aboard Feel Good.
Flame Gonzalez earned Best Junior Female with her catch of two fish, weighing a total of 4.10-pounds aboard Sea Weasel.
The catch of 10 kingfish (89.55-pounds) earned Kai Holmberg, aboard No Behavior, the "Best Captain" award, while his overall total of 14 additionally brought in the "Best Boat" award.
KJ Terry, on No Behavior, caught 10 fish weighing 73.05-pounds to earn "Best Male Angler," while the "Best Female" prize went to Tagini, who caught a total of four or 50.70-pounds of fish aboard Feel Good.
Although the tournament is focused on kingfish, other species earned anglers cash and prizes. Arnold Petersen, fishing aboard Feel Good, caught the Largest Barracuda at 26.20-pounds. Jordan Cisneros, fishing from Mixed Bag II, won Largest Bonito with his 4.50-pounder. Finally, Chelsea Aubain caught the Largest Mackerel, a 6.25-pounder, aboard Mixed Bag II.
In total, thousands of dollars were awarded in cash, prizes, and trophies this year.
The week also includes the Bastille Day and French Heritage Week event at Emerald Beach Hotel on July 14, at 6 p.m., sponsored by the Friends of the Fresh Culture with Odile de Lyrot, the Committee for the Betterment of Carenage, The Frenchtown Community Center and the Frenchtown Civic Organization.