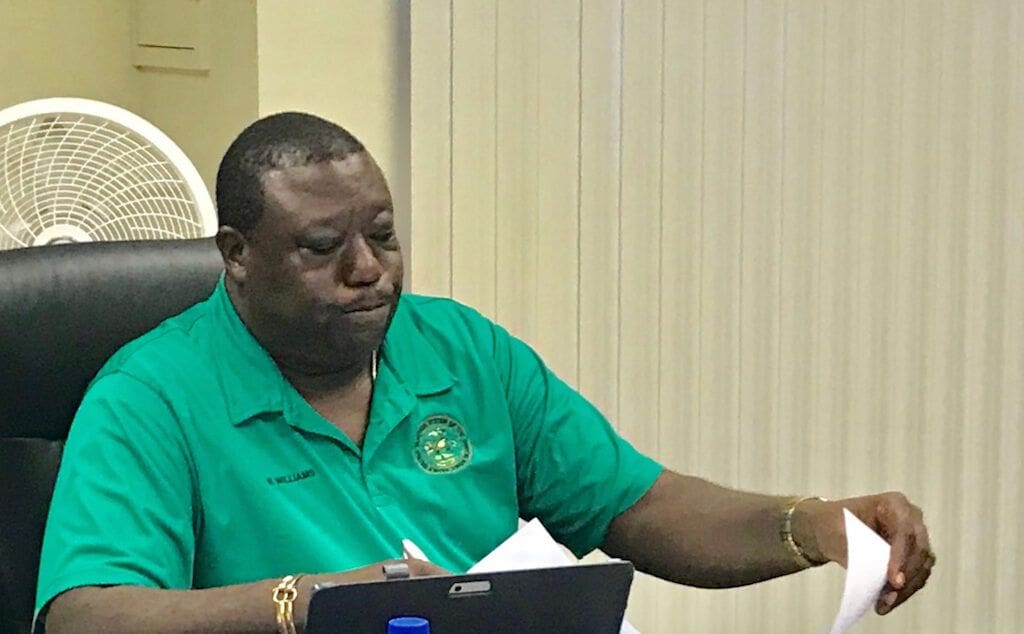 Justice opinion centers on Elections Board Chairman Raymond Williams (Source file photo)
A legal opinion addressing the legal status of the head of the Board of Elections has been released by the Justice Department. In that opinion, Attorney General Denise George said board Chairman Raymond Williams is properly holding a seat on the board, while serving as director of the Virgin Islands Lottery.
According to a letter written by George to Elections Supervisor Caroline Fawkes, the opinion was issued in response to a written request from Fawkes to Justice sent July 9. Fawkes issued the letter in response to a June 27 letter from gubernatorial candidate Kent Bernier.
Bernier cited sections of the Virgin Islands Code as he expressed concerns to the supervisor about "serious violations and infractions" that, in his opinion, made Williams ineligible to serve on the Elections board or run as a candidate for reelection while still heading the Lottery Office.
In his letter, Bernier also said Williams' continued service on the board had direct implications for his prospects in the Primary Election, where he and former Sen. Oakland Benta are competing against incumbent Albert Bryan Jr. and Tregenza Roach for the Democratic slot in the General Election.
In the July 29 opinion, George disagreed with Bernier's citation of Chapter 32, section 245. The statute establishes the duties for director of the lottery office and in one subsection states that the person holding that office " … shall not be engaged in any other profession or occupation."
The attorney general said that by the definition found in the Merriam Webster Dictionary, "profession" is ambiguous  but "occupation" could include the holding of an elected office. But George added that there are other sections of the code where lawmakers spelled out which officials serving in government could or could not serve in specific offices.
She also addressed the portion of 32 V.I.C. 245 that says, "The Director shall devote his time and attention to the duties of his office …"
"The most logical interpretation of the first portion should mean that the Lottery Director devotes the time necessary to performing all of the duties and the responsibilities that come with the directorship … If his duties are complete, then he is free to participate in any other activities so long as it is not another profession or occupation," George wrote.
There was no mention in the opinion about the other matters Bernier raised in his June 27 letter, about Williams' duties on the board of the Public Services Commission or whether he should take a temporary leave of absence while campaigning for reelection to the Board of Elections seat.
The Source reached out to Williams for comment on Sunday, but the Elections Board chairman declined to make a statement.