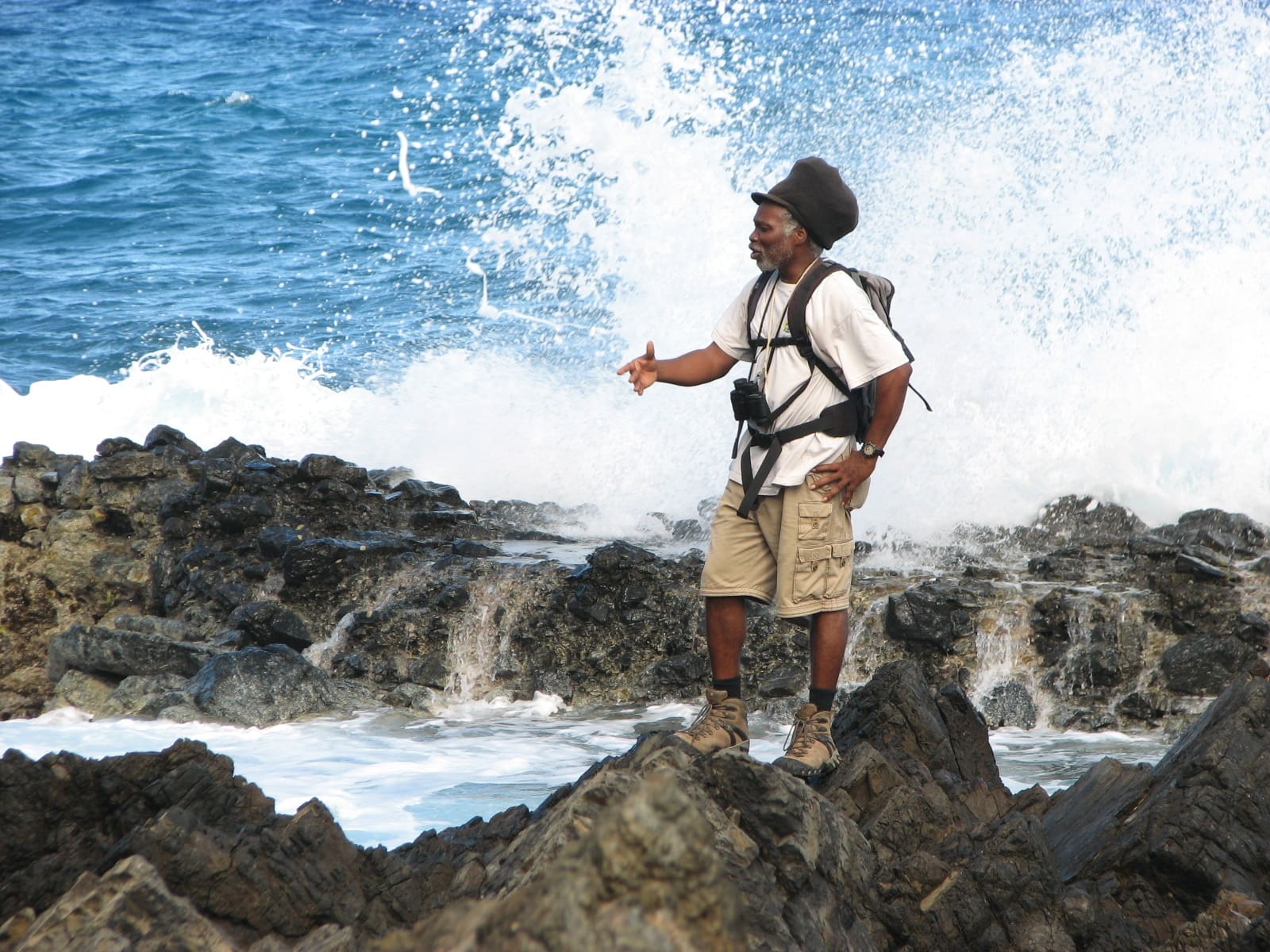 These days there has been a lot of talk by government officials, particularly in the Legislature and executive branch, about creating a Maroon Territorial Park on the northside quarter of St. Croix. That is great news for the people of the Virgin Islands and visitors alike.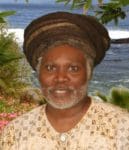 Setting aside wilderness areas to enjoy the rugged historic landscape and scenic beauty of the northwest side of St. Croix brings tremendous value to the island. However, there is a process of establishing parks on both the federal, state and territorial levels, and we can learn from their guidance on how parks are created without leaving out essential elements that tell the history of people, plants, and wildlife. 
I would say many of our nation's most historic, cultural, and scenic places have been set aside for the use of the public to enjoy as national parks. Thus, the concept of national parks is an American innovation. It grew out of the conservation movement at the beginning of the 19th century. For example, in 1872, Yellowstone was designated as a national park and became the first such park in the world. Parks grew out of preservation and conservation concerns to protect America's most beautiful and historic landscapes and wildlife for the enjoyment of the people of this great nation. 
With that being said, this seventh article in a series focuses on the preservation and protection needed to create a Maroon Territorial Park on the northwest quarter of St. Croix. This must be thought out properly. Believe me, it is imperative for the people of these islands to preserve significant natural, historical, cultural, and marine resources of this rugged watershed of Maroon Country. I will give my honest expertise of how I think we should move forward in establishing a Maroon park in the GREAT northwest of St. Croix. 
First, establishing boundaries when creating a park is critical to the protection of natural and cultural resources. Therefore, the negotiation with landowners is a process and critical thinking is important; it should not be not driven by politics. Parks are living organisms, telling the story of human history and their occupants. The landscape of the northwest of St. Croix connects people and what they endured for more than 300 years to the land. It is a place that represents respect for the lives and experiences of the enslaved, of Maroons, of "free Blacks," and of their descendants.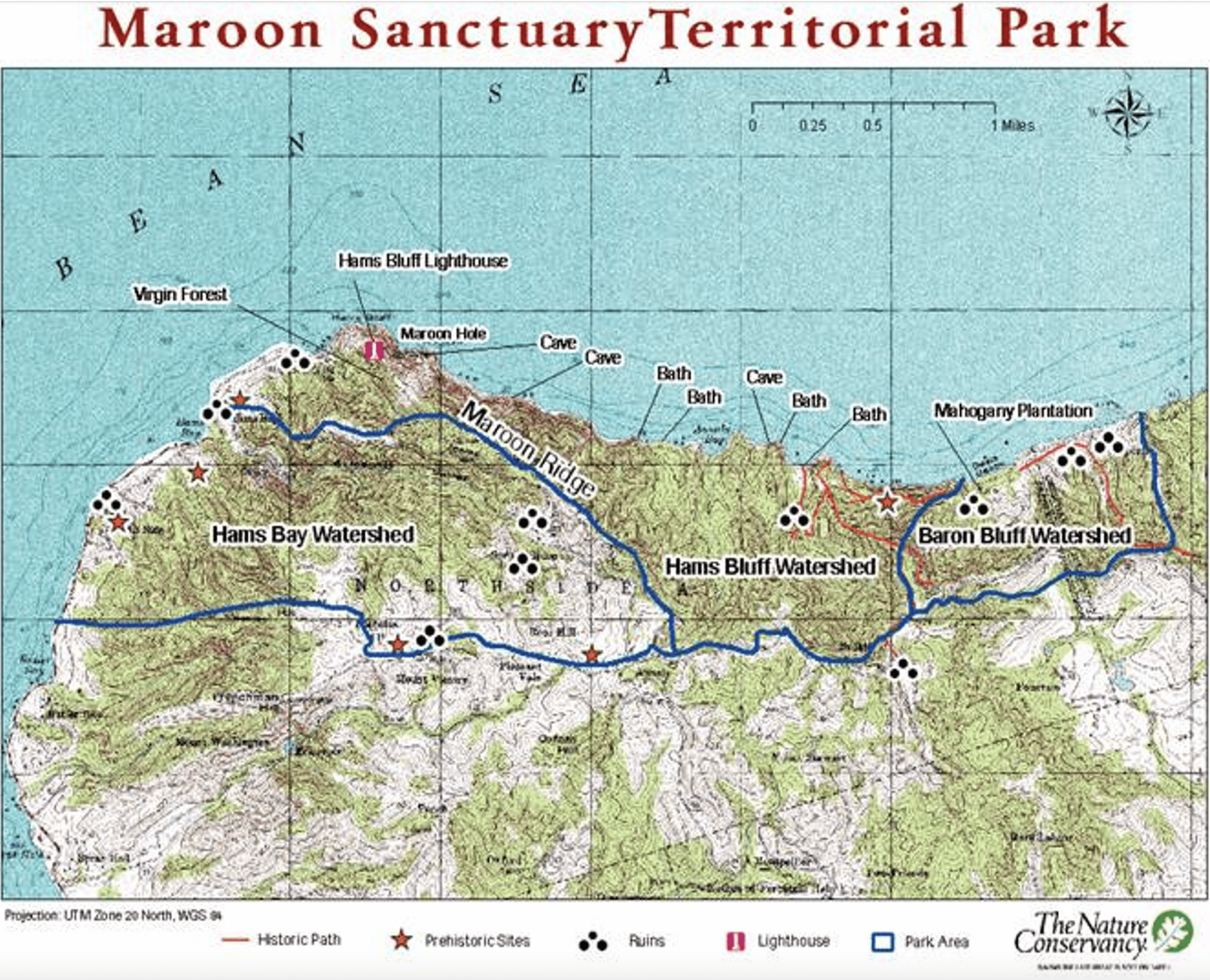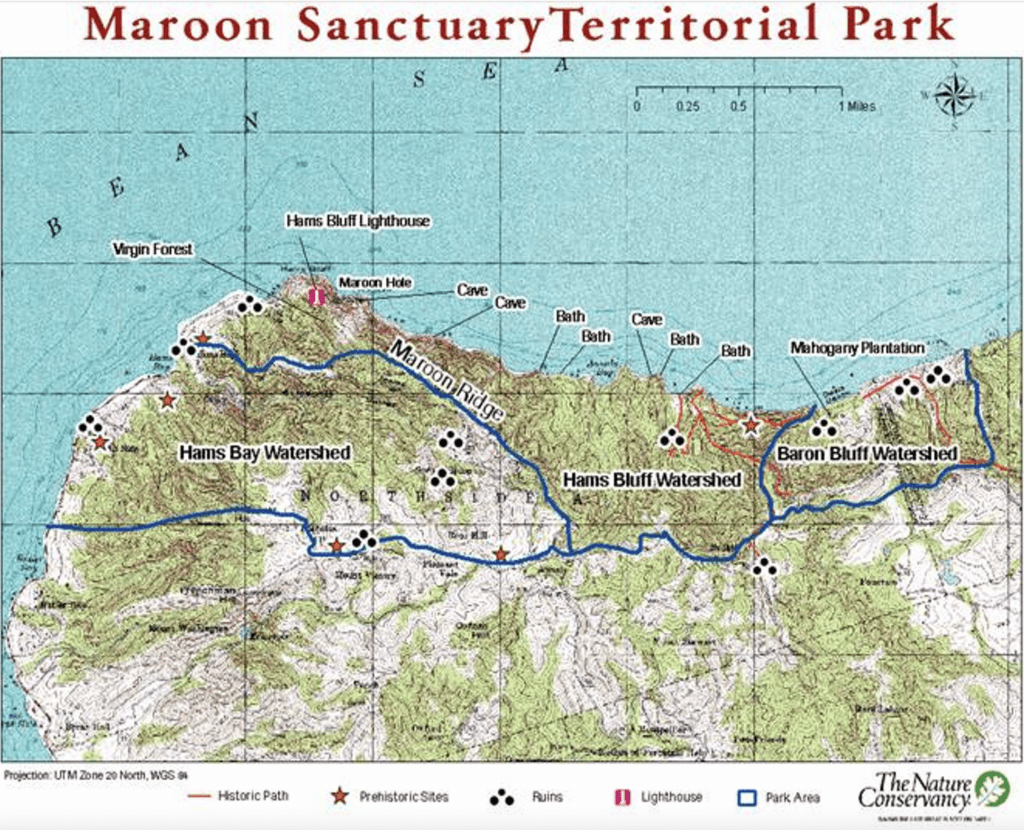 In my humble opinion, the boundary of the new proposed Maroon Territorial Park should start from the scenic road to the Caribbean Sea. Such estates as Ham's Bluff, Annaly Bay, Estate Annaly, part of Spring Garden Estate, part of Bodkin, Mt. Stewart, Wills Bay, and Sweet Bottom Bay, which border Carambola Beach Resort, should encompass the park. Estate Annaly's slave cemetery is on the ridge next to the scenic road. This slave gravesite is essential to the history of the Maroons, the enslaved, and the descendants of all Crucians. 
Believe me, this gravesite should be designated as a National Register of Historic Places site of the United States. There are other gravesites in Maroon Country, such as Mount Stewart, I was told by local historians. When establishing parks, it is very important to have different expertise in various fields onboard during the planning process, such as ecologists, botanists, resource planners, anthropologists, cultural historians, ethnobotanists, archaeologists, etc.
This process is a guiding tool, making sure significant natural and cultural resources are given great attention for preservation and protection. Over the years, I have assisted and worked with various scientists, including archaeologists studying Maroon Ridge. Scientific information is one of the criteria for establishing a park system. Maroon Country has scientific research and historic documents that support the area to be a park. In fact, over the years several scientific papers have been published on Maroon Country by local people as well as by national and international researchers.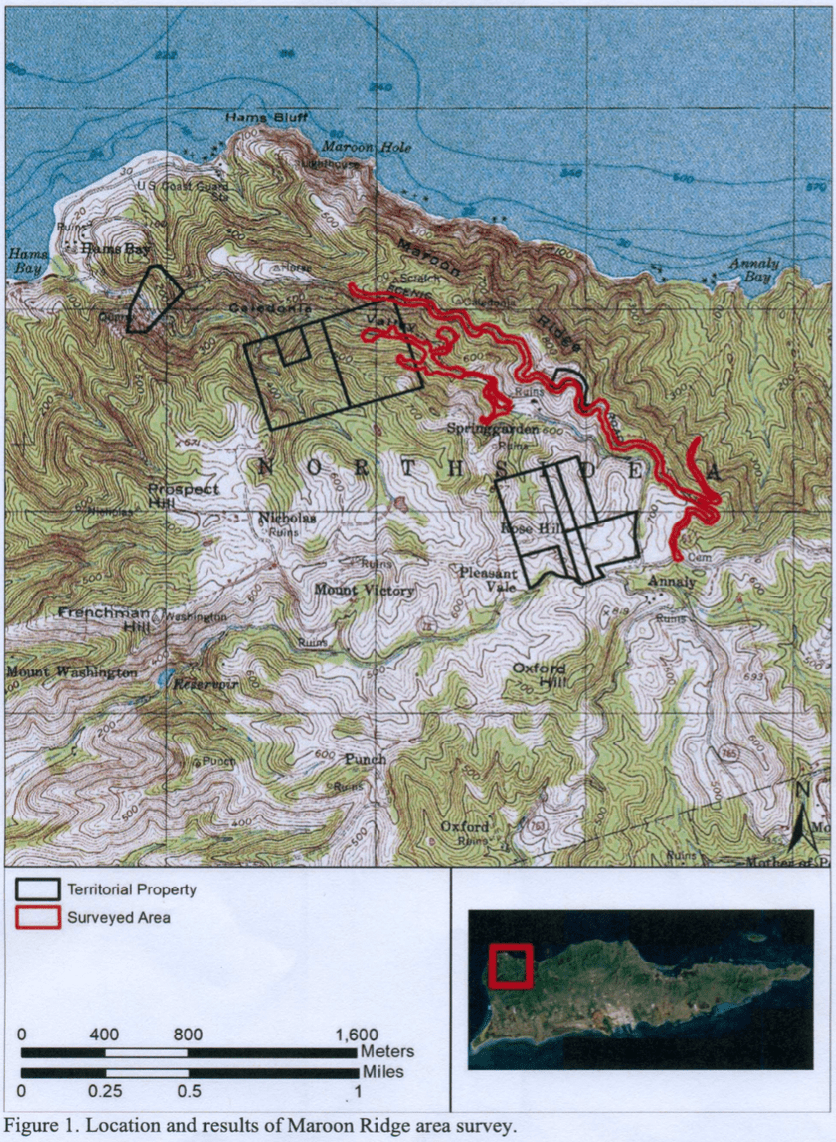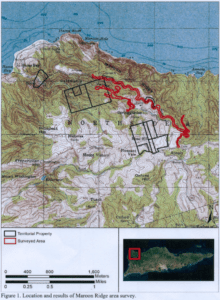 In July, archaeologist Todd M. Ahlman, an associate professor in the Department of Anthropology at Texas State University's Center for Archaeological Studies, conducted a preliminary study on Maroon Ridge. While conducting the archaeological survey, he found three artifacts dating back to the 18th and early 19th and 20th centuries. According to Ahlman's findings thus far from Maroon Ridge, he is confident that at least one of the sites was a Maroon habitation. 
His wife, daughter, and a student accompanied him on the trip to St. Croix to conduct the archaeological research. "Hello Dr. Davis, My name is Kallista Karastamatis, and I am a bioarchaeology graduate student at Texas State University. I will be traveling to St. Croix with my advisor, Dr. Todd Ahlman, to begin data collection for my master's thesis," wrote Karastamatis. She conducted her research at the Estate Annaly Cemetery.
These are her findings thus far: "Hi Olasee, Thank you so much for all of this wonderful information! We met with the current owners of Spring Garden last night and I was able to relay some of this information to them, which was a very positive experience. I have documented 54 graves in Annaly Cemetery, and I would be very happy to send you the data when we have it all sorted. There were certainly many graves that we were not able to document while we were there. However, I would love to share the information we did collect with any descendants or community members who may be interested," noted Karastamatis.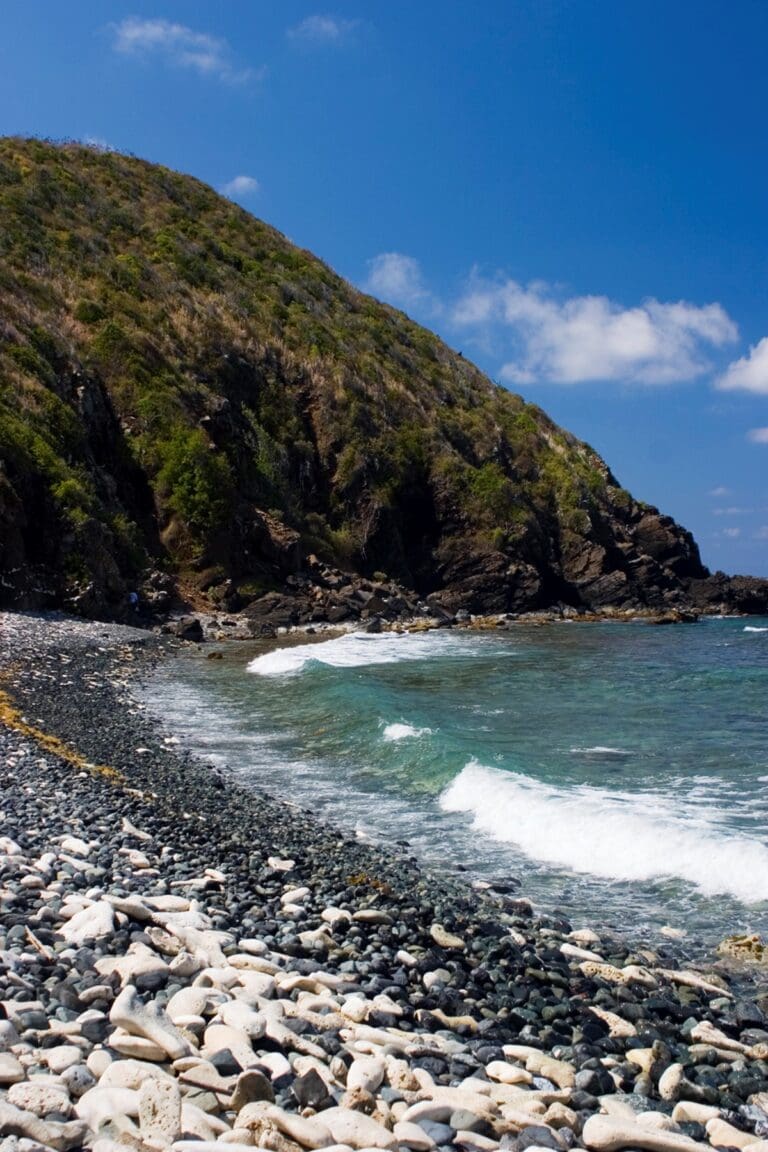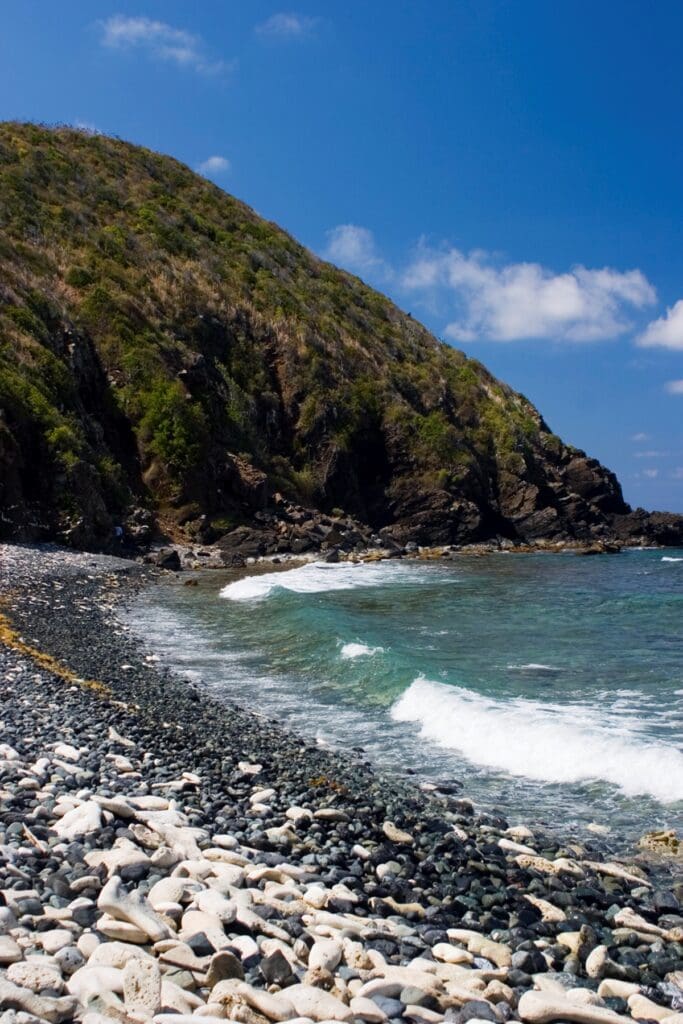 Excuse me if I am getting a little emotional. We are talking about living human history. Have you ever seen slave graves and tears come down your face? Have you ever seen the cliffs where slaves jumped off to their death? Have you ever discovered a beach where the sky and the sea and the pebble sands and the wind were so perfect and pure that you had to pinch yourself for fear of not being awake but experiencing a dream? Have you ever walked on a carpet of leaves on a dirt slave road and when it rains you smell the earth fresh? 
I am talking about Maroon Country. I hold no great position in this society. I am just an ordinary bushman with a backpack, a hat on my head and hiking boots on my feet, educating the community and world if they would listen to me that Maroon Country must be protected indefinitely. Significant natural and cultural resources must be incorporated when establishing a park in Maroon Country. 
– Olasee Davis is bush professor who lectures and writes about the culture, history, ecology and environment of the Virgin Islands when he is not leading hiking tours of the wild places and spaces of St. Croix and beyond.
Editor's Note: Previous columns in this series include "Join the Call for a Maroon Territorial Park," on June 17; "St. Croix's Northwest Quarter Worthy of World Heritage Status," on July 6; "Our Maroon Ancestors Deserve A Sanctuary on St. Croix," on July 18; "St. Croix's Maroons Set the Stage For Freedom in the Danish West Indies" on July 27; "A Maroon Territorial Park is Not an Option But a Must," on Aug. 2; and "Puerto Rico Shares Some of St. Croix's Rich Maroon History" on Aug. 11.